Happy Monday everyone! Is everyone ready for Christmas? We spent part of the weekend finishing up our Christmas shopping/wrapping, which I am glad to report is finished! I then spent the other part making some Christmas cookies. Christmas baking is one of my favorite things about the holidays, so I wanted to share a few favorites of mine, in case anyone is looking for some last minute baking.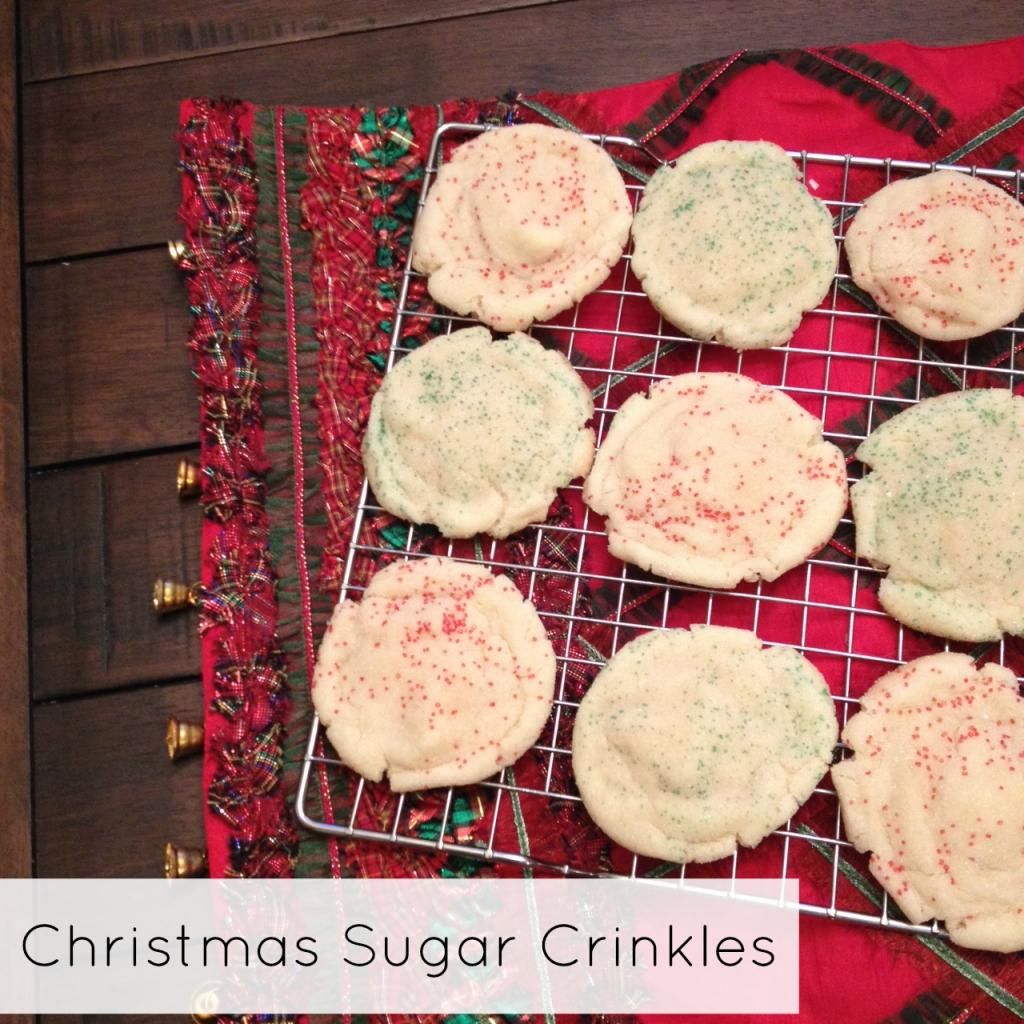 This first recipe is one of my favorite Christmas cookies that I make every year. It is a sugar cookie, but it has a slight lemon flavor. It is also very light and soft, but has a slight crunch to them due to the sugar coating. I like to mix in red and green sugar sprinkles to make them even more festive.
Sugar Crinkles
Yields: about 2 1/2 dozen
Ingredients:
1 cup shortening

1 1/2 cups sugar

2 large eggs

1 teaspoon lemon extract

1 teaspoon vanilla extract

2 1/2 cups all-purpose flour

2 teaspoons baking powder

1/2 teaspoon salt

1/4 cup sugar
Directions:
Beat shortening and 1 1/2 cups sugar at medium speed of an electric mixer until fluffy. Add eggs and flavorings, beating until blended.
Combine flour, baking powder, and salt; gradually add to shortening mixture, beating well. Cover and chill dough.
Shape dough into 1" balls (mine might be slightly bigger). Roll balls in 1/4 cup sugar (mix colored sugar to make festive). Place balls on ungreased cookie sheets.
Bake at 350° for 9 to 10 minutes or until barely golden. Let cool 2 minutes on cookie sheets. Remove to wire racks to cool completely.
This is the first time I have ever made Almond Roca. I found the recipe
here
, and they have great step by step pictures of each stage. I am not going to lie, it took me 3 tries and 1 breakdown to master this. I'll share my tips so you can learn from my mistake, but please go to the link and get the recipe and look at the step-by-step pics.
Tip #1: Melt the butter first and then add the sugar and water. I first tried adding both together and the sugar started to harden before the butter even melted.
Tip #2: When you think it's almost done, it probably is. The recipe I used said to wait until it was smooth and silky. When I had waited to that point, it was completely black and burned.
Tip #3: Cook on Medium-High, The recipe I used said to cook on High, which I did at first and is why I think it burned so easily. I cooked mine slightly above medium. Medium was 5 on my stove, and I set it to around 6 or slightly over.
It turned out really good, so if you are adventurous, try it out!
I shared this
last week
, and I want to share it again. If you haven't made these yet, make them now! Please note that there is a gluten-free version as well.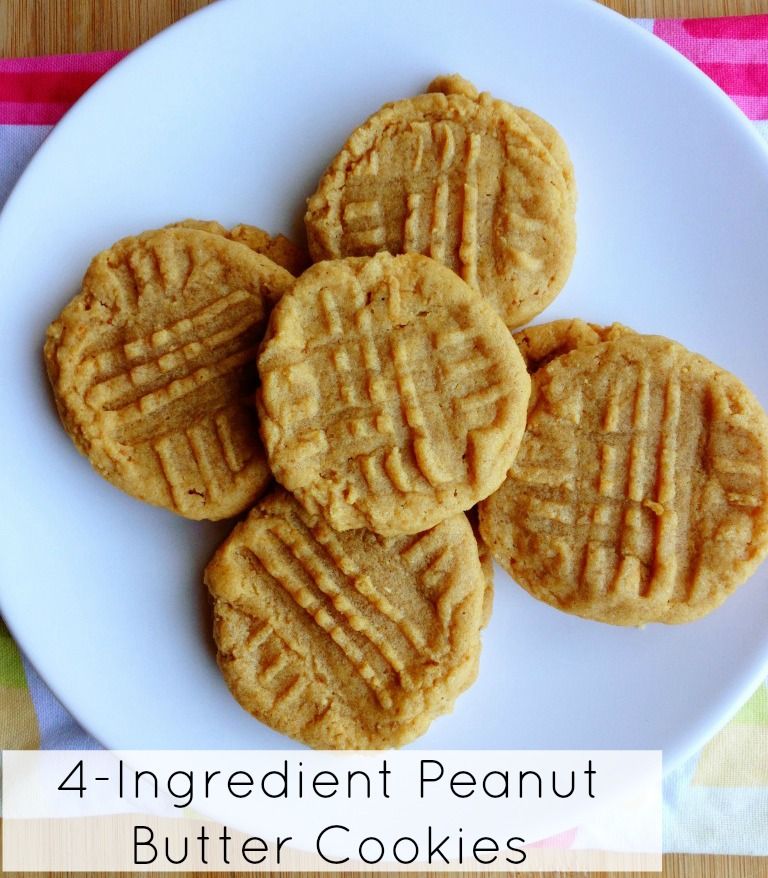 If you are looking for a great gluten-free cookie recipe, these are amazing. I have also included chocolate chips, which I highly recommend doing. Just don't criss-cross with the forks, but still very good. I recommend if you are not eating these right away to put them in the freezer. They are not as shelf-stable and will get crumbly after a few days.
4 Ingredient Peanut Butter Cookies

Ingredients:
1 cup of peanut butter

1 cup of sugar

1 egg

1 tsp of vanilla extract

Directions:
Preheat your oven to 350 degrees. Mix all ingredients into a bowl and then spoon onto a cookie sheet. Please note that I did place mine on foil so that they did not stick. Smash with a fork in a criss-cross pattern. Then bake for 7 minutes.
I unfortunately don't have a picture for my Chocolate Chip Cookies, but this is our family's favorite recipe. I seriously thought it was a secret family recipe until I found the exact same recipe on the back of a Toll-House Chocolate Chips bag...oops. But we still pretend it's a secret family recipe...ha! We like to add in half chocolate chips/half red and green M&M's to make them even more festive.
Chocolate Chip Cookies
2 1/4

cups all-purpose flour

1

teaspoon baking soda

1

teaspoon salt

1

cup

(2 sticks)

butter, softened, or shortening or 1/2 cup of each

3/4

cup granulated sugar

3/4

cup packed brown sugar

1

teaspoon vanilla extract

2

large eggs

2

cups chocolate chips (or 1 cup chocolate chips/1 cup M&M's)
Preheat oven to 375° F.

Combine flour, baking soda and salt in small bowl. Beat butter, granulated sugar, brown sugar and vanilla extract in large mixer bowl until creamy. Add eggs, one at a time, beating well after each addition. Gradually beat in flour mixture. Stir in morsels and M&M's. Drop by rounded tablespoon onto ungreased baking sheets.

Bake for 9 to 11 minutes or until golden brown. Cool on baking sheets for 2 minutes; remove to wire racks to cool completely.
What are your family's favorite Christmas Cookies?

Follow Me: