Happy Monday all! Did you have a great weekend! We had a somewhat busy weekend, but a lot of fun. On Friday night we had 3 Christmas parties to attend. Whew that was a lot of fun, but I felt like we were just on the go all night long. I didn't get a single picture from any of these parties (#badblogger), but I did want to share a quick dessert that I made to bring to each of these parties.
These No-Bake Oreo Balls are super easy, and super addicting. At each of the parties, everyone raved about them. They are sort of like cake balls, but without the hassle of baking a cake first and waiting for it to cool. I think overall it might have taken me an hour, including time to chill.
Also a heads up for you gluten free peeps, I made a batch using
Glutino
brand oreos, and they were perfect. So if you are GF like me, you can still enjoy this dessert. Because the package was smaller than the standard Oreo package, I just used half of the cream cheese, and mixed these up first so it didn't contaminate my food processor or the almond bark.
So to get started, here are the key players: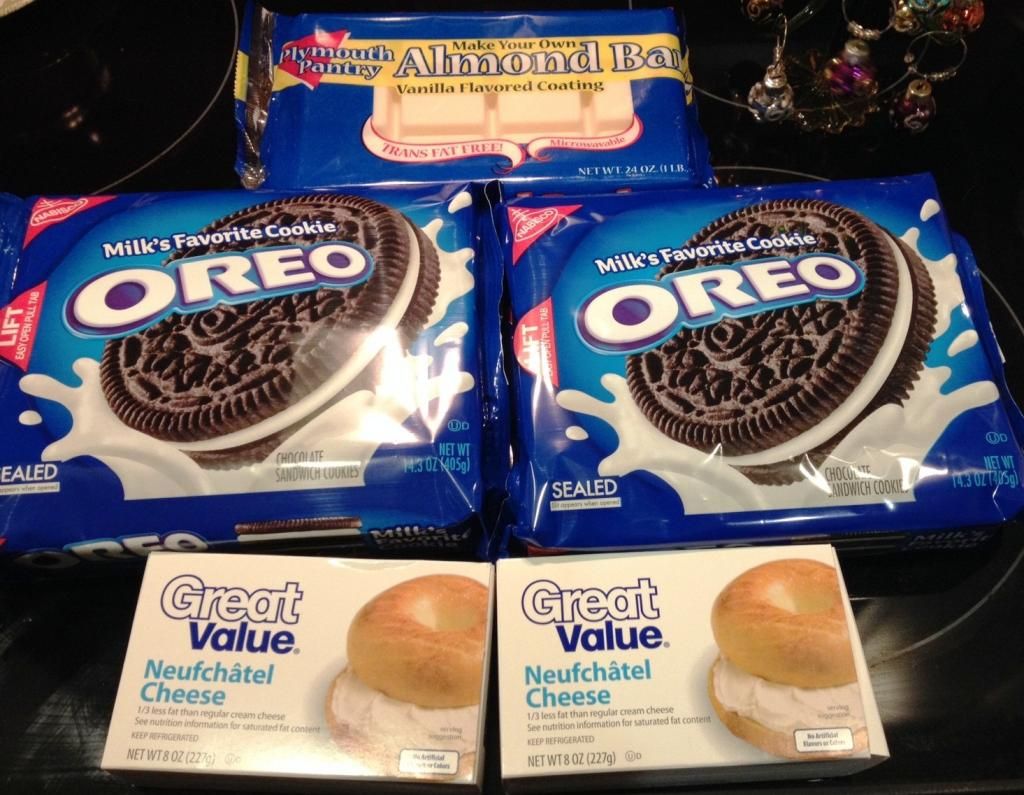 I made 2 batches, and each batch makes about 24 balls, so it's 1 package of Oreos to 1 8 oz block of cream cheese. I used the 1/3 fat cream cheese version, and make sure it has come to room temperature.
Crush your Oreos in a food processor until they are like coarse sand. You could also put them in a zip lock bag and crush them that way, but the food processor was quick and easy. Then mix in your room temperature cream cheese until it's well mixed and you are able to roll it into balls.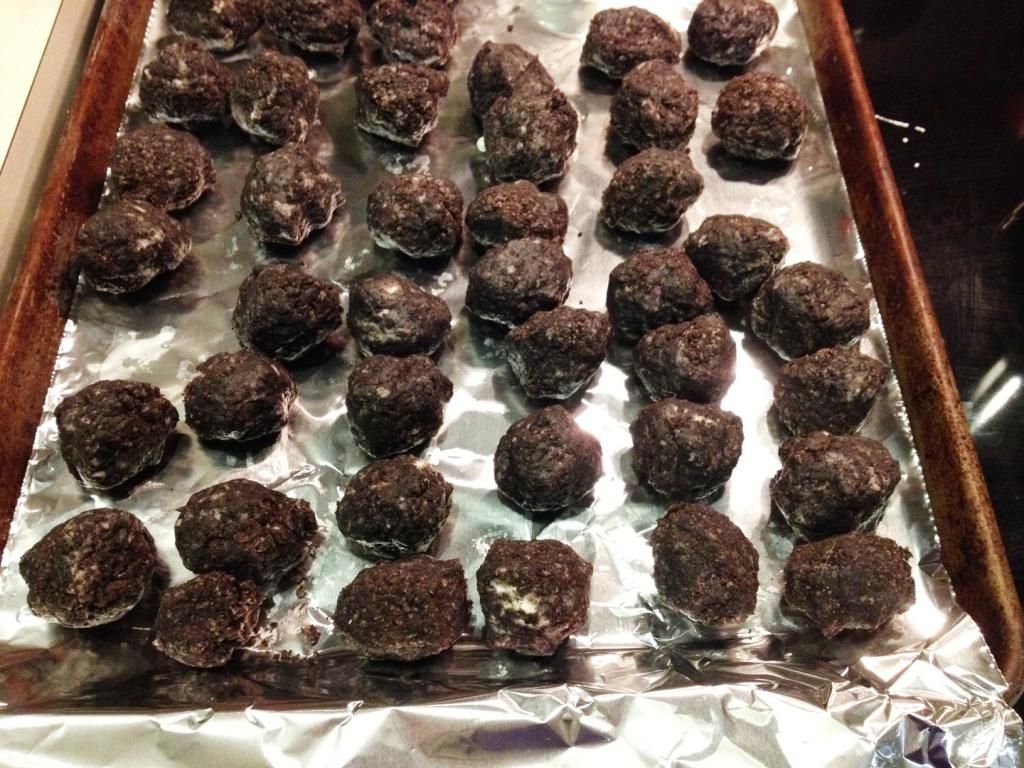 Once you roll the mixture into balls, place them on a sheet tray and chill in either the freezer or the fridge for about 15 - 30 mins. Less time if you are in the freezer, more time in the fridge. I actually did both since I didn't have room for all of these in the freezer and they all turned out the same.
Then warm up your almond bark over low-heat on the stove, and make sure you continue to mix it so it doesn't stick to the bottom of the pan and burn. Once your almond bark is melted, just drop the balls into the melted almond bark and roll around until completely coated. I then used 2 forks to remove the balls from the pan, and placed on a foil lined baking sheet to cool. If you want to add sprinkles to make more festive, immediately add them as the almond bark will cool quickly since your oreo balls will be super chilled from the freezer.
I found these cute little tins at Walmart for less than $2 to deliver them in. The recipe filled up 3 tins, and we had a few left over to enjoy as well. I am definitely going to make these again next weekend to take to my family for the holidays.
What's your favorite easy holiday recipe to make?
Linking up with Life of Meg's
Mingle Monday
and Our Little Nest for
Kitchenspiration
.

Follow Me: