Happy Monday all! How was your weekend? Ours involved more family time and Christmas #2, so that was a ton of fun. I'm going to admit I am a little blue that Christmas is over. It's one of my favorite times of the year, and this year it seemed to speed by, especially since Thanksgiving was so late.
But I am a little excited about the new year and things to come (like our wedding), and getting back on track and on a schedule. Don't get me wrong I have loved all of this time off, but I feel like my internal clock is possibly a little off. Anyone feel the same?
One of the things I was super excited about this weekend was finally getting a picture of our little family.
All 5 of us were calmly sitting on the couch together (never happens, or at least never calmly happens) at Rick's parents house on Saturday, and we just had to get a pic. Too bad the sunlight coming in the window behind us made it a little grainy, but I think it is still a cute picture.
We had Christmas #2 at Rick's parent's house and got to spend time with his Mom and Dad, two sisters and his brother-in-law. His one sister and brother-in-law live in DC and were unable to make it into town for Thanksgiving or for Christmas Eve/Day, and it's been a while since we have been able to see them, so we were super excited to spend some time with them.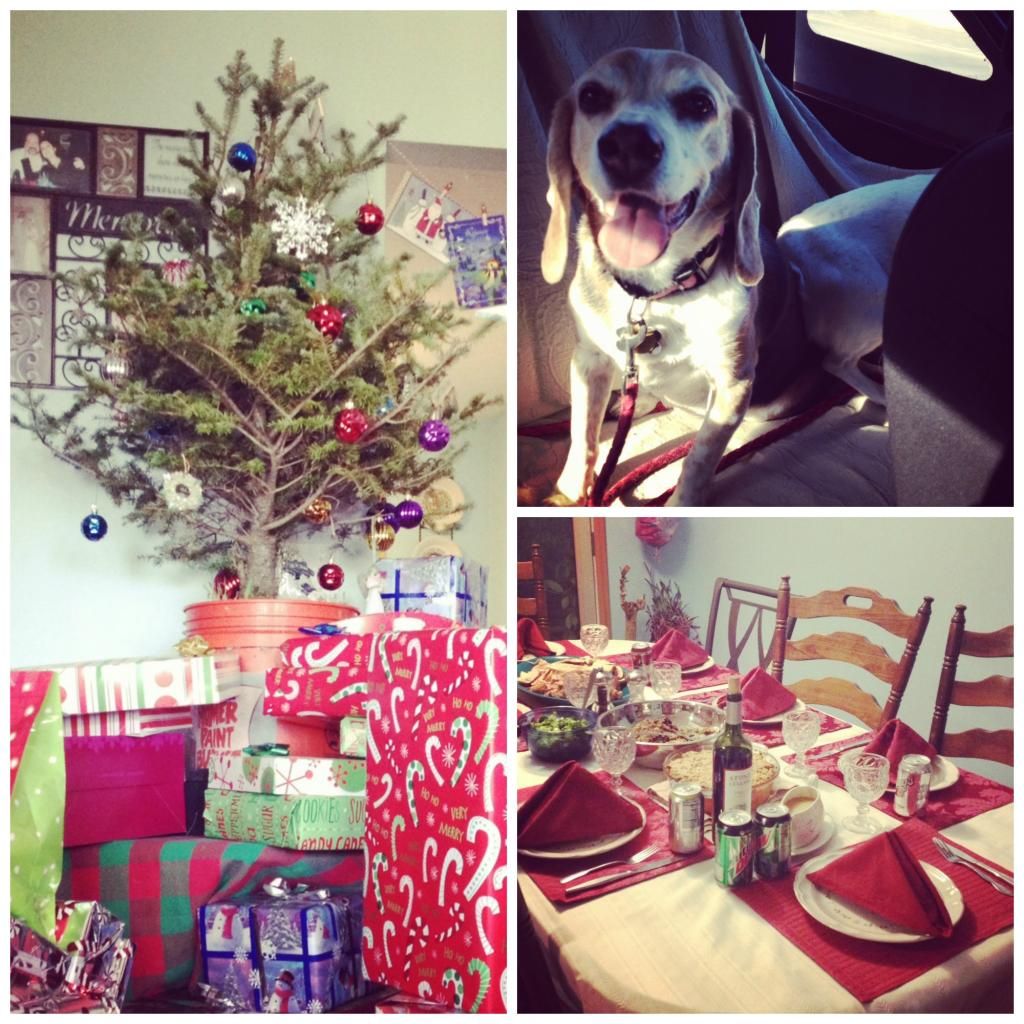 One the drive there, I caught Bryn sitting on Abby's behind. These two don't typically get along, so it was amazing to see them so close together, let alone one of them sitting on the other. The rest of the day consisted of catching up, eating lots of delicious food and of course presents!
And don't you just love Rick's parent's Christmas tree!?! It has apparently been their tree for 10 years now. They just keep it outside for the rest of the year, and bring it in a few days before Christmas to decorate. I thought that was a fun tradition, and I'm amazed they have kept it live for 10 years! Not sure if I would be lucky enough to keep a plant alive for that long.
One the way home we caught Bryn stuck behind the back Jeep seats. We have no idea how she got back there, and she almost was too stuck to get out, but luckily I was able to reach back there and help pull her out without causing an accident. I tried to take a pic to show just how goofy she was, but it was dark and the green glow is the Jeep's interior light. It kind of looks like aliens are taking over.
Moving onto the rest of the weekend, I had to work on Friday, and when I got to my desk in the morning, I was greeted with this...
Our supervisor likes to give us either a bottle of wine, or champagne, or something of that nature every year for Christmas. This year it was more of a New Year's gift, and I just loved the cute card. I'm really excited to try the Chocolate wine as well. I am going to possibly open it on New Year's Eve as part of our dessert :)
I ended up leaving a little early on Friday as there wasn't much going on, and stopped off on my way home by Loft and Kohl's for a little after-Christmas shopping. Loft has been having 50% off sale on EVERYTHING (well except their new sports-ware line), and I ended up picking up this
sweater
, this
sweater
, and this really cute
polka dot blouse
, all for $100 total! The first sweater was originally $70, so I think I totally scored some awesome deals (FYI, today Loft is having 60% off Sale items).
I ended up returning a few items to Kohls, and between my merchandise credit, and a $20 Kohl's cash, I ended up with this
flannel shirt
, this
printed chambray top
, and a cute quilted vest and long-sleeve t-shirt and still had a $10 credit left to spend. I got a lot of great pieces that will help me get through Winter, which is great since I really need to go on a spending freeze once the new year starts. I keep telling Rick, at some point we need to start saving for this wedding!!
How was your weekend? Did you score any great after-Christmas deals?

Follow Me: