Happy Monday!
A few weeks ago I mentioned that I was going to do a 7-day juice challenge. I challenged myself to try 7 different juice recipes, and to try ingredients I had never juiced before. The goal was to get back into juicing, and to try to juice more veggies. Due to some crazy client meetings, I ended up missing one day, so I pushed it out by a day. But, I managed to finish the challenge (even if it really took 8 days to accomplish...keeping it real folks!). So today I wanted to share the 7 recipes I tried, and let you in on my favorites.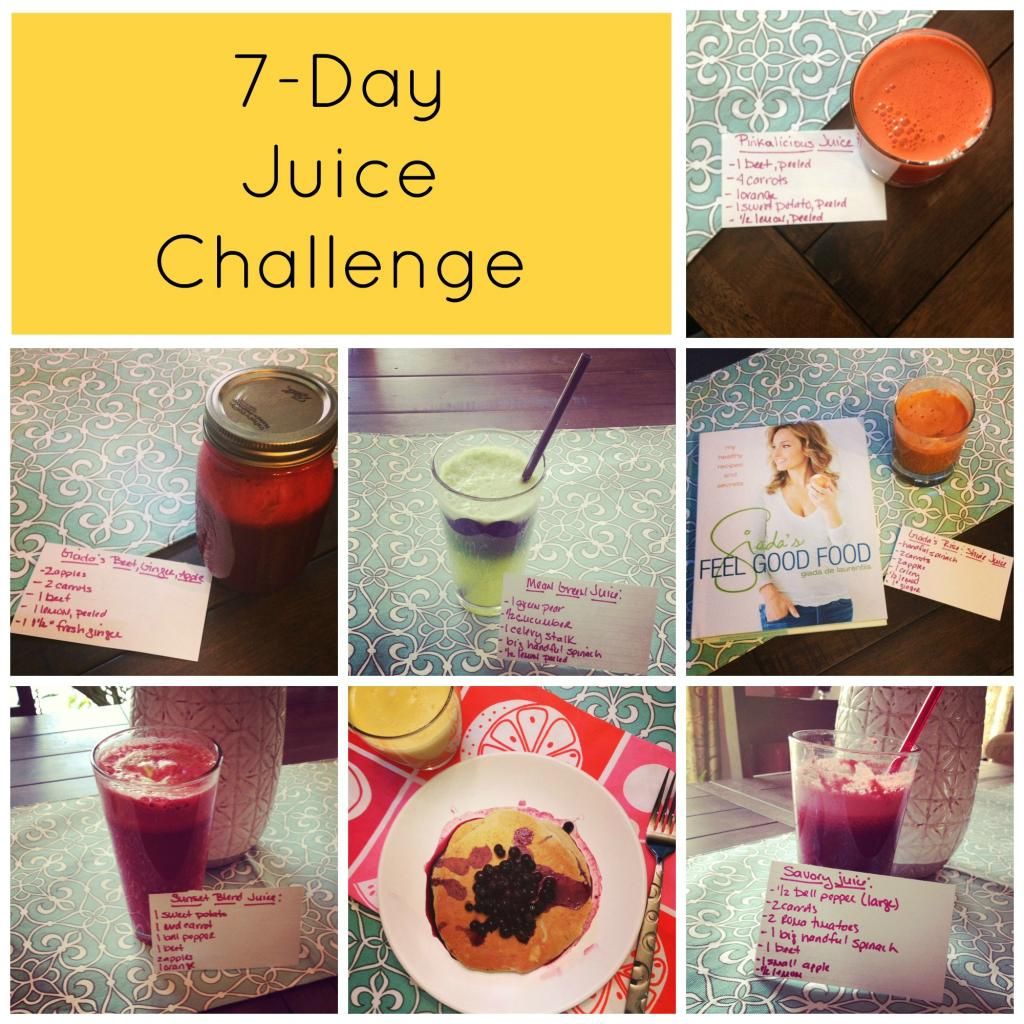 Before I get into the recipes, my favorite juices were the Pinkalicious Juice from day 1, and the Sunset Blend Juice from day 5. Both of these included sweet potatoes, and this was the first time I had juiced a sweet potato. I'll be honest I never though to juice one until I started looking into different recipes for this challenge. But I am so glad that I did as it helps to sweeten up some of the juices like fruit does, but I'm assuming there would possibly be less sugar than fruit (not sure, just a guess).
Day 6 I kind of got a little lazy (especially since this was the day after I got behind), and really wanted fresh orange juice with my protein pancakes, so I ended up just juicing apples and oranges. It totally tasted like an Orange Julius (anyone remember those?). Probably not the best option in terms of sugar content, but I read that it is best to drink more fruity juices in the morning when your metabolism is much higher and can process all the sugar better.
So here are the juices I tried:
Day 1: Pinkalicious Juice
-- 1 beet, peeled
-- 4 carrots
-- 1 orange
-- 1 sweet potato, peeled
-- 1/2 lemon, peeled
Day 2: Giada's Beet, Ginger, Apple Juice
-- 2 apples
-- 2 carrots
-- 1 beet
-- 1 lemon, peeled
-- 1-1/2" fresh ginger
Day 3: Mean Green Juice
-- 1 green pear
-- 1/2 cucumber
-- 1 celery stalk
-- 1 big handful of spinach
-- 1/2 lemon, peeled
Day 4: Giada's Rise and Shine Juice
-- 1 handful of spinach
-- 2 carrots
-- 2 apples
-- 1 celery
-- 1/2 lemon, peeled
-- 1" ginger
Day 5: Sunset Blend Juice
-- 1 sweet potato
-- 1 medium carrot
-- 1 bell pepper
-- 1 beet
-- 2 apples
-- 1 orange
Day 6: Apple/Orange Juice
-- 2 oranges
-- 1 apple
Day 7: Savory Juice
-- 1/2 large bell pepper
-- 2 carrots
-- 2 roma tomatoes
-- 1 big handful spinach
-- 1 beet
-- 1 small apple
-- 1/2 lemon, peeled
Anyone else out there loving juicing? If so, what's your favorite thing to juice? Ever tried a sweet potato? If not, try it and let me know what you think :)

Follow Me: