Last week Stephanie over at
Southern Mess
completed a
photo-an-hour challenge
. The basis around this challenge was to take 1 photo every hour to document a day in your life. Today she is hosting a link-up for everyone to share their photo-filled days, and I thought it would be fun to partake in this fun little challenge.
The day that I documented was Monday of this week. It was a typical workday for me, and although I did end up with 11 photos, I'll be honest I wasn't consistent in taking 1 photo per hour. Some hours of my day are just spent cranking out emails and other various tasks at my desk, or spent in meeting after meeting, which would have lead to a very boring post. So I took a little creative liberty at that one little detail, but I think this gives you a pretty good idea of how my typical work day goes.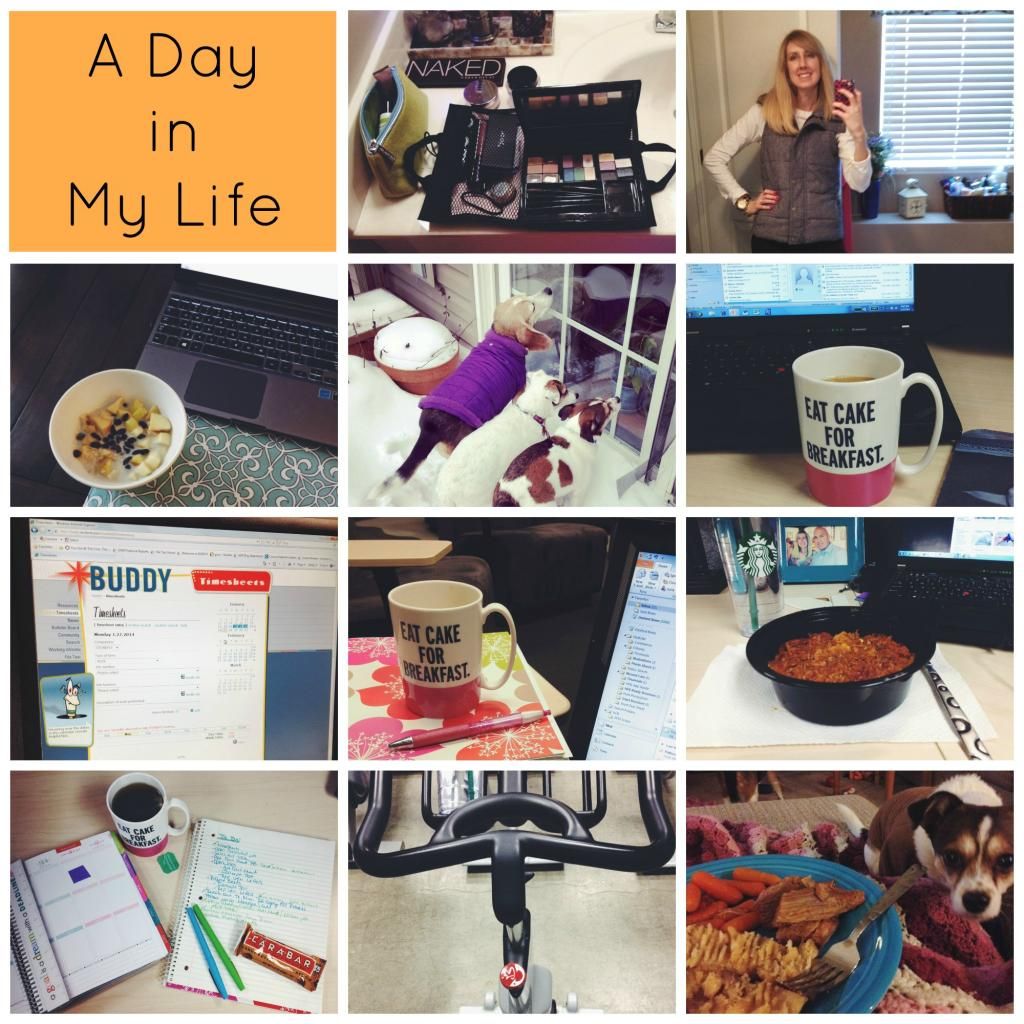 1. I typically get up around 7 or 7:30 on the weekdays, shower and get beautified.
2. Fun selfie in the bathroom mirror. I'm wearing one of my favorite and coziest vests since it was going to be in the negative temperatures that day.
3. After I'm ready for the day, I head downstairs for my breakfast of champions - oatmeal with almond milk, raisins and apples.
4. After breakfast, it's time to take the puppies out for their walk. Of course lately since it's been in the negative temps, they spend approx. 2.5 mins outdoors and then are ready to come right back in and cuddle up in pillows and blankets. Their poor little paws just can't handle the cold snow.
5. Then I head on into the office. After booting up my laptop, I grab some coffee and then get to catching up on emails.
6. Another fun thing that I get to do through-out the week is Timesheets! We bill out clients in 15 min increments, so we get to have a lot of fun filling out our timesheets documenting everything we do through-out the day. Timesheets are due by midnight on Monday, so typically my Monday's are spent finishing up my Timesheet for the previous week.
7. My days tend to get filled up with lots of meetings, and in order to keep up with the day-to-day activities, I take my laptop, notebook and a beverage (coffee in the morning, water throughout the rest of the day) to keep up.
8. Lunchtime is typically spent eating left-overs while catching up on work, reading blogs or working on wedding details. Sometimes I will eat at my desk, and then take a late-lunch to run errands, or take a shopping trip to Target, or to run out and grab a Starbucks.
9. Between meetings, I typically spend the afternoon checking off items on my "To Do" List. By about 4 pm you will find me enjoying a Lara Bar and some hot tea to help curb those sugar cravings.
10. After work I headed over to the gym for spin class. Not pictured, but I've been enjoying 15 mins in the sauna prior to class to help warm up my icy cold gym clothes that have been chillin in my trunk all day long.
11. I finish off the day enjoying some dinner and catching up on our shows on the DVR. Of course dinner isn't complete without one of our furry creatures trying to steal food off of our plate. Good thing he is cute!
To see a little more about where I spend 40+ hours a week, check out my
Office Makeover
that I posted a few months ago.

Follow Me: