The new year always brings many fitness and nutrition posts. We actually started our fitness journey a few weeks ago when Rick purchased P90X, but we are finally starting to really get focused. With a little over 6 months until our Wedding, we are getting our butts in gear and getting moving.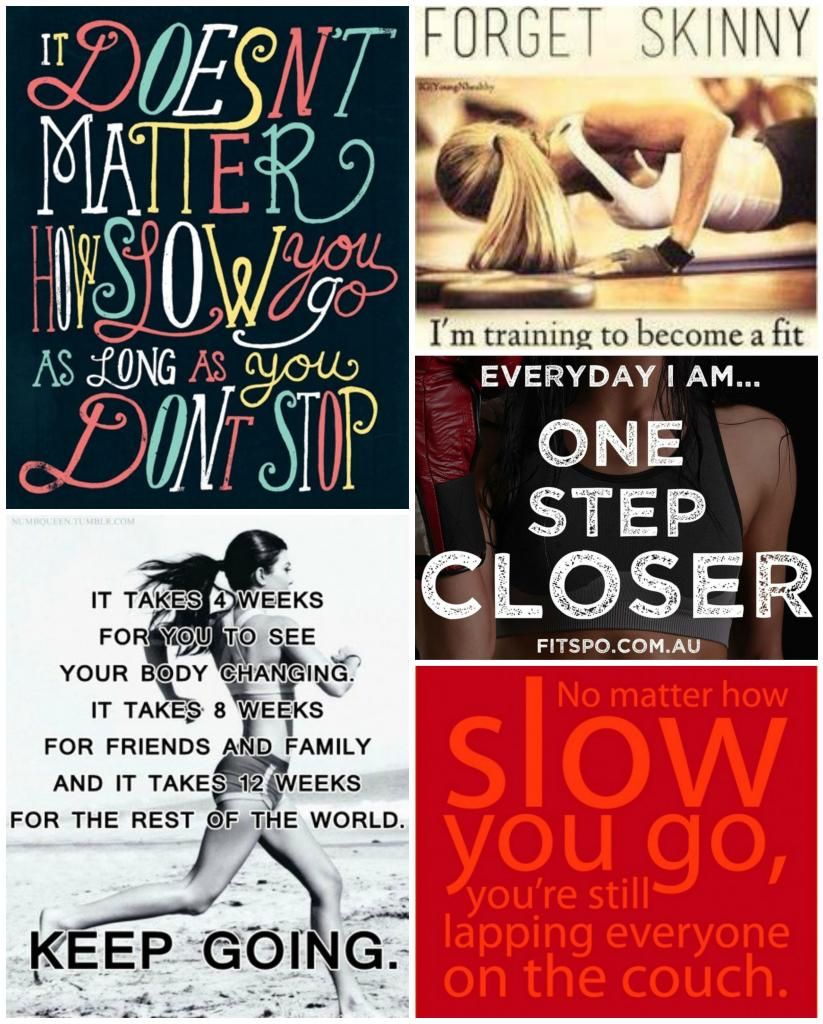 Fitness for me is more of a mental challenge than a physical challenge. I don't have any weight to lose, my goal is more to strengthen and tone my body. I'm not completely out of shape, and most of the time it's motivation and excuses that keep me from working out. Here are some of my favorite excuses:
1. I'm too hungry to work out, I won't have any energy.
2. I have too much to do at home/work.
3. It's too late in the day to work out.
4. My back/legs/arms/etc hurt.
5. I'll just workout tomorrow, it fits into my schedule better.
Do any of these excuses sound familiar to you? If I can just get past that point of the excuses, I actually find myself enjoying working out and I feel so much better when I am done. So how am I working towards getting through these excuses. Well here is my game plan:
1. Make a fitness inspiration board - Having inspiring pictures or quotes can be very motivating and help you get over those negative thoughts. I have been pinning some inspirational quotes and workout ideas on my "
Workin on my Fitness
" board on Pinterest, and the above images are some of my favorites so far.
2. Make a schedule and stick to it - Rick and I discussed a workout schedule and wrote it out and posted it on the fridge so we can both see what is planned for each day. I am hoping to add this to my planner once it gets here so I have a copy of it wherever I go.
3. Work the buddy system - Rick and I are going to work together to make sure the other person doesn't back out.
4. Set goals that are realistic - It's not realistic to workout 7 days a week if you know you don't have the time or if you are just starting out a workout. Our fitness schedule is currently 5 days a week, working out both weekend days, and 3 days during the week. It give us the flexibility to move things around if we need to.
5. If you get off track, don't stop, start back up again - We aren't going to beat ourselves up if we don't actually workout 5 days per week. If there is one week where we only workout 3 times, then 3 times is better than no times right?!?
6. Variety is key - A variety of workouts will help keep things interesting and keep your workouts from feeling stale. I am going to switch up my workout between going to the gym, doing the P90X workouts at home, doing a few online workouts, and getting outside when possible to walk/run/bike.
So what's our workout schedule for now?
Saturday - P90X Legs & Back
Sunday - P90X Shoulders & Arms
Monday - Cardio (Spin Class; P90X Plyometrics; Other)
Tuesday - Day Off
Wednesday - Yoga
Thursday - P90X Chest & Back
Friday - Day Off
Like I mentioned earlier, we aren't going to beat ourselves up if we get off track or lose a day. I think that is why so many people fail when it comes to fitness. They get off track and then just give up. Don't give up, moving a little is better than not moving at all.
And if you are looking for even more inspiration, check out the
Toned Up
series that will be starting tonight on Bravo at 10:30 pm.
I have been following these ladies on
Instagram
lately (
follow me too
!), and have also enjoyed reading their
blog
and their workouts on
YouTube
. They also have some amazing recipes on their website. They are beautiful ladies who have built a fitness empire, and have been a huge motivation for me to get moving.
One of my goals in 2014 for my blog is to share more fitness and nutrition posts and I totally want to check in from time to time to share how I'm doing with my fitness goals. Did you set any fitness goals this year? Have you heard about the Tone It Up girls?

Follow Me: