That's right!
-- 3 months of research online, blogs, and in magazines
-- 3 weeks and 4 bridal appointments
-- 18 dresses later
I finally picked the one! I had no idea how hard it would be to find a wedding dress, and that this would be the hardest wedding decision I have had to make so far. It was an emotional roller coaster as well. The first day I went shopping I was exhausted! I mean trying on 6 dresses is hard work, but I think I was so overwhelmed, I immediatly went home and took a nap. At one appointment I got a little emotional because my Mom wasn't there and I just couldn't choose a dress without her. Funny enough I felt this way when I was wearing the dress that finally became the one, so looking back that should have been the sign that was the one. It's also interesting because the style that I originally had in my mind didn't end up being the style that I choose in the end.
After trying 3 bridal shops, I finally narrowed it down to 2 dresses. I had my 4th appointment back at the 2nd shop I went to, and tried them both on again. I remember driving to my appointment and I'll be honest I was so nervous. You would think I was getting ready to give a speach to a million people, in my underwear. I told my Mom I was so nervous I was sweating buckets, even though it was in the single digits that day. I think my biggest fear was what if I didn't like either of the dresses, and had to start all over again. But once I was there and tried on
The One
, I just knew it was the perfect dress for me.
Of course I can't show you
The One
, and I even debated on showing you the ones that I did try on, but decided it would probably be bad luck to show pics of myself in any wedding dress, even if it wasn't the one.
But I did want to share some of the dresses I did try on.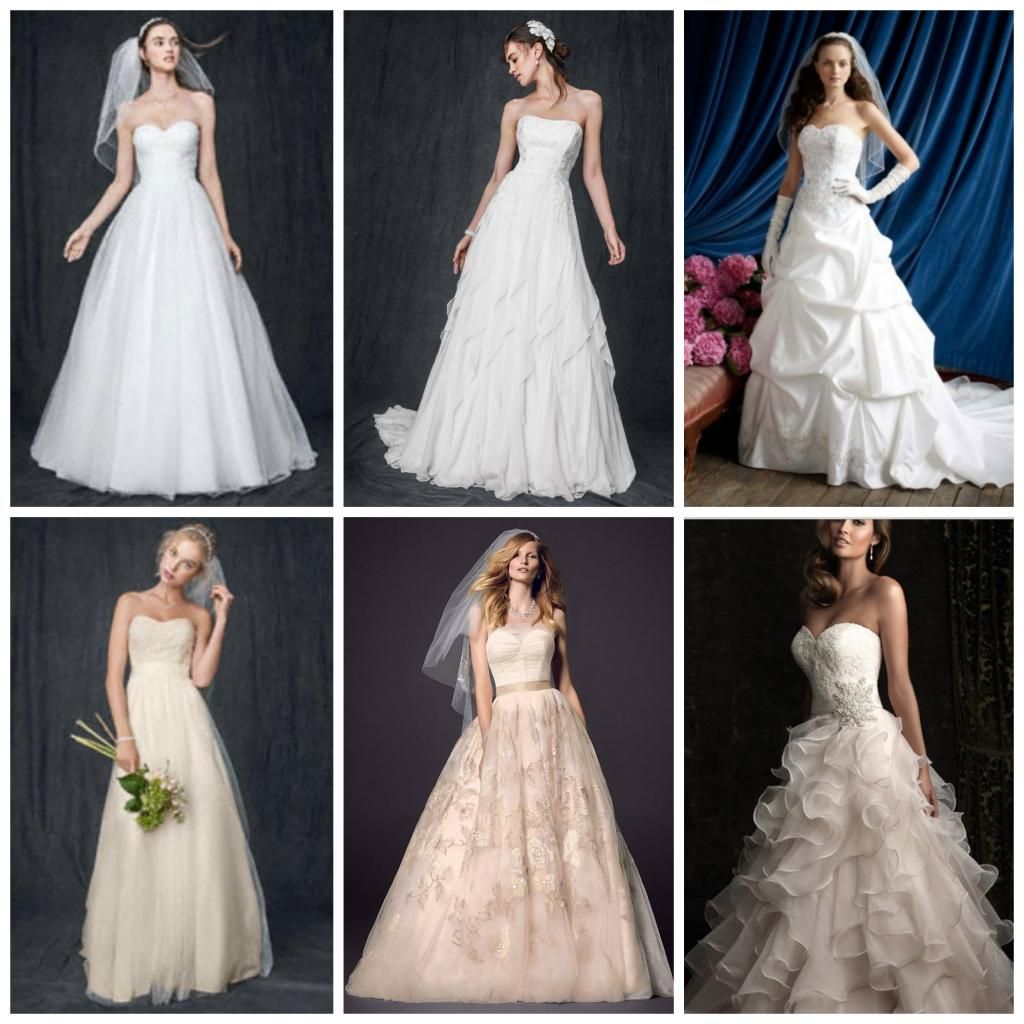 Most are from David's Bridal since all of their dresses are online, but the last picture is very similar to dress that didn't get picked in my top 2.
It was a lot of fun because once I decided on a dress, and picked out some accessories and got all dolled up, I ended up FaceTiming my family back home, and everyone was there including my Dad, brother and the 2 kiddos. So literally everyone in my immediate family was able to approve the dress! We are such a close family, I was so happy to have them all involved. Don't you just love technology!!
I ended up purchasing my dress from Wendy's Bridal, and I totally lucked out beause they were having a "Free Little Black Dress" promo during the month of February. So I did take a pic of myself in the dressing room in the little black dress that I choose.
It's hard to tell, but it's a one shoulder, lacy black dress with a simple belt. Oh and I spy my pink Kate Spade wedding shoes, so there is a little preview of what I will be wearing on my big day!!
And here is the crazy news! My last appointment was almost 2 weeks ago, and I got an email yesterday that my dress (and little black dress) are already in! Seriously they thougt it would take like 3 or 4 months, but no a week and a half! So super excited to try on the real dress!
More wedding fun to come. I have some fun DIY projects that I am hoping to complete in the next couple of weekends, and I'm working on setting up an appointment with a florist to discuss centerpieces. I told Rick we also need to get on the ball and order our rings and find him something to wear. I told him all we really needed was my dress, his suit and the rings, and we could get married. Everything else was just minor details :)
Linking up with:

Follow Me: