Happy Monday!
Whew! The last few weeks have been insanely crazy, which is why I've been a little MIA lately. But we are getting through it, and we had a wonderful weekend that totally made up for it and allowed us to recharge and get ready to start all over again...ha!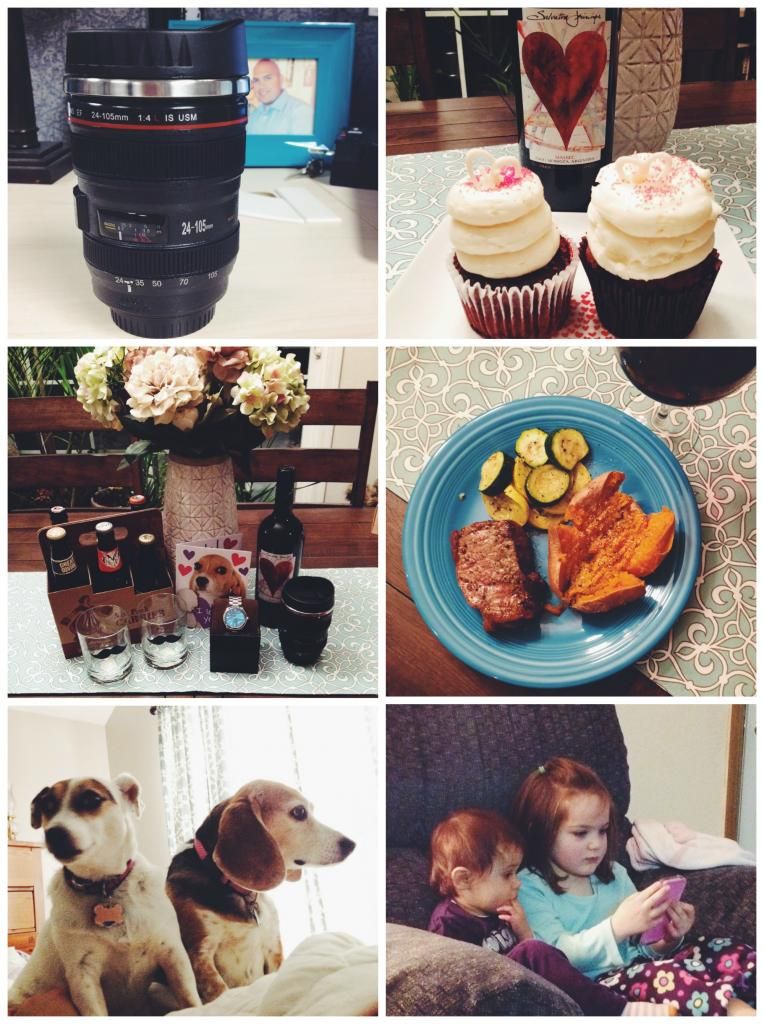 1. Rick completely surprised me on Friday morning by sneaking this little camera lens coffee mug into my backpack. Last week was a stressful and emotional week for me, so I'll be honest I cried a little when I opened my bag, but I promise it was tears of joy over how sweet he is.
2 - 4. Friday night we decided to keep things low key this year for Valentine's day, so we made a nice dinner at home and enjoyed some cupcakes from Gigi's (Friday is Gluten-Free day BTW) and a little bit of wine. I am a sucker for cute wine labels, so when I found this wine in the Valentine's section at World Market, of course I had to pick it up since it had a cute heart label (thankfully the wine was pretty good!). We also exchanged prezzies Friday evening and Rick totally spoiled me with another Michael Kors watch. I gave him some fun mustache glasses, a beer sampler from World Market and a cute beagle card that said "I love you this much" and showed a picture on the inside with a beagle with dumbo ears. We are constantly joking about Abby's ears, so I thought it was most appropriate...ha!
5. On the weekends we love to sleep in (even if that means only until 9 am) and cuddle with the pups. And they love to compete with each other for our attention. On Saturday we were shocked when both Bryn and Abby were actually getting along and sitting right up against each other, while Rick was rubbing their bellies. Typically Bryn and Abby don't get along, and there have been quite a few fights among these two girls over getting attention. Of course even though the were getting along, you could still see a little competition as they wouldn't look each other in the eye.
6. Last week was my good friend Amy's birthday, and a couple of us got together at my friend Lisa's house on Saturday to have dinner, hang out, and celebrate Amy's birthday. One of her good friends Sarah come over with her little girl Bella who is 4.5, and it was fun to watch her and Amy's daughter Avery who is 1.5 interact. You could tell that Avery really looks up to Bella and they both got along really well.
When Sunday rolled around, we both felt like all we wanted to do was veg all day long. I did manage to get some cleaning done and Rick got the oil changed in my car (which probably should have been done 6 months ago...oops!..but since I don't drive very much my mileage wasn't that much over thankfully). We both also spent the day watching shows on onDemand. I got sucked into the series
Girls
on HBO, and Rick ended up starting
Games of Thrones
, also on HBO.
I felt bad because we spent the good part of the day in different rooms watching different shows, but as Rick put it, it's sometimes good for us to have a little along time as well. We finally remembered that with DirectTV we can stream our shows on our laptops and phones, so I finally came downstairs and watched a few episodes on my laptop while he watched a few episodes on the TV. Still a little strange, but at least from the outside looking in we looked like we were spending time with each other...ha!
I'm totally sucked into the show Girls, and watched all of the 1st season and half of the 2nd season yesterday. I'll probably be able to get caught up with what's happening in the 3rd season by the end of the week at this pace. It's kind of Sex in the City like, but I think it's a little more raw and realistic. I mean these girls aren't going out and enjoying $15 cocktails and wearing $500 heels.
Next up is to get back into the
Downton Abbey
. I watched (and loved!!) all of season 1. We don't get PBS for some reason, but I was able to watch Season 1 on Rick's Amazon Prime account. I love getting swept away in different shows and truthfully it really is the only way to get through these cold winter months, right!

Follow Me: