Happy Monday all! Let's talk about how delightful this weekend was! Saturday we had nothing but sunshine and a high of 52 degrees!!! You would think it was summer the way we were acting. Rick and I went running at Highbanks and at one point he was outside in shorts and flip flops when we were letting the dogs out. Crazy, but we were so happy to have a break in this awful winter weather.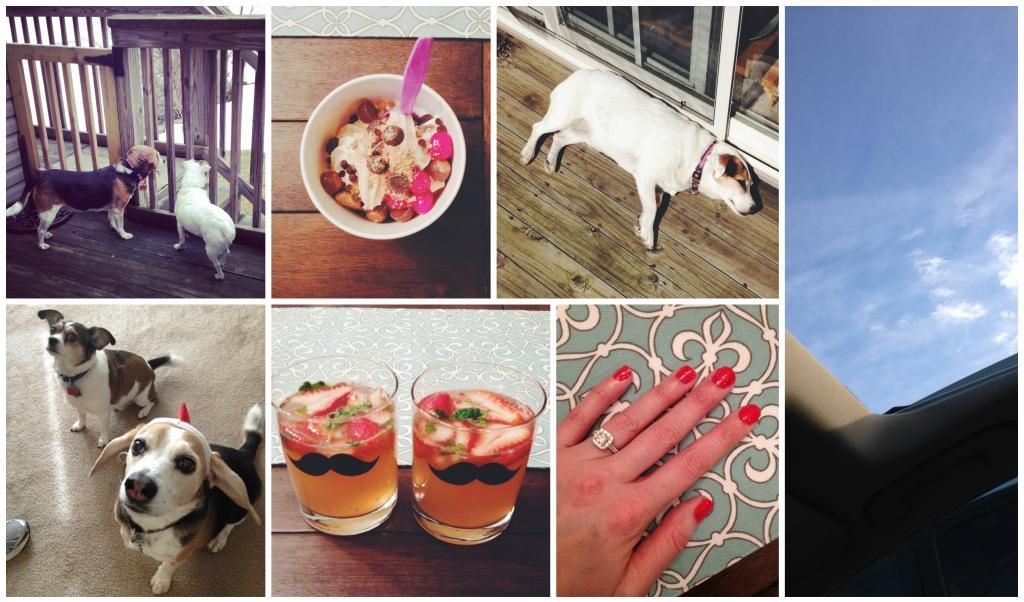 So to recap a little bit of our sunny weekend:
1. Going back a few days, on Thurs afternoon I worked from home after a doctor's appointment. At one point the pups started going crazy and I realized there was a possum on our deck. After I was sure the critter was gone, I let the pups out to investigate and sniff out the area to ensure all was safe and secure. No intruders can get past our security team!
2. We celebrated Friday night with a little FroYo! It was yet another rough week at work, so a celebration was called for!
3. Bryn was enjoying the sunshine on Saturday afternoon and spent some time workin' on her tan.
4. Of course I had to open up the sunroof and enjoy a little fresh air while I was running errands on Sat, even if I did have the heated seats on. I mean 52 degrees is warm, but not that warm...ha!
5. We had a little chicken head fun with Abby. She was not thrilled with this, and Napoleon looks like he is thinking he might be next.
6. Did you know that Saturday was National Margarita Day? I didn't either until after we were enjoying these delicious Strawberry Mint Margaritas. Recipe below. Let's also talk about how I walked into the liquor store at Giant Eagle on Sat and purchased a bottle of tequila and a can of Comet cleanser. They didn't have any Comet at Walmart when I was there earlier, so I still had to pick it up. Of course the clerk was like..."that's an odd combination." I told her I promised I was not planning on cleaning and drinking tequila at the same time. The girl in line behind me said "well that would make cleaning a lot more interesting...ha!" Lot's of craziness happening in our household on a Sat night I guess :)
7. I tried out a fun new summery manicure, hoping this helps to bring a little more sunshine our way. FYI, I also tried this new DIY Gel Manicure Hack, and will share in the next couple of days how this holds up. So far I'm loving the shine, and it dried really quick which is a plus in my book. More to come.
So now onto those margaritas. I found this
recipe
on Pinterest, and it was actually for Strawberry Basil Margaritas, but I couldn't find any fresh basil at the store, so I just substituted mint and it was wonderful! Perfect summer recipe, or at least it will make you feel like it's summer until the warmer temps head our way :)
Strawberry Mint Margaritas:
Recipe inspired by The Kitchn
Makes 8 servings (please note we halved this recipe for the 2 of us, and it gave us 2 glasses each)
-- 1 can (12 ounces) frozen limeade concentrate
-- 10 strawberries (or 12 if you're using smaller ones from the farmer's market or your backyard.)
-- 8 mint leaves
-- 2 to 2 1/2 cups tequila (gold or silver)
Empty the limeade concentrate into a pitcher. Add 2 1/2 cans of water and 1 1/2 (18 ounces, or 2 1/4 cups) cans of tequila (or a bit less, if you don't want your drinks to be quite as strong. They were pretty strong but really good and I might have been pretty tipsy after 2 of these drinks).
Hull the strawberries, slice lengthwise, and add to the pitcher. We then took a few strawberries and the mint and muddled them together to bring out the flavor and then added to the pitcher. The original recipe recommended to place the pitcher, covered, in the fridge overnight, or for at least four hours. Who has time for that?!? Ha! We just placed in the freezer for about 30 mins to really chill it, and it was totally delish!

Follow Me: