Happy Monday all! What a weekend this was...weather-wise that was. We headed up to Medina, OH on Saturday to visit with Rick's family. While we were there we experienced the craziest snow storm with at least 5 inches of snow. Sunday it was then sunny and 48 in Columbus, and then tomorrow it is supposed to be 62 and sunny. Spring in Ohio is just crazy and we seem to go from one extreme to the other within a matter of a few days. Here's to hoping that the snow is over!
Besides visiting with family, another fun thing we did this weekend was try out a new brunch spot. I have been wanting to try some new restaurants around town, and we haven't been to brunch in for-e-ver.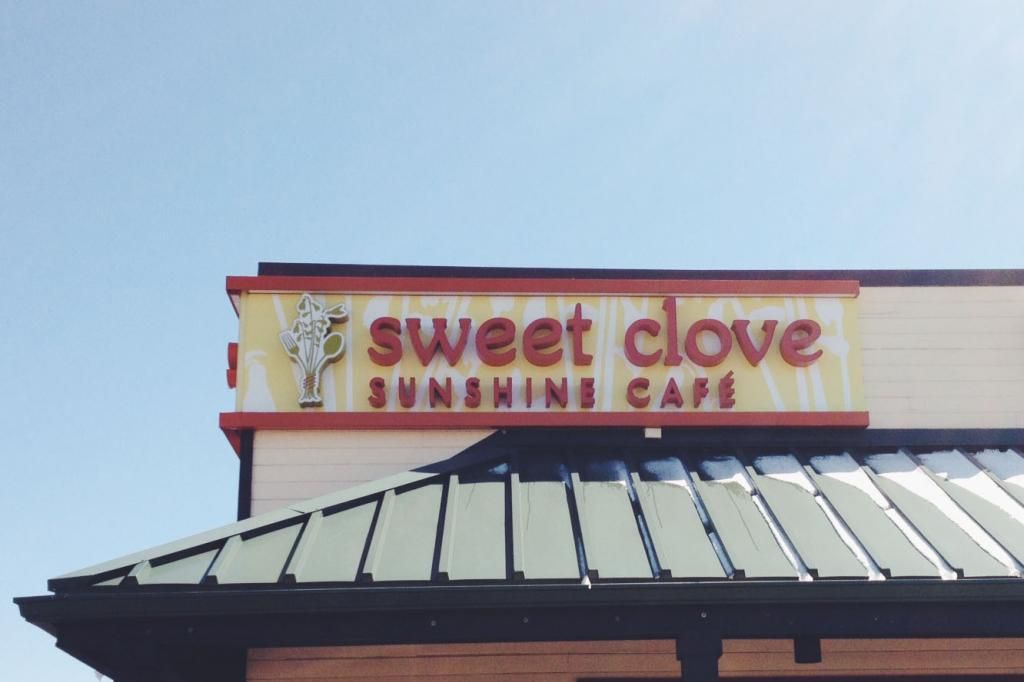 I came across the
Sweet Clove Sunshine Cafe
from a girl I follow on Instagram. It's one of her favorite spots, and when I realized it was rather close to where we live, I told Rick we had to try it out. It's actually a cafe owned by Honeybaked Ham, and they feature a lot of their products on the menu. If you have never experienced Honeybaked Ham, you are missing out. It is some of the best cured ham I have ever had.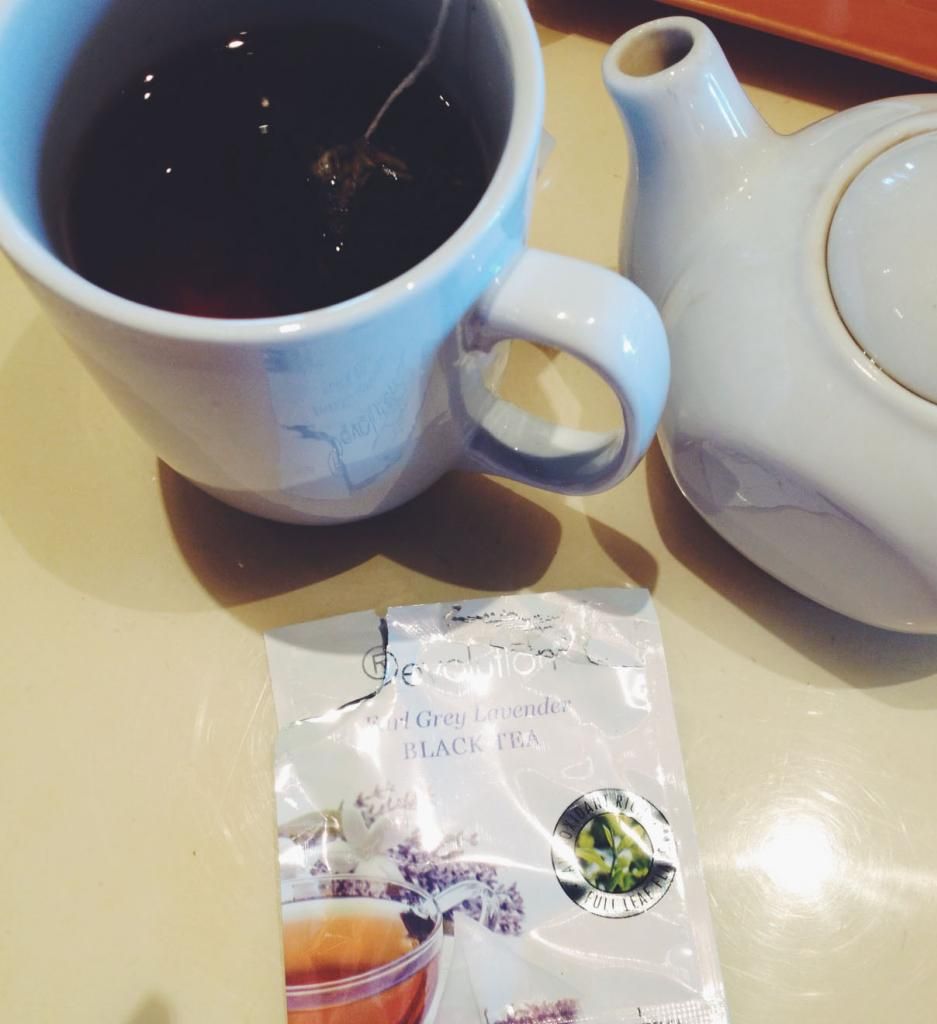 I started out my bruch with some hot tea. They serve Revolution teas, which I had never heard of, but they have some yummy flavors. I immediatly wanted to try the Earl Gray Lavendar. They had about 6 different types of tea, and I told Rick we had to keep coming back just so I could try all of the teas. I think he said I was a geek...ha!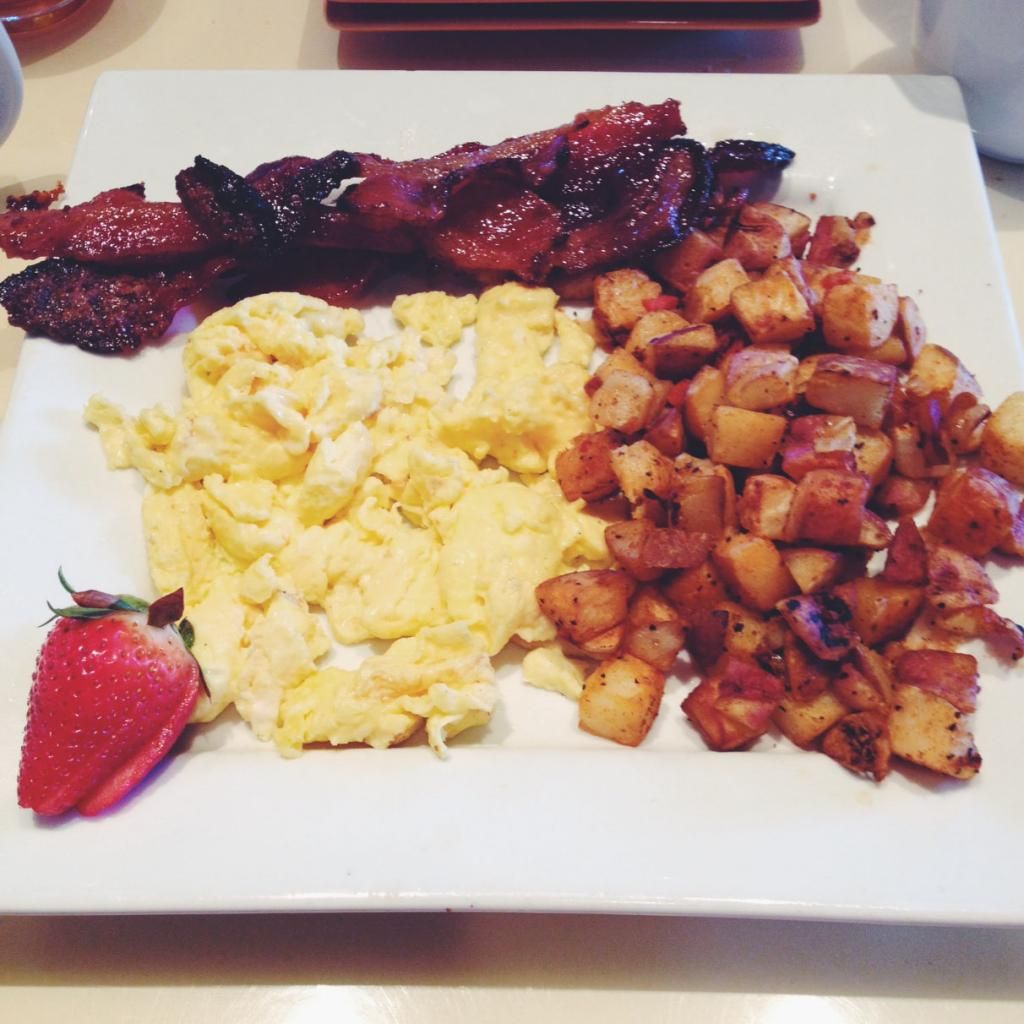 I had the Sunrise Breakfast which included two eggs, oven roasted redskin country potatoes and hand rubbed honey spice bacon (or you could choose Honeybaked Ham). The potatoes had a little kick to them with roasted red peppers, and the honey spice bacon...oh my I am still dreaming about that. The bacon had this thick honey glaze, and it was like eating candy. We are definitly making this spot a new favorite, and I will get that bacon every time!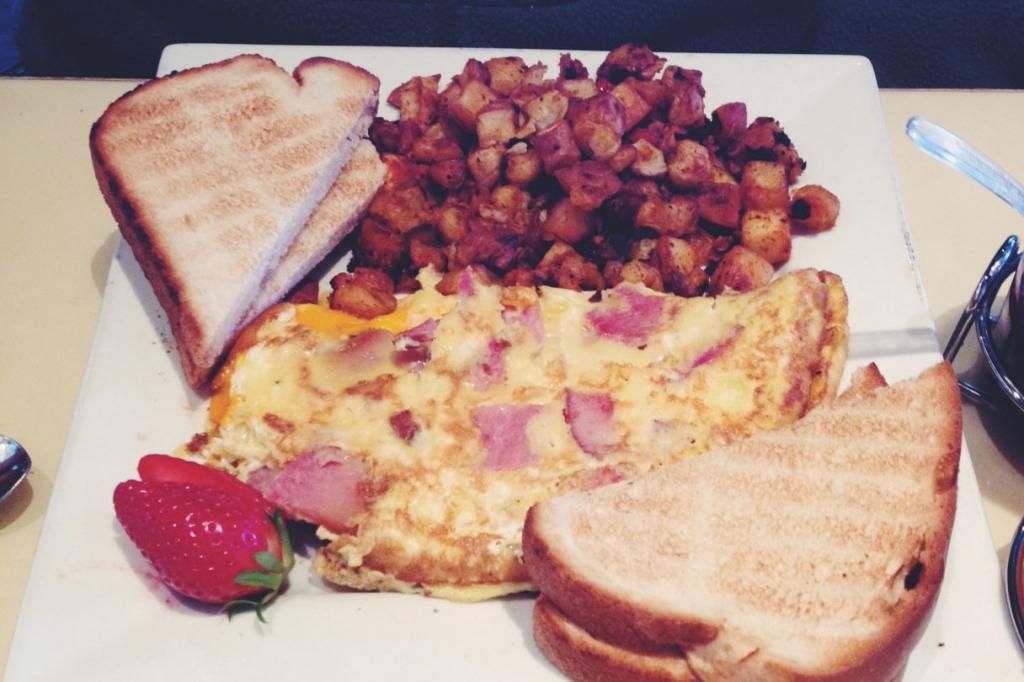 Rick had the HoneyBaked Supreme Omlet which included Honeybaked Ham, amish baby
swiss and cheddar cheese. He also had some hawaiian bread toast.
It was a lot of fun to try out a new place, and Rick even ran into some friends there. I could tell it was a pretty popular place, but we were able to get seated rather quickly and the service was really good. Oh and there are people who walk around with these large green bowls of freshed whipped cream that they offer to keep piling on your plate. The whipped cream is good on french toast, toast, and the coffee cake loafs that they bring to your table when you first sit down. I told Rick I wanted to be a whipped cream girl. I mean who wouldn't want a job where you can serve delicious whipped cream to people all day long. No one is going to yell at you for that! Rick said....well unless you are lactose tolerante. Very true! And yes these are the types of discussions we have all day long :)
And because I feel the need to share even more crazy-dog-lady pictures, here are some of the pups from our car ride to Medina.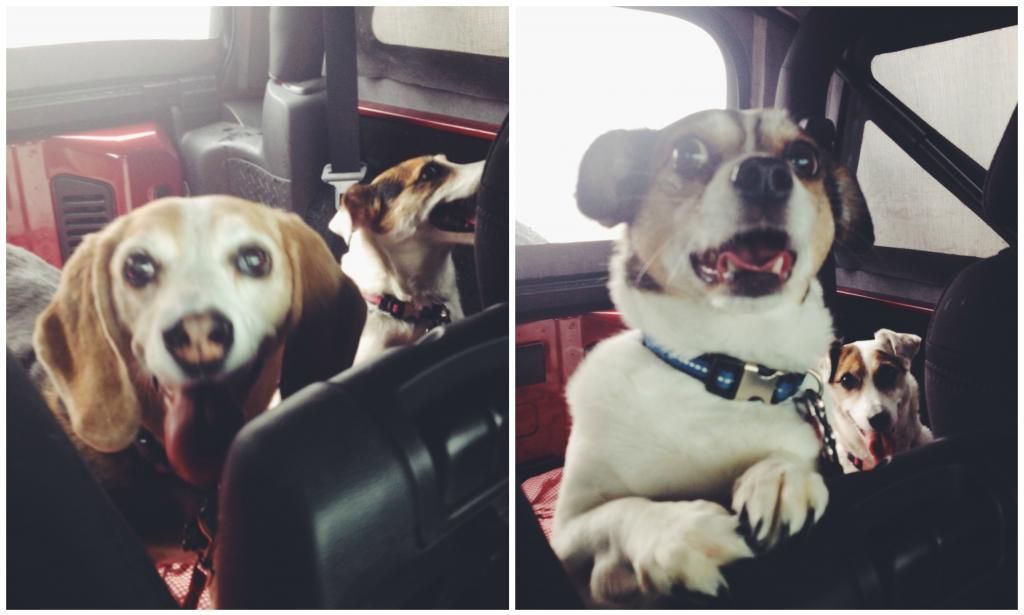 We had stopped off at McDonalds for some lunch on the way, and the pups were begging for fries the whole way there. Such little moochers!

Follow Me: