After going through some pictures on my camera, I realized I never shared our rare meteorological phenomenon that took place last month. And since we only have 2 more days left of Winter, I figured I might as well share what is hopefully the last of our Winter pictures for a while.
Last month (right before Valentine's day), we had a snow storm that produced snow rollers. I had never heard of these, but on my way home from work I noticed some rolled up snow balls along the side of the road. At first I just assumed kids had been outside working on snowmen. At the time I didn't think about the fact that the temps were below zero and these snow balls were right next to a busy road. No kid would have been crazy enough to be out in those conditions. Even the pups did everything they could to stay indoors and they typically love to play in the snow.
When I got home from work Rick asked me to take some pictures the next morning of the snow rollers. I kept saying, what are you talking about. He is like, look outside in the morning (it was dark by this time), and you will see them. I didn't think much about it until the next morning I looked out back and saw all of these snow balls all over the yard and the pond which was now clearly frozen over.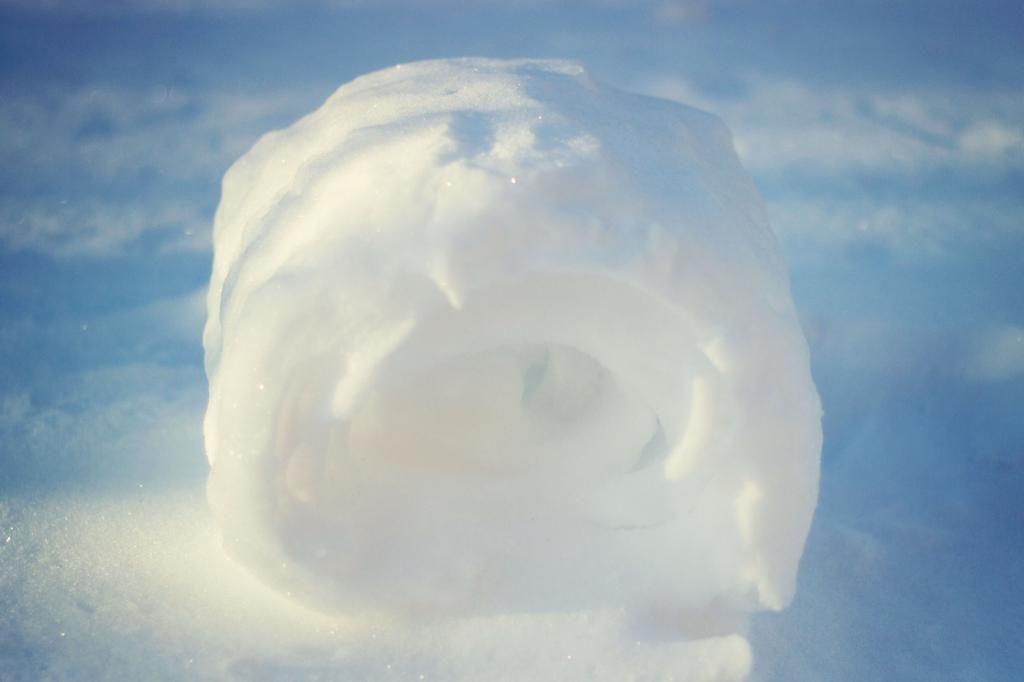 Snow rollers are snowballs that are naturally formed by chunks of snow that are blown along the ground by the wind. They are typically cylindrical in shape, and hollow in the center since the inner layers are typically pretty weak. To me they looked like a cinnamon roll or a swiss roll.
According to
Wikipedia
, the following conditions need to exist for snow rollers to form:
-- There must be a relatively thin surface layer of wet, loose snow, with a tempature near the melting point of ice.
-- Under this thin layer of wet snow, there must be a substrate to which the thin surface layer of wet snow will not stick, such as ice or powder snow.
-- The wind must be strong enough to move the snow rollers, but not strong enough to blow them apart.
-- Alternatively, gravity can move the snow rollers as when a snowball, such as those that will fall from a tree or cliff, lands on a steep hiss and begins to roll down the hill.
It's a rare meterological phenomenon that all of these conditions existed, and it was cool that we were able to experience this in our own back yard.

Follow Me: