Just wanted to pop in and share this super tasty, and even healthy recipe that has become one of our favorites.
This recipe originally came from Katie's blog
Keep Calm and Carry On
and was called Pizza Quinona. Her version was vegetarian, and I changed it up a little by adding Italian sausage (which I just can't get enough of lately), used some different veggies, and added some spices. I also did not include cheese as I am trying to stay away from dairy lately (has not been agreeing with me), but you can definitely include to make it even more delish.
The great thing about this casserole is that it is super healthy for you. It's pretty much a clean recipe and quiona is high in protein and is naturally gluten free. The Italian sausage is a little fatty, but you could always substitute a lean ground turkey, or even leave it out. I feel like the Italian sausage gives it some great flavor, just make sure to drain it well before you mix with the other ingredients. I also added some crushed red pepper to give it a little heat. I seem to always add crushed red pepper to my tomato sauces as it helps to give a little extra flavor without adding extra fat and calories. I also included some dry Italian seasoning, and some fresh basil on top straight from my herb garden.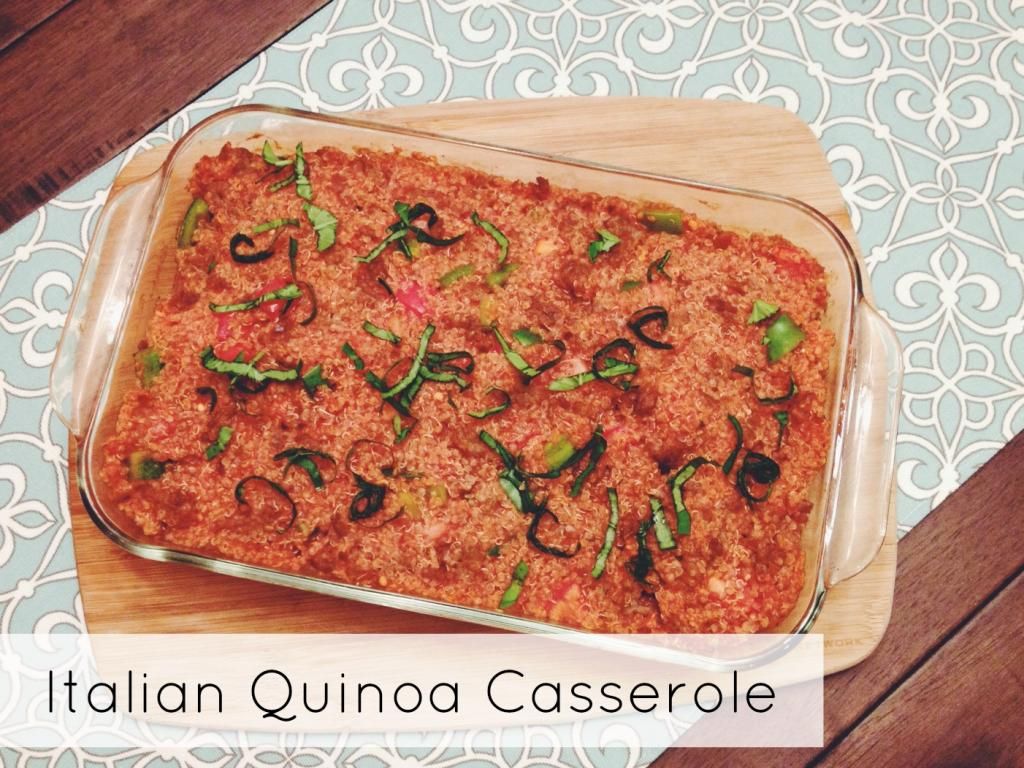 Ingredients:
1 cup dry quinoa
1 lb Italian sausage (I used mild)
1 green bell pepper
3 roma tomatoes
14 oz. can tomato sauce
1 tsp. basil
2 tbs. Italian seasoning
1 tsp. crushed red pepper (or more if you like it spicy)
Salt
Pepper
Directions:
Preheat oven to 375. Cook quinoa by adding 2 cups water and 1 cup of quinoa in a saucepan (if you change up the amount of quinoa to make more, the ratio is 2:1). Bring to a boil, cover, reduce heat, and simmer for 15-20 minutes or until water is absorbed.
Meanwhile, brown the Italian sausage and drain the excess oil. Then chop the green pepper and tomatoes. You could saute these over medium heat, but I choose not to because I was planning on baking it all together, and wanted a little crunch/texture.
When quinoa is cooked, place it in a large mixing bowl. Add tomato sauce, tomatoes, green pepper, Italian seasoning, salt, pepper, and crushed red pepper to desired taste. Stir to combine.
Spread mixture into a lightly sprayed 9x13 inch dish and gently press down. Top with a light sprinkle of cheese if you choose, and bake for 20-25 minutes. Enjoy!

Follow Me: