Happy Monday everyone!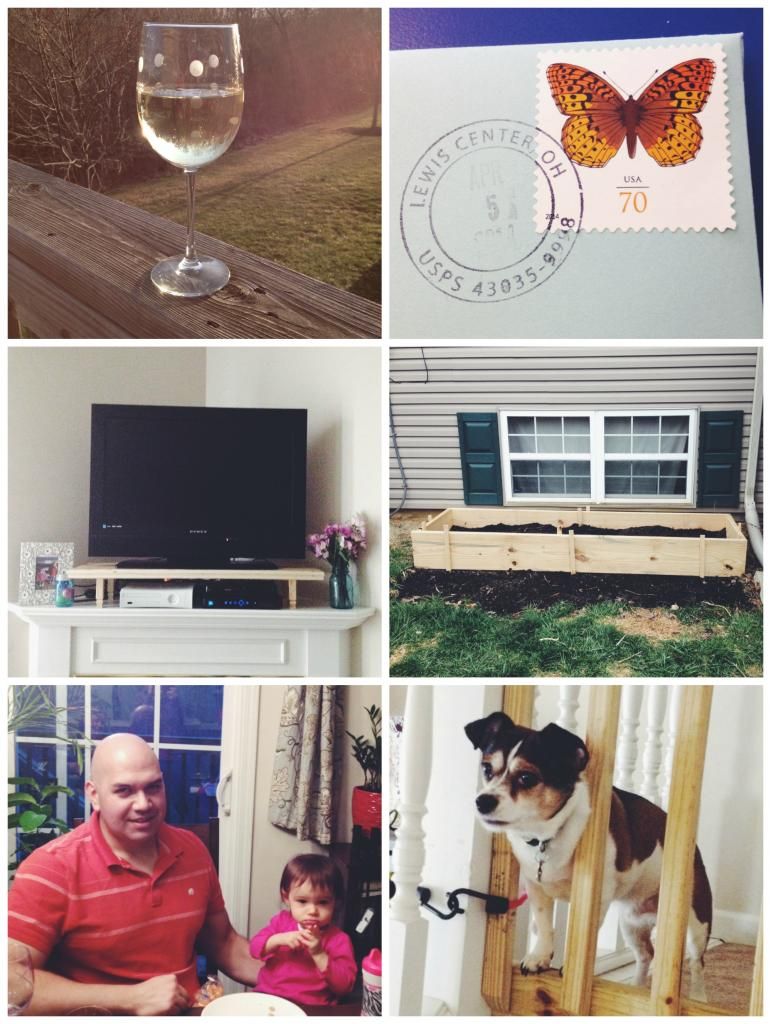 I've been a little MIA lately from sharing updates. Mostly because work has been super crazy, and between work and wedding planning, I've been a little overwhelmed lately and finding that I need about 4 more hours in my day if I ever wanted to get everything done. I miss sharing updates because I think it's a lot of fun to look back and see what all we have done. But unfortunately life gets in the way, and when I am super busy at work, not a lot of fun things happen to share anyway.
So today I'm just going to share a few tidbits of what's going on lately.
1. It finally warmed up for a few days, and we had a wonderful evening cooking out and drinking wine on the back deck last week. It's still threatening to get cold at night, so I haven't pulled out my teak patio furniture yet, but we do have a couple of metal chairs that will withstand the elements, so I try and get outside as much as I can when it is warm and sunny. Not so much today as it's been raining all day, but later this week I heard it's supposed to be 68 and sunny! Can't wait!!
2. Huge news!! Weddings invitations are in the mail. I still have a few to mail because I needed to reinforce the envelope glue, but the majority of them are on their way to my close family and friends and I hope everyone loves them as much as I do.
3. Rick worked on a few DIY Projects over the weekend. They are still works in progress, but I thought it would be fun to share since it took up a good portion of our weekend. On Sat, Rick built a stand to go on top of the fireplace mantel to hold the TV so we could house the cable box and the X-Box under the TV and give us more room on top of the mantel. We still need to paint it white so it will blend in with the fireplace, which we will hopefully do in the next week or so. I am super excited to finally have room on the mantle to decorate!
4. On Sun, Rick put together a planter box for our garden this year. We had a raised garden bed last year, and it worked fine, but the soil wasn't very deep and our sweet potatoes got a little disfigured in the clay soil. So he reconfigured the boxes to make them skinnier, but taller so we could add more soil. Here's to hoping for an abundance of veggies this year. I can't wait to start planting, but we will need to wait probably another month for it to stop frosting at night.
5. On Sunday 2 of my good friends came over for dinner, and I got to visit with little Avery. I love it when Rick holds her and plays with her. I know he will be an amazing Dad someday.
6. Last but not least, I had to share this cute picture of Napoleon. We have a gate on our landing to keep Abby upstairs so she doesn't get into the trash or fridge, and Napoleon typically hangs out upstairs with her while we are gone. We came home the other day and he practically tried to push his way through the gate. I told Rick he was probably thinking in his head...."if only Grandma hadn't fed me all of those sandwiches last week I could fit through!" Ha!
I have a fun recipe and a few other DIY projects that I have been working on lately that I am hoping to share this week. So check back soon!

Follow Me: