Happy Tuesday all! Hope you are having a great start to the week and if you are in the South-east/East are staying safe from all of the storms coming through. I was looking at
weather.com
earlier today and it said 75 million are at risk by the storms today and tomorrow. We had a few thunderstorms yesterday, but more are set to roll through Ohio around 7 pm tonight. Fun times right!! I guess we need those last of the April showers to bring May flowers!
This weekend was another amazing weekend. I am so happy that Spring is finally here, and have found my mood has instantly gotten much happier. I seriously think that I must suffer from seasonal affectiveness disorder because once Spring/Summer rolls around I find myself much more motivated and less grumpy, especially in the mornings. I guess that means we probably need to move further South, so I'll have to see how quickly I can convince Rick of that...ha! Of course all of our family would need to move too, so there is a lot of convincing, but I think after the Winter we just had that won't be too hard :)
Lots happened this weekend, so let's get to recapping...
Poor little Napoleon had to have surgery on Friday, so the kick-off to the weekend wasn't so great. Poor thing had 2 teeth that had hairline fractures, and one had become infected. You can kind of see in the picture on the left that he had a really big bump under his right eye (I called him "Little Rocky" all week), that luckily with antibiotics went down a lot prior to surgery day. That was key so they wound't have to drain anything and it was much safer for the surgery. The pic on the bottom left is of him right before I had to leave him there. He was like "no Jen don't leave me!!" We weren't able to pick him up until later that night because he was having a little trouble waking up, but luckily we were able to finally bring him home and have been working on doctoring him back to health.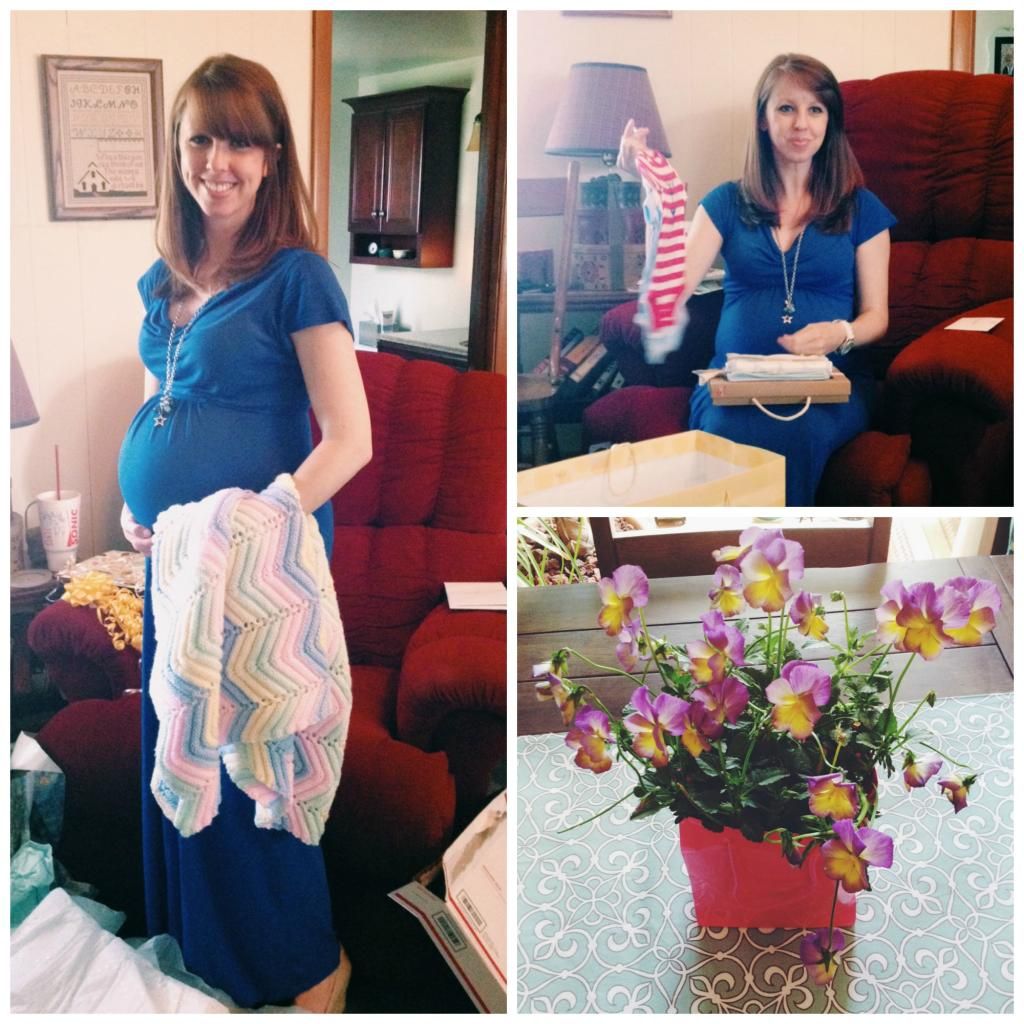 Then on Saturday my cousin Katie had her baby shower. She is due right before my wedding, so I am hoping that the baby comes on time so we can meet Baby H at our wedding. How fun will that be?!! The blanket she is holding was made by our Grandmother and was so soft and cozy. My Grandmother loves to make blankets and quilts and all kinds of things, and all of us just cherish whatever she makes for us.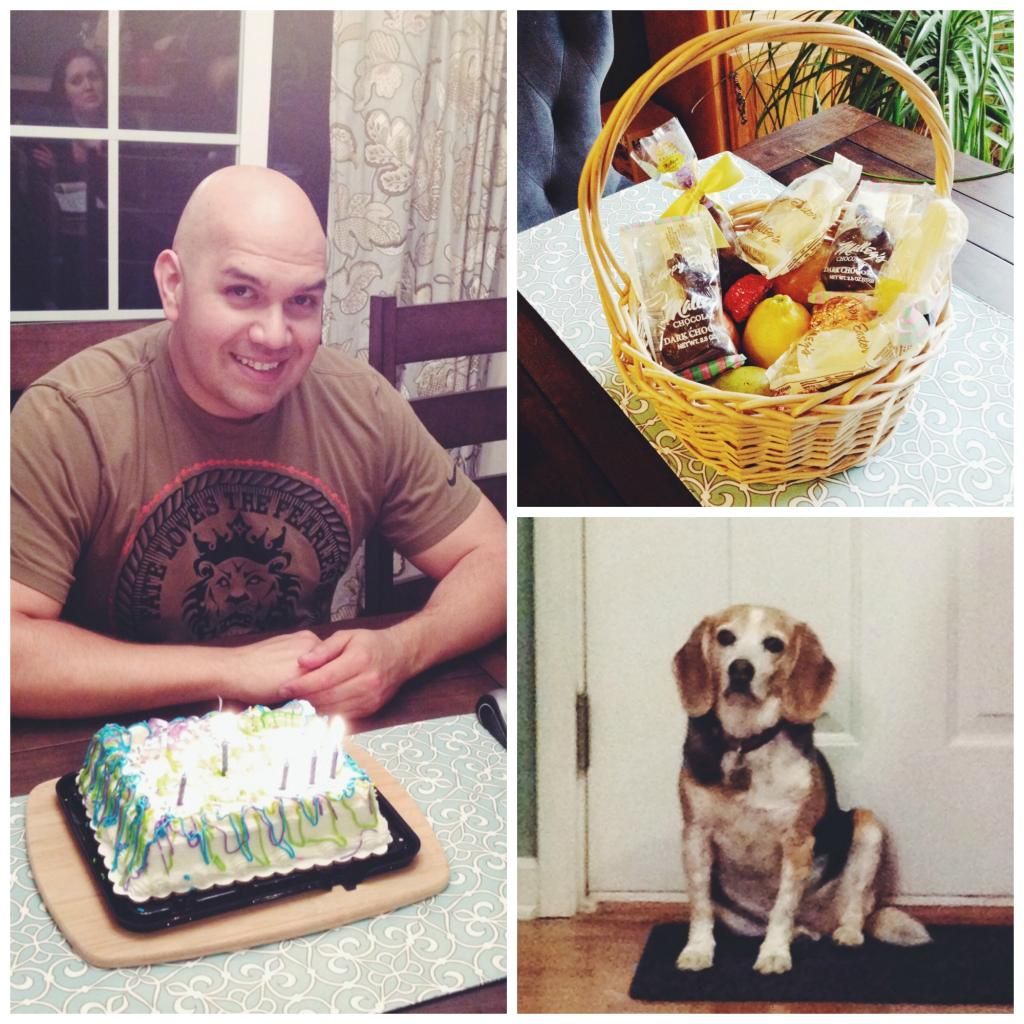 On Sunday Rick's family came to visit and we celebrated Rick's birthday (which was a few weeks ago...lucky guy got to celebrate almost all month long!). We went to
Cantina Laredo
for dinner and then had cake and ice cream back at our place for dessert. And check out the cute Easter basket Rick's Mom brought us. Thankfully it was full of fruit, along with some candy. I have been trying to eat much better with the wedding coming up, so I have had a little chocolate, but have been totally enjoying the fruit as well. And of course I had to include this cute picture of Abby. She looks so innocent, but in reality she was sitting by the pantry door begging for more food. Yes she had already had her dinner, but apparently she still had a spot in her belly that needed filled up. She is too cute for her own good!
And in case anyone was concerned with what the puppies did all weekend. Well, pretty much this...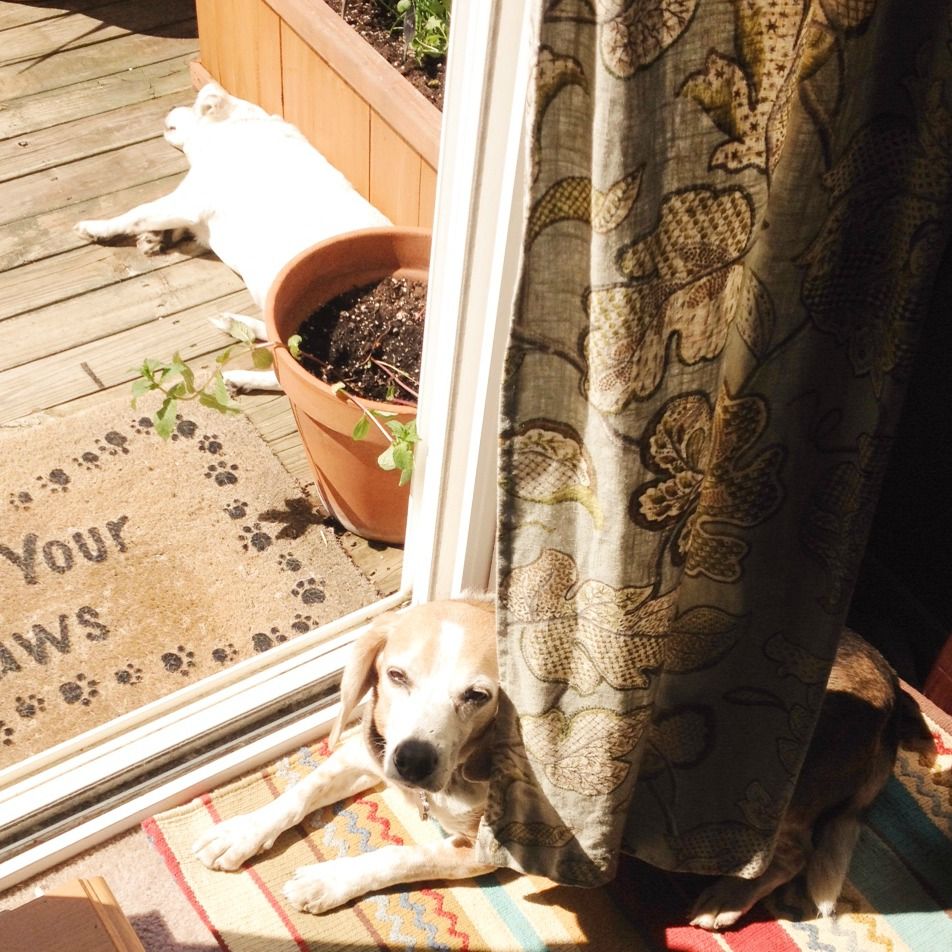 They love it when we open the back door and get to spend the afternoon sunning on the deck. I think Napoleon was actually curled up in bed, but he still wasn't feeling very well from his surgery. But Bryn and Abby spent most of the weekend in these spots. Talk about some lazy pups!

Follow Me: