Happy Monday all!
So life lately...our lives lately have been filled with working and getting ready for the wedding. I've been torn because I would love to share what I am up to from a wedding planning perspective, but at the same time I want things to be a surprise for my guests, and there are family and friends who are attending the wedding who read my blog. But I do have a few fun things to share that have already happened, so more to come on that later this week.
I'll be honest, life lately has been great in many ways, but it's also been pretty stressful and emotional. I always hear people say they loved their wedding, but were so happy when it was over. I never wanted to be that person, and I'll be honest I am trying really hard to slow down and enjoy the planning process, but I am starting to get to the point where I am ready for it to be here.
I also hear people say how weddings bring drama and brides tend to turn into bridezillas, and I swore this would never happen to me. I am not sure that I have turned into a 100% bridezilla (although Rick and my Mother may disagree), but who knew this would become such an emotional experience for me. There have been a couple of instances throughout this wedding process where I have felt really hurt, by different people's opinions, or by a few who I would had hoped would have been there for me but weren't. And although I am a sensitive person by nature, I feel like my level of sensitivity has been heightend these past couple of months and I'm sure it's just because this is such an important and very personal time for us.
I had a moment this weekend where I told myself I needed to stop focusing on the negative, and focus on those family and friends who have shown total support these last couple of months. I'll be honest there have been a few instaces where I have been completely stunned at the love and support we have received from some of our family and friends. From the parties, to the sweet notes people are leaving on our response cards. Everytime I open one of those little blue envelopes I hold my breath and think, will they say yes they are coming? So far everyone who has responded is coming, and I told Rick I was probably going to be very sad when the first decline comes in. Of course we joke that although we want everyone to come, we are at capacity for our venue and the seating chart is going to be extremly challening if everyone accepts. Of course we will always figure that out, and our guests might just have to get cozy with their tablemates...ha!
So for those of you who have made it through my wedding rambles, here are a few pictures of some fun positive things that have been going on in our lives lately.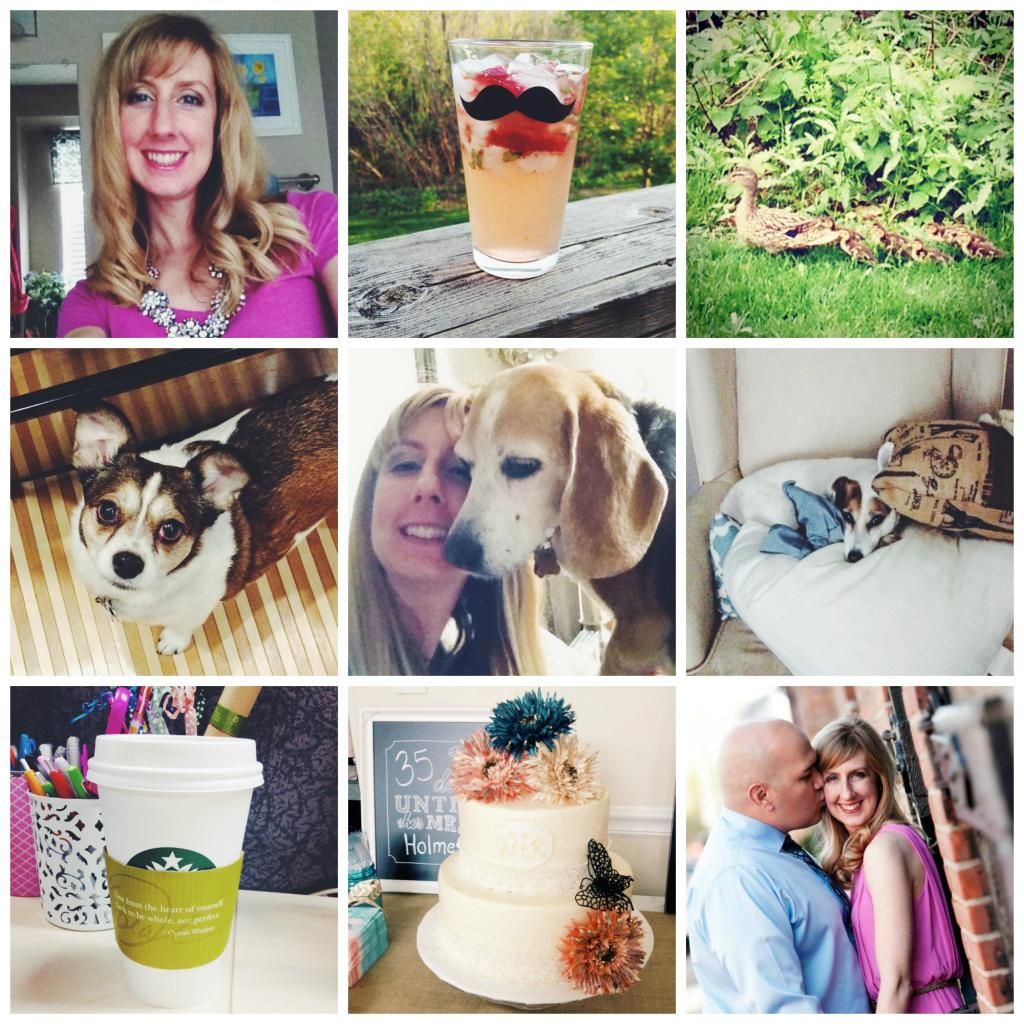 1. Trying out some new curls with my straightening iron. Sometimes it works great, and sometimes I have struggles. But I will continue to practice. I might end up breaking down and purchasing a curling iron soon, just since I'm enjoying this new look lately.
2. Cocktails on the deck! I have been loving all of the in-season strawberries lately, and asked Rick to make me a Strawberry Mojito the other day. It was so good, but I might have yelled at him for using a ton of real sugar. My response...how am I going to fit into this wedding dress? His response, it's not a mojito if it doesn't use real sugar. Apparently Skinny Mojitos are not acceptable :(
3. The cutest little duck family passed through our backyard the other day. The ducklings were so cute waddling along.
4 - 6. Had to include some cute pics of the pups. Miss Abby has been so cuddly lately which is not always the case with her. I think sometimes she knows when I need some extra lovins, and gives extra cuddles.
7. It's hard to read here, but the quote on my Starbucks cup the other day was "Live from the heart of yourself. Seek to be whole, not perfect." Such a great quote, especially as my OCD/perfectionist personality has been in overdrive lately with all of this planning.
8. My bridal shower was this weekend and it was so lovely. I am still working on pulling together all of the pictures, so more to come, hopefully later this week.
9. We also received the disk from our engagement shoot and I am loving them. Here is a sneak peak, and I have so many to share. I promise it won't be picture overload, but it might be close...ha!
That's it...what have you been up to lately?

Follow Me: