Guess what folks! We have hit the 30 day mark! So in honor of the wedding being only a month away, I thought I would go ahead and share our wedding invites.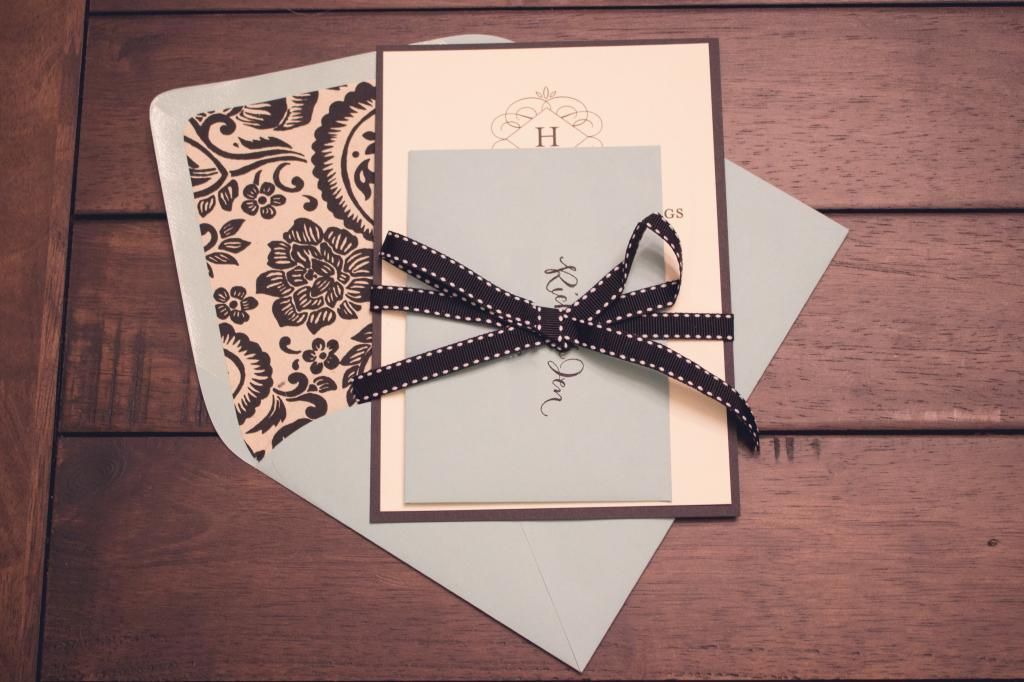 When we were selecting invitations, I had a few criteria I was looking for. I wanted something classic that I would still be happy with 20 years from now. I also wanted something that was totally us and liked the idea of including our last name initial, especially since our current last names both start with an "H". I also didn't want to spend a fortune because although I tend to save every invitation/card I receive from my friends/family, I know other's will likely send them to the trash after the wedding, if not before.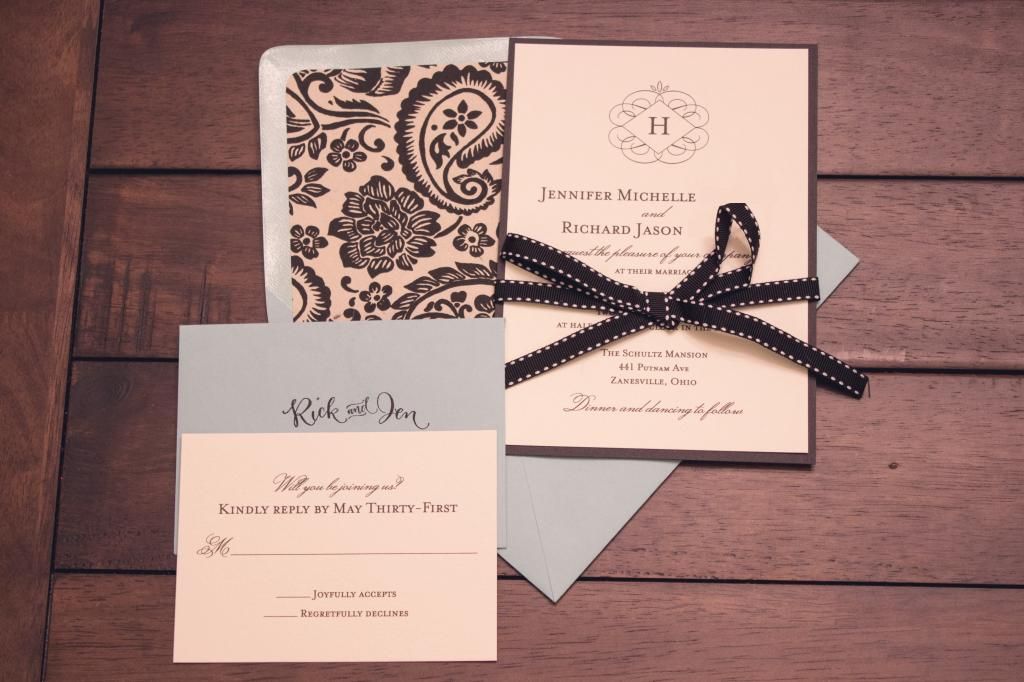 We ordered our invites from
Paper Source
and I was extremely happy with the entire process. The proof came within a few days, and then once I signed off I think it took maybe less than 2 weeks to arrive. The total cost came around $7 per invite, which seems a lot, but compared to some of the other's I looked at this was a bargain. I did add some extras with the black backers and the envelope liners, so if you did not include those the cost would go down.
I did elect to assemble the invites myself, which saved me about $100, and it was nice they gave us this option to help save money, or save time if you choose to have them assemble. It took me about 2-3 days to assemble everything, but at the time I had a procedure done, so I had a lot of down-time where I was forced to take it easy and this project was the perfect way to keep myself busy, but not push myself too much.
I also did not have them print the return address on the invitation envelopes, or our address on the response envelopes. I decided to go with a cute address stamp I found on
Etsy
, and although the stamp probably cost the same amount that it would cost to have the addresses printed, I liked the idea of having the stamp for our Thank You cards, and for future Christmas cards. So that was totally worth it for me to purchase the stamp and the additional time needed to stamp everything.
The ribbon came from Michaels, and I needed about 4 rolls to complete 50 invitations. The invites themselves are more cream, not as peachy as it is coming across in the pictures. Our dining room light is very "warm" which gives all of my pictures a very yellowy/peachy tone, which I am trying to figure out how to fix.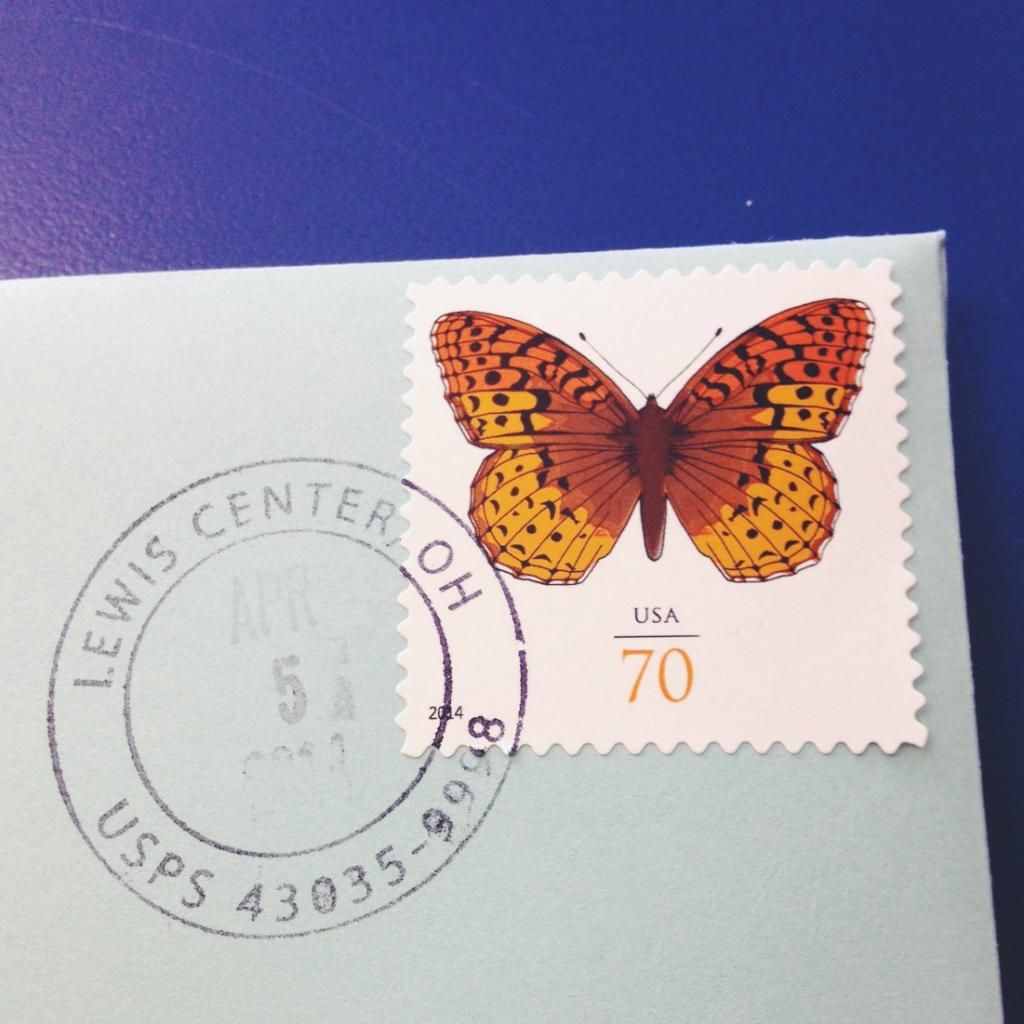 Our assembled invitations were a little bulky thanks to the backer and the ribbon, so we had to go with a $.70 stamp. They did not have any wedding stamps available at the time for this price of stamp, so I went with butterfly stamps instead, which I loved anyway. I highly recommend taking your assembled invitation to the post office when you go to purchase your stamps so they can weigh them and let you know what stamp you would need to buy. I then had them weigh them again when I was dropping them off just to ensure adding the stamp didn't push them over in case they were right on the line for the $.70 stamp. Luckily we were good to go, so off they went to our family and friends.
I am loving the process of receiving all of the response cards, and get super excited every time I see one of those little blue envelopes in the mail. We have received about half of them so far, and the deadline is May 31, so dear family if you are reading this, get your cards in? Or I will be calling you come June 1 :)

Follow Me: