Last Wednesday I posted some of my favorite
wedding portraits
from our photographer. I thought I would take a few steps back and share some of our final stages of planning before I get into any more professional pics (also because I'm struggling picking favs :) ) Today let's talk florals.
One of the things I totally had my heart set on was real flowers for our centerpieces. My bouquet had faux flowers, which I thought was really cool because I could keep it forever. But I LOVE fresh flowers and wanted to find a way to have them without going completely broke. Enter the
Flowerman
.
I met with my consultant at the Flowerman in April, and she helped me to figure out a way to get some of the flowers I truly loved (peonies), but also some other options to keep our budget in-line. They also offer as part of the package a DIY class where they show you how to put your centerpieces together and basically make sure you don't screw things up (more on this in a min). This was very important to me because I loved the idea of DIY'ing our centerpieces since I was already DIY'ing the rest of our decorations, but I feared I might screw things up. I had spoken with another local florist about ordering peonies wholesale, and they quoted me a much higher price, and it didn't include any help, therefore we would be all on our own.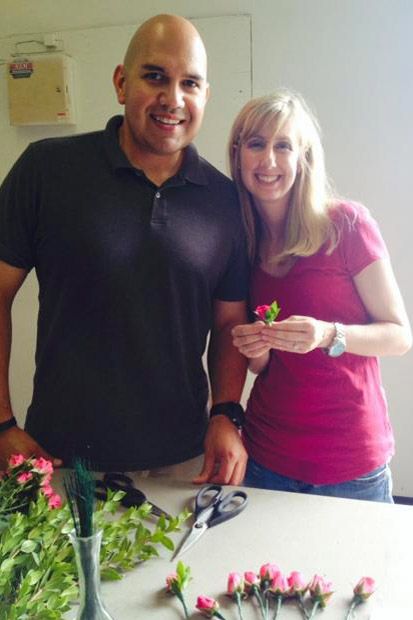 Now you might say...but Jen, I get flowers at the grocery store all the time and make my own arrangements, how hard can it be? I do as well, but there is a process you must go through that makes things a little more complicated when buying wholesale flowers as opposed to grocery store flowers. Plus these flowers are a much higher quality than grocery store flowers, and a lot more expensive, so it's important to make sure they are processed properly. So we were very grateful for the DIY course and the assistance in putting everything together.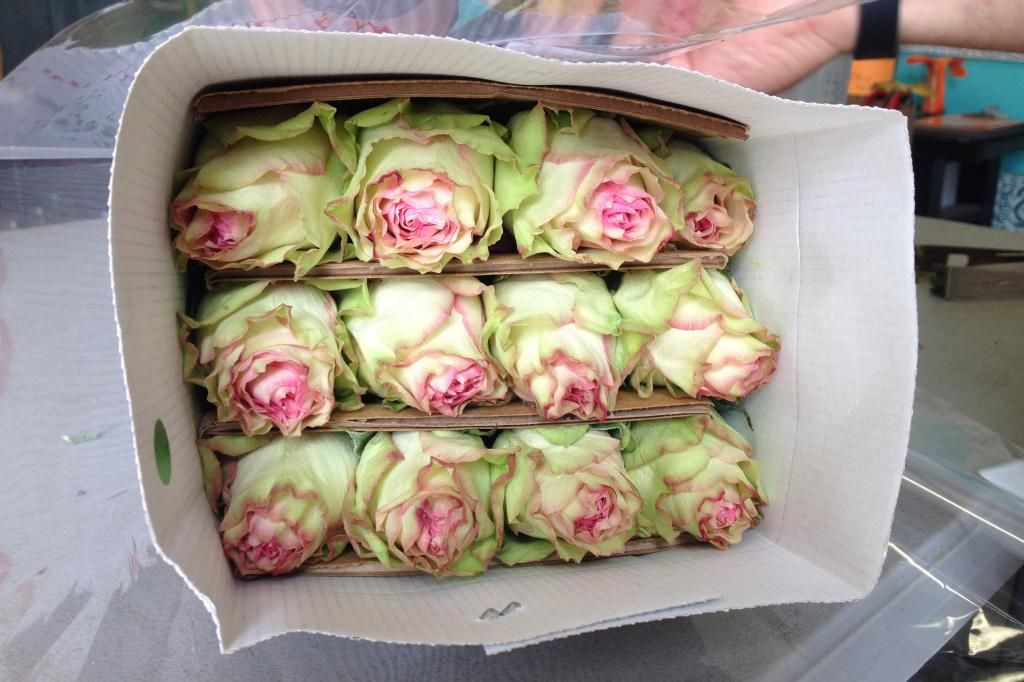 So let's talk processing flowers. All roses that come to your local florist from a wholesale distributor arrive like this. You order them in bundles, and then have to carefully unwrap them from their cardboard packaging. Once you have removed the packaging, you must strip the roses of most of their leaves and their thorns. You can leave some of the leaves on, but we had filler stems so we removed most of them.
Then each rose has a set of guard petals around the outside (about 5-6 petals) that protect the flower that you have to pull off. I felt bad pulling all of these petals off, but they all became our flower girl rose petals so nothing went to waste. Once your guard petals are off, you blow pretty hard into the center of the flower, and it will help to open up and cause the flower to "bloom". You then cut your stems off in an angle and quickly put them into water. This helps to keep the bloom from wilting quickly.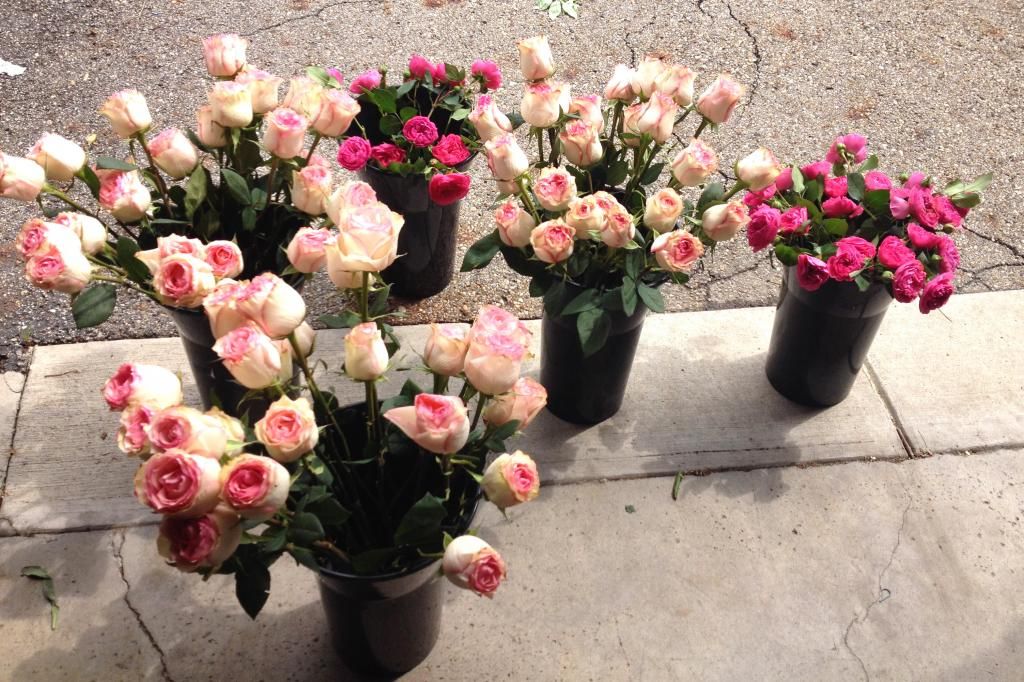 We then placed our flowers in the sun for a bit to continue blooming. When I was choosing our flowers, I wanted really full blooms so we could go with less flowers in our jars and push our flower budget as much as possible. Plus I figured that would make things easier to arrange.
In addition to white peonies, we went with Baronesse garden roses (hot pink flowers) and Esperance roses (light pink flowers). The peonies and the garden roses are more expensive flowers. The Esperance roses provided the same look, but were about half the price. We also used myrtle as filler, which also helped provide a fuller arrangement, and was pretty inexpensive. Let me tell you the myrtle smelled amazing! Rick and Jackie wanted to eat it, and Rick did taste a leaf, until Jackie looked it up on her phone and confirmed myrtle is poisonous. I would highly recommend using myrtle as filler for all of your floral arrangement needs, just don't eat it! Ha!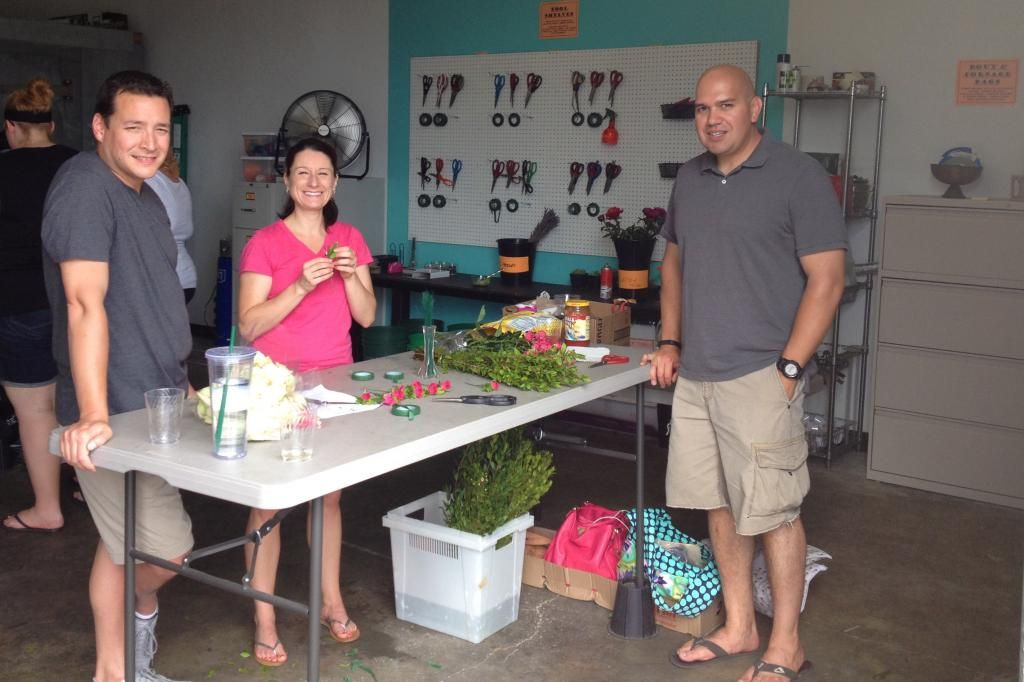 Our friends Jackie and Nate (who are getting married next year!) came along and helped us out, and we were so grateful. It was a lot of fun, and even more fun to do this with good friends. They also allowed us to bring wine and snacks, so it turned into a little flower party.
I purchased the blue mason jars from Etsy, and we had 10 of the larger quart size jars for our table centerpieces, and about 8 pint size mason jars for table decorations. I also included 2 jars with wires to hang off of garden hooks for our ceremony. Our colors were hot pink and turquoise blue, so the blue mason jars worked perfectly as our containers.
All of our flowers packed together...so pretty!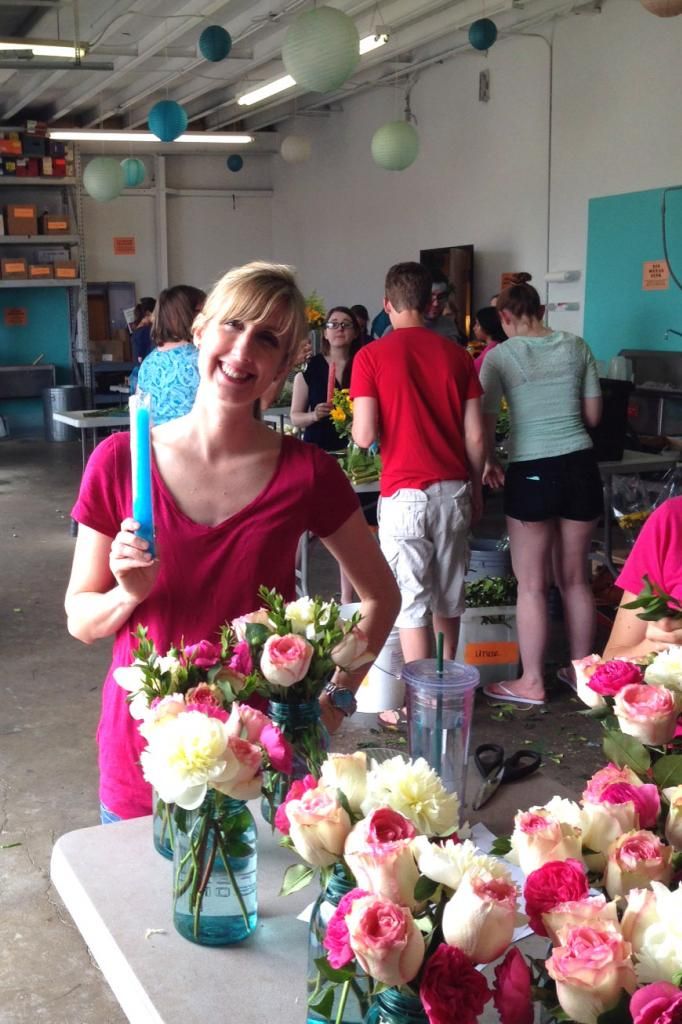 My favorite part about the whole experience was they passed out freezer pops about half-way through. All of this took place in a warehouse, and although they did have the garage doors open with a slight breeze, it was getting hot in there! This was the perfect way to cool off and it kind of made me feel like a kid again :)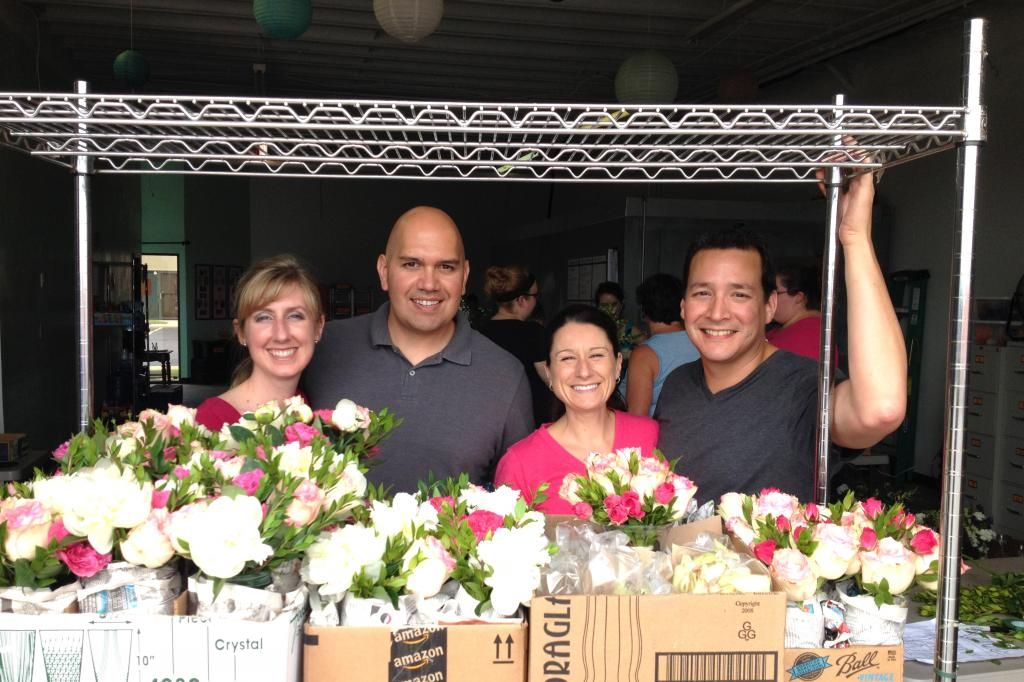 Here we are with all of our finished flowers. They put them back in the cooler that evening, and we picked them up the next day and had to drive them straight to the reception site. It was important they were picked up in an air conditioned car (not allowed in the trunk), and we had to make sure there wasn't a lot of direct sunlight coming in the windows.
Luckily/yet not so luckily, there was a major rain storm taking place when we picked them up, so the direct sunlight was not a problem. Rick didn't appreciate having to load all of the flowers in the back of the Jeep during a monsoon, but not to worry, I made sure the flowers were covered with an umbrella, so none of them were harmed from the hard rain. Rick on the other hand was a little soaked...oops!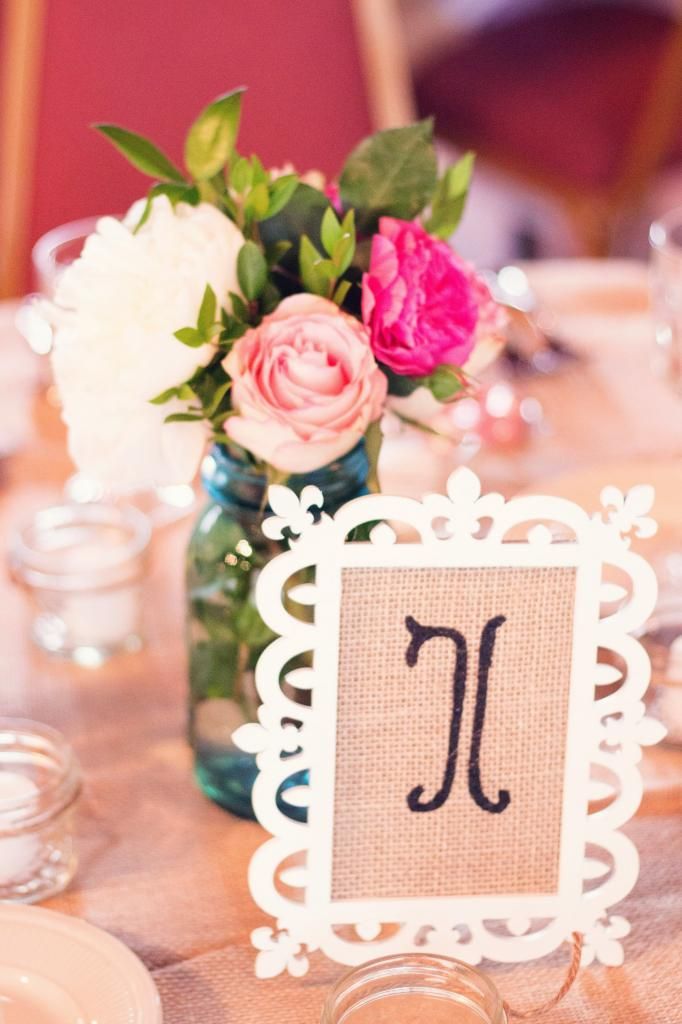 Here is one of my finished centerpieces. I took this picture the day before when we were setting everything up.
And here is one of the jars that were hanging in the garden for our ceremony. I just love the pop of color out in the garden!
If you are a bride in the Columbus area, I highly recommend the
Flowerman
. Send me a note if you want more details :)
Linking up today with: