Before I get into 101 wedding and vacation posts, I wanted to do a quick little update of our life latey. For the last few months I had to take a little blogging break, and although it was great to take a break for a bit, I kind of missed just documenting our life. I love looking back through all of our posts and seeing all the fun things we have gotten into...or even just the every day things.
Going back to work after any vacation is hard, but it was even harder to get back into the swing of everyday life after the wedding and honeymoon. But my work team made it a lot of fun by throwing me a surprise party at lunch, complete with a Congratulations Mrs. Holmes cake! I seriously had no idea they were planning anything.
The two ladies I work closely with scheduled a lunch meeting to catch me up on what I had missed, and of course to chat about the wedding. We meet over lunch all the time because the rest of our day is usually spent in client meetings, so I didn't think much about this meeting when it popped up on my calendar. I did think it was weird that no one was discussing ordering lunch. We always order lunch when we have to work through our lunch break. The other weird thing that I didn't think much of at the time was about 15 mins before our meeting, which was scheduled at 12:30, my supervisor mentioned inviting some of our team members to our touch base meeting. I responded with "but it's lunch time, no one is going to be around." Yes the rest of the team isn't crazy like us, they go out for lunch where we tend to work like crazy people through lunch...ha! She responded with, well I told them we might be touching base. Again, I thought it was weird, but still had no idea what they were planning. I then left to go heat up my lunch and passed 3 other team members. Looking back now they were all acting weird, but at the time I had no idea what was about to happen.
Of course I ended up walking into the conference room before many of my team had arrived. When I walked in I noticed a cake, but totally figured it was for another meeting. It's very common to see left-over food all over the building throughout the day. It wasn't until my team started coming in to congratulate me that I even realized what was going on. I was so touched, and we had a great time chatting about the wedding and my trip that we didn't even get around to talking about work. After the meeting I stopped my supervisor and was like, so I think we still need to chat right...ha!
I've been in a total nesting phase lately...and no I am not preggers (although it seems all of the ladies at work are, but that's a story for another day). Now that I have more time on my hands because every waking moment is not being spent on wedding planning or crafting, I am obsessed with getting our house back in order. I'm having a ton of fun organizing and displaying all of our wedding gifts. I am also loving my new tablescape. One of my close friends gave me these cute
placemats
and napkins (no longer online but from Crate & Barrel), and my Aunt and Uncle gifted me the
mercury glass candle holders
. I then purchased the
napkin rings
with one of my Pottery Barn gift cards. I am so ready to entertain now!
I'm also super obsessed with having fresh flowers as my table centerpiece. I found these pretty flowers at Walmart for get this...$4.87. Say what you will about Walmart, but these pretties lasted almost 2 weeks, and if I can find flowers that last 2 weeks for less than $5, well who is going to pass that up?!? Rick was upset I bought myself flowers because some of our wedding advice cards said "Buy Jen fowers!" And then of course I went and bought myself more flowers yesterday to replace these flowers. He now just shakes his head and laughts at me.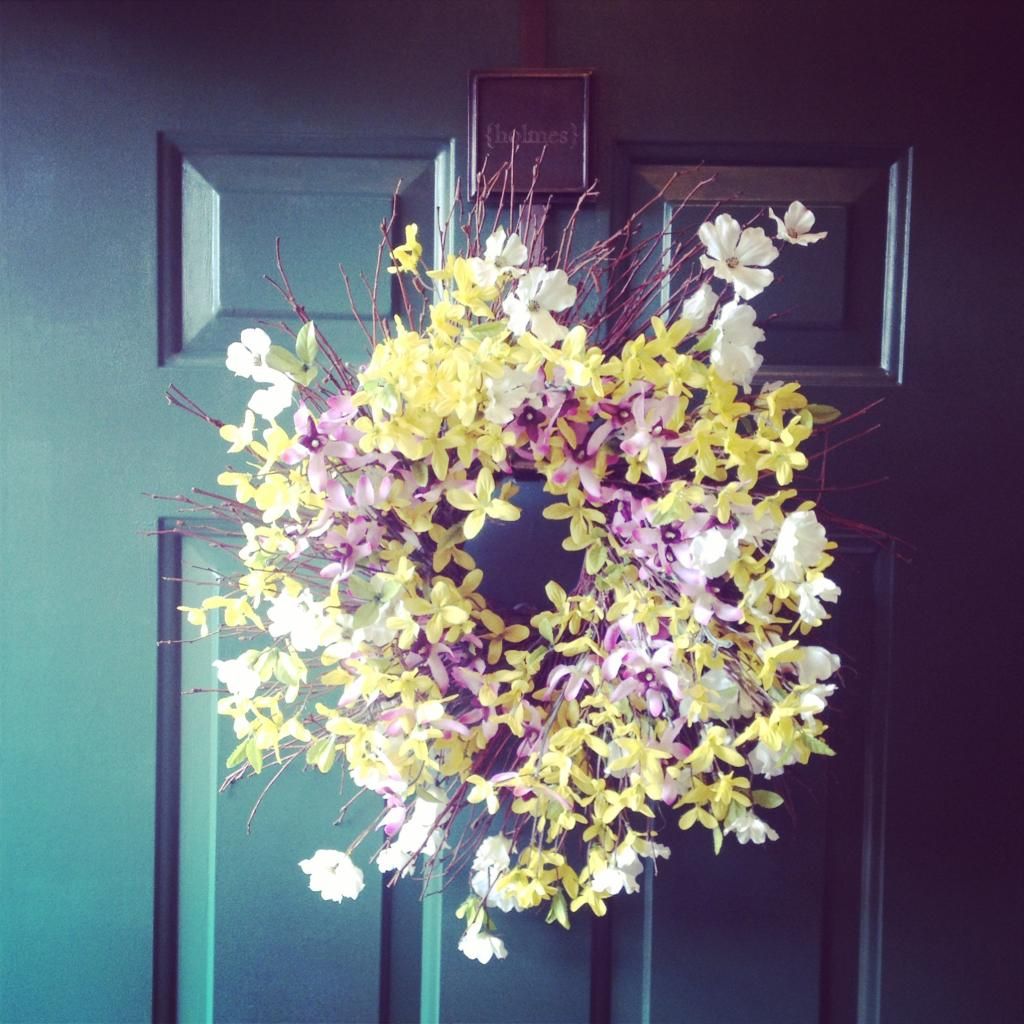 As my nesting continues, I am ready to complete some house DIY's that have been put on-hold for the last 8 months due to wedding planning. The first DIY project got completed this weekend. Our front door was in desperate need of being repainted. There was tape marks on the door, dings and scratches. Also, when Rick purchased our condo, he had to install a new lock, which was smaller than the previous lock, so there was a white ring around the door lock. I picked up about a dozen green paint swatches from Home Depot to try and match the existing green color since we figured our association would be pretty picky about us repainting the door, but I am pleased that we did a pretty good job of matching it. Actually about a year ago the association painted the shutters and when we were comparing paint swatches we noticed that the shutters didn't really match the door. So we found a color that was pretty close to the shutters and only a hair lighter than the door, so it's good because now the door matches the shutters. Your welcome Condo Association!
I was also excited to hang our new
wreath hanger
from Pottery Barn. We received a few Pottery Barn gift cards as wedding gifts, and one of the first things I knew I wanted to buy was this wreath hanger.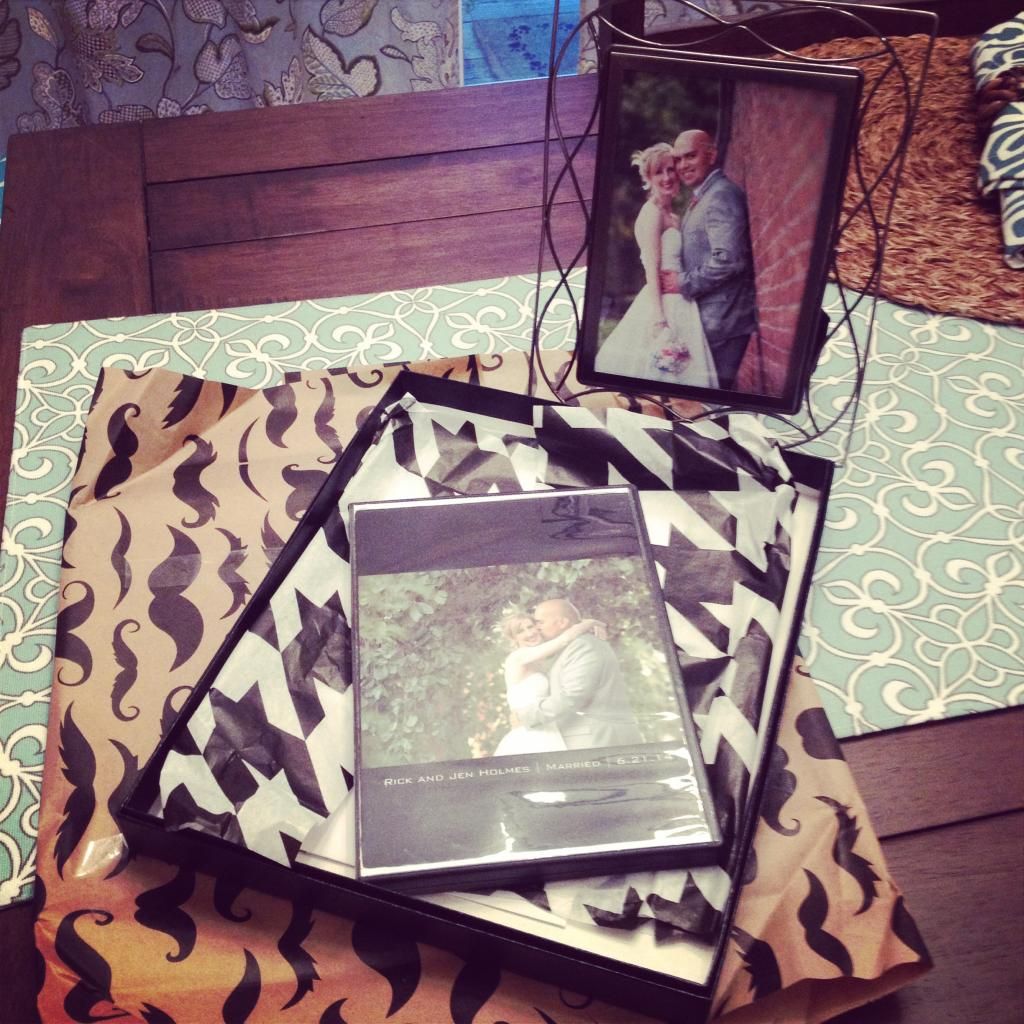 On Saturday we received the disks with our wedding photos. I was so giddy when I saw the package wrapped in mustache paper. We had a mustache and lips theme going at our wedding, and I was so impressed she included this little detail. I was even more impressed when I opened the package to find a framed print from our wedding included in with our disks. Rick and I both agreed that we are super happy about going with
Hillary
. In addition to being talented, she was super fun to hang out with, and we love all of the little details in making our day even more special. There are 1000+ pictures to go through and I can't wait to share some, but it might take me a while to figure out my favorites to share. And it takes me about 3 hours each time I go through them since there is are so many...ha!
And last but not least, we are both glad to have our puppies home from Summer Camp (aka Rick's parents). It's been an adjustment getting everyone back on a schedule...myself included. But I think we are getting there. And for those of you who saw my post last week about
Bryn
, she is healing and we are hoping to take her cone off on Tuesday. We were told it would take about 7 days for her to heal and for it to be safe enough to remove the cone. We will all be glad when that cone is gone. Have you ever tried to sleep in bed with a dog in a cone? Let me tell you, it's not fun. We still need to take her back in a week to make sure everything is healed up, but she seemes to be doing so much better.
Tomorrow I'm excited to share our garden with you, and then I'll have some sort of wedding post on Wednesday. I promise to keep my wedding posts to once a week so not to annoy everyone :)
Happy Monday!

Follow Me: