Today I want to share one of my favorite parts of our wedding...my brooch bouquet. Let's start from the beginning.
Back when we first got engaged, I was looking through photographer websites and came across a picture of a beautiful brooch bouquet. I was at my Grandmother's in WVa when we were looking at these pics, and my Mom and Grandmother agreed that it was a great idea. My Grandmother then brought out a bunch of brooches and said I could pick whatever I wanted to use for my bouquet. I picked out a handful, but had no idea how I would use them.
I then found out the brooch bouquet that I loved was actually handmade by someone in town, and immediately emailed her for information. Jen from the
Ritzy Rose
emailed me back and we quickly set up a meeting for me to share my brooches and to discuss ideas.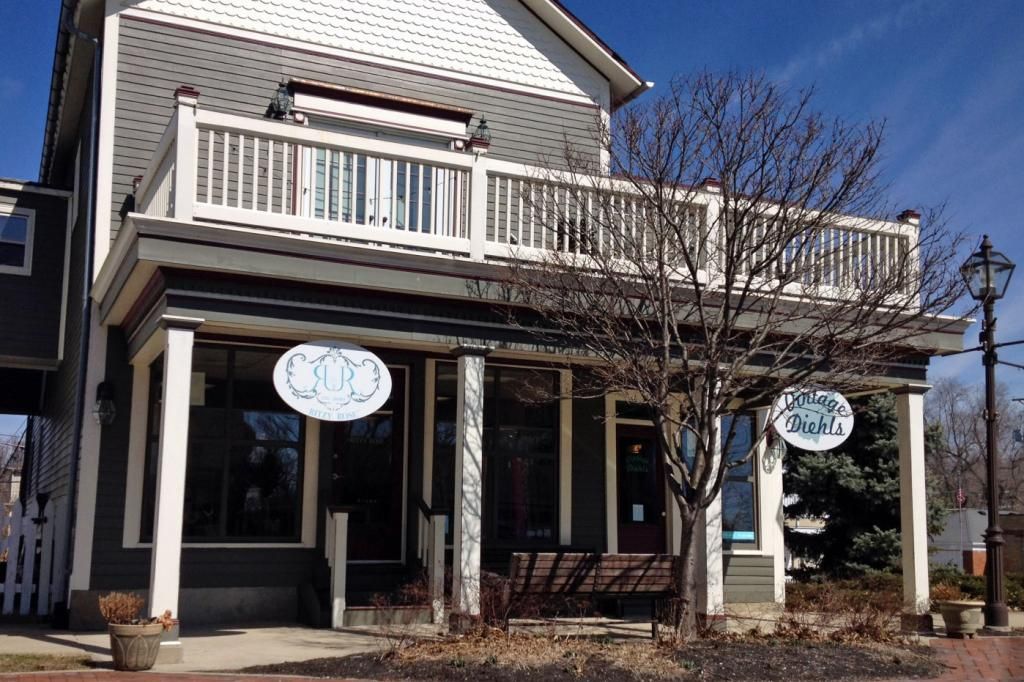 So back in November I stopped by her store in Pickerington. It's a cute little store and she makes custom/vintage jewelry, bouquets, boutonnieres, hairpieces and wedding sashes.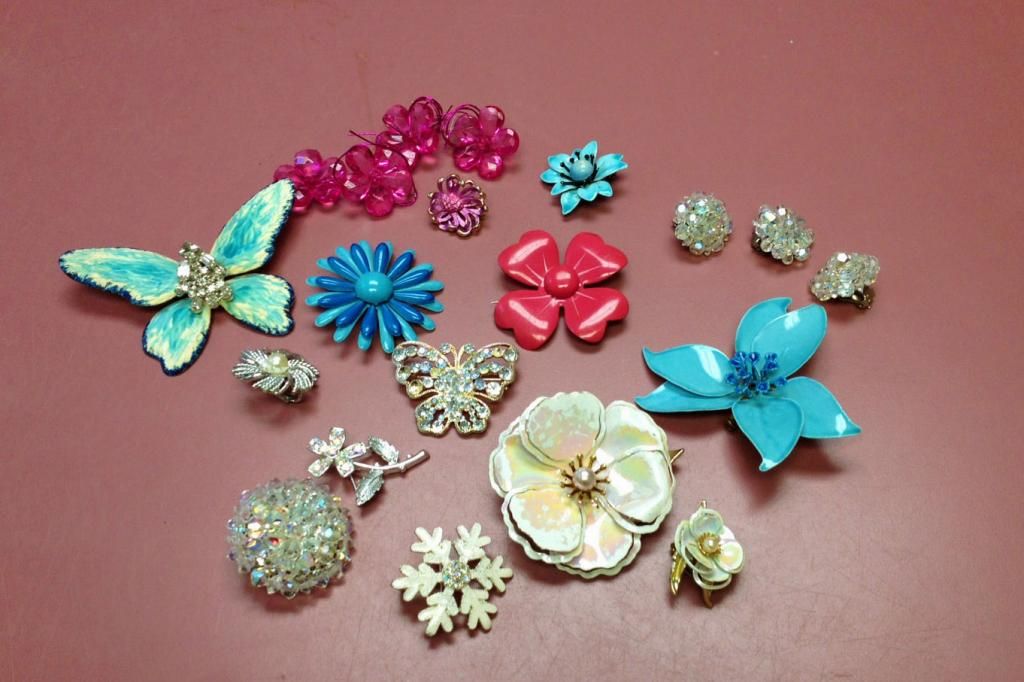 We started the process by going through her very large rack of brooches that were all organized by color. I had decided on hot pink and turquoise as my colors, so I stuck with the pink, blue, white and silver bins. The above were some of the brooches I had picked out, in addition to the ones my Grandmother gave me.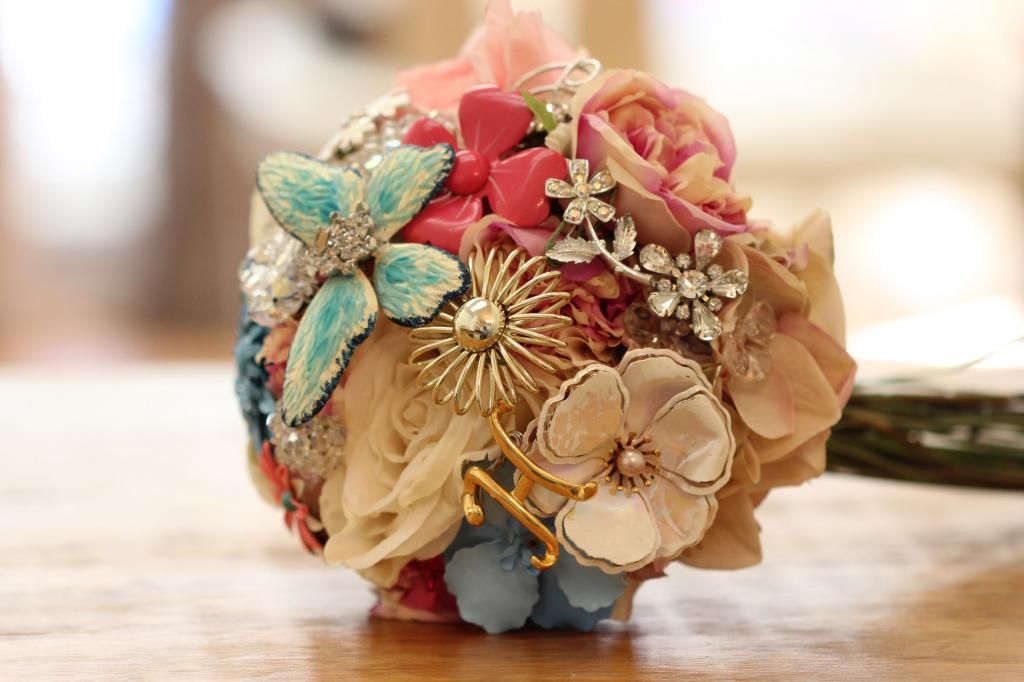 I then told Jen that I wanted a combination of faux flowers and brooches, and that I loved roses and peonies. I also asked her if she could find a "H" to include as well. I honestly had no idea how she was going to put this all together, but when I received the proofs (the 2 pictures above) I cried tears of joy. I was seriously stunned by how beautiful it looked, and it was sort of the beginning of my vision for our wedding flowers and other decorations.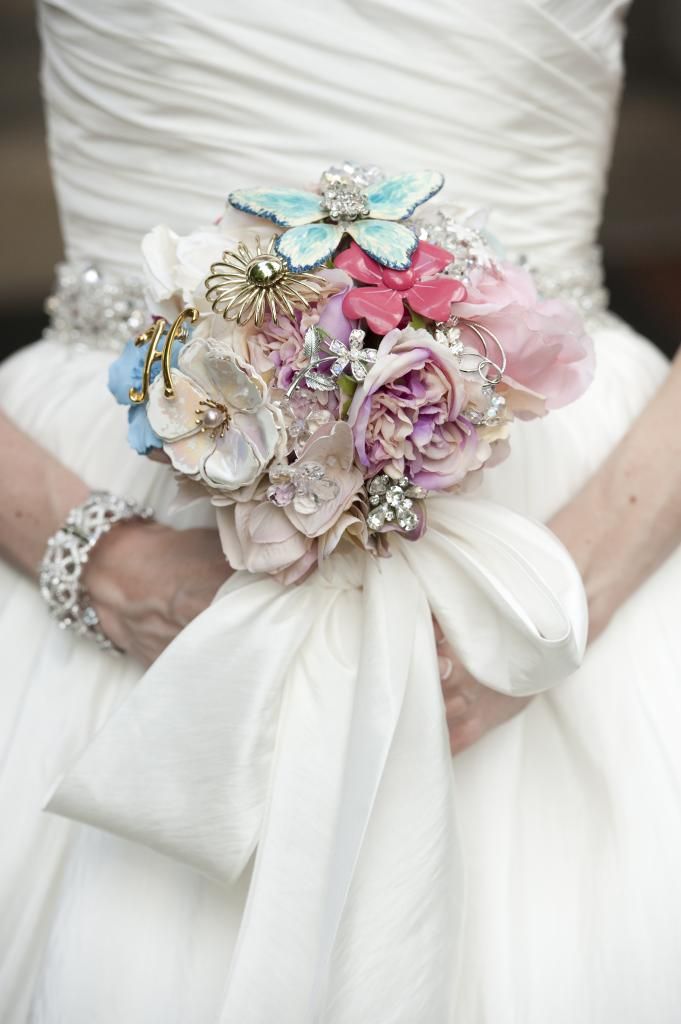 I had her add the belt from my dress that I didn't end up using to wrap the stems, and she finished it off with a big bow. It was the perfect touch and allowed my bouquet to match my dress perfectly. My favorite part of my bouquet is the butterfly at the top.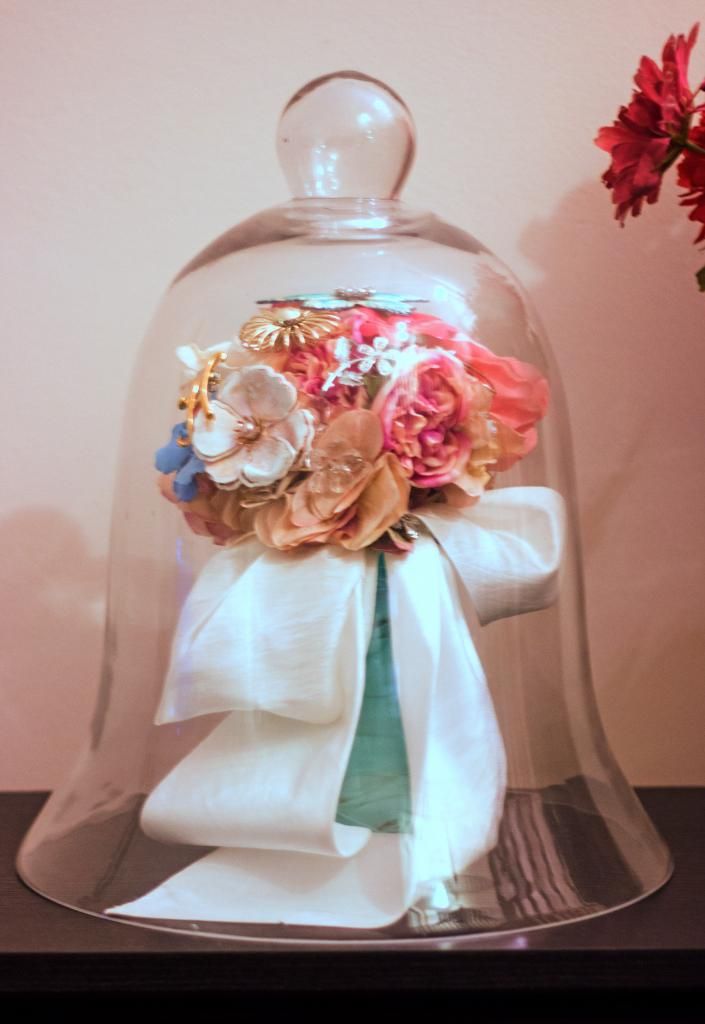 Another thing that I love is because it is all faux flowers, I can keep it forever. I purchased this
glass bell jar
to display it and keep the dust off of it. I have it sitting in one of our blue mason jars we had for our centerpieces.
Jen also made Rick's boutonniere from an old bullet. It added a manly touch to all of the pink flowers and everyone who saw it said it was perfect for Rick!
Linking up today: