Before I get into today's posts, you may have noticed a few changes around here. I have been considering changing the design of my blog for the last couple of months, and was actually looking into purchasing a blog template off of Etsy. After spending a little time on my lunchbreak yesterday on YouTube looking at PhotoShop tutorials, I decided I would try and design my own before purchasing something.
So here we are! I am only about half-way done, so if you start to see anything looking wonkey that is why. I am hoping to work on Phase II of my design either later this week or over the weekend. My next challenge is learning how to make a navigation bar and some side bar elements.
At my first job in college I dabbled in a little design work. I never went to school for it, and it was all self taught. So a lot of this was not new to me, it's just been years (Or 10). And I have never designed anything in PhotoShop, just used it for editing my pictures, so there were a few times when I needed to go to Google for help. But over all it was fun to get back into some design work, and I really think I needed it to help bring back some of my creativity. Working with exretmly creative people all day long can make you start to feel self-conscious of your creativity. I think all of us have a certain level of creativity, and the more you use it, the more it comes through. So more to come...
Now, to share our garden progress. Last year we built a raised garden bed right out back and had some success. This year we planted:
3 tomato plants - a cherry, a Big Boy and a purple hierloom. Last year I planted a pink and green hierloom. The tomatoes were pretty, but didn't have much flavor. Rick isn't expecting much from my purple hierloom, but I'm excited to see how they turn out!
Carrots
Raddishes
Green bell peppers
Lettuce
Sweet potatoes
We planted the carrots, the raddishes and the lettuce from seed. We harvested the raddishes back in the middle of June. They didn't work out so well, and were really small and didn't have much flavor. We are not sure what we did wrong, but the seeds were cheap and therefore we weren't too upset. We harvested some lettuce on July 3 and it's been fun to have lettuce on-hand to make fresh salads.
Last year we planted some sweet potato plants and some turned out great, and some were really deformed because of our clay soil. This year we might have had a small sweet potato still from last year, growing roots, that Rick threw in the corner of the garden to see what it would do. And it's growing a plant! So if all else fails, let your sweet potato plants go bad and then plant them...ha!
Here is the progress of our garden so far: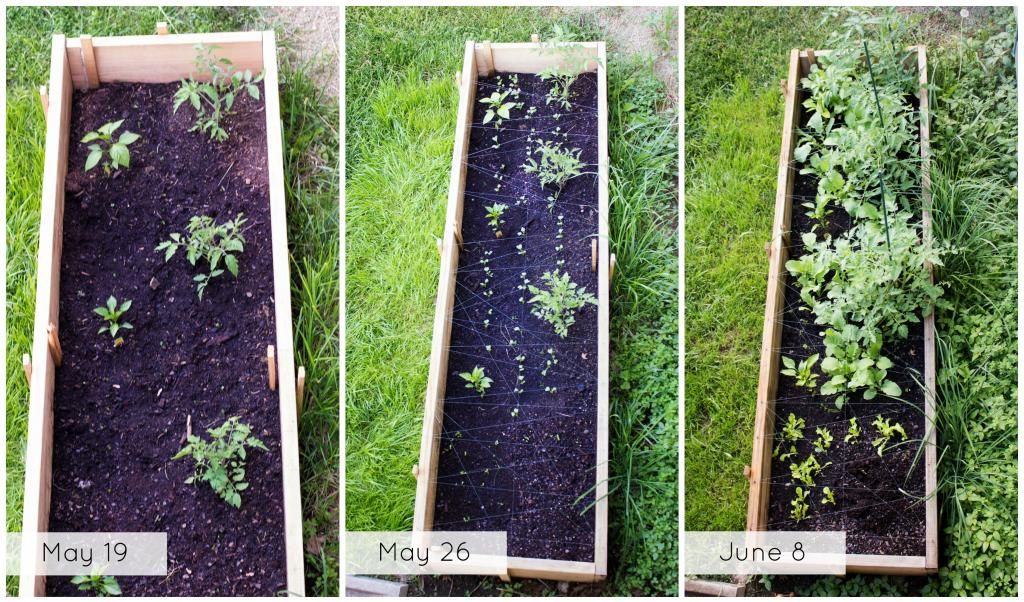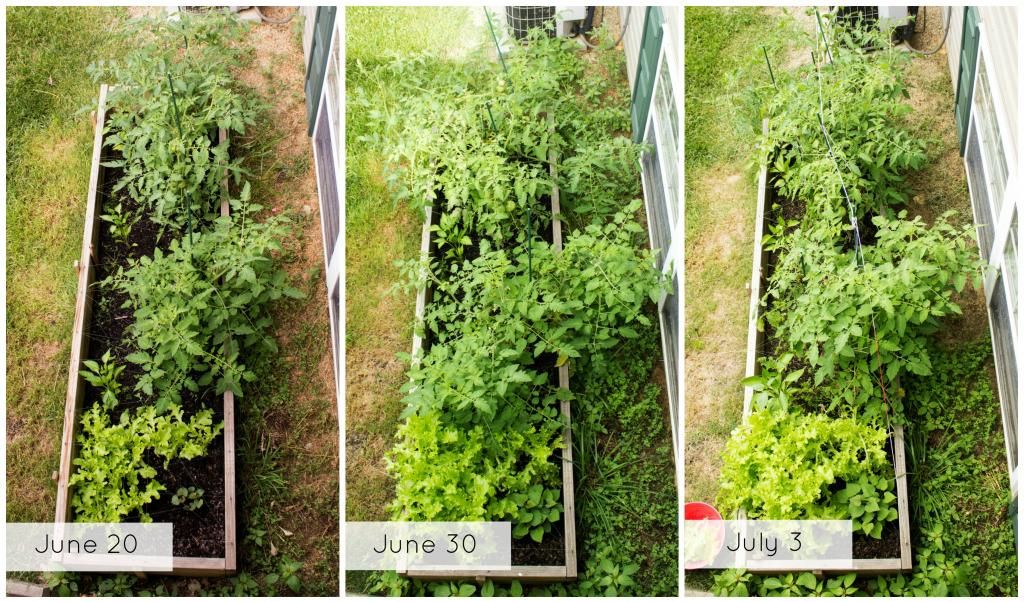 It was amazing how much the garden grew while we were on vacation (between June 20 - June 30). We heard it rained everyday while were gone. Not good for our family and friends back home, but super good for the garden. Rick's sister was supposed to come over and water it throughout the week, but I don't beleive she had to water it once. Really we haven't had to water it much because there has seemed to be enough rain to keep it watered. I only recall a few times when Rick had to drag out the hose to water it.
We learneld a few things from last year and made a few tweaks for this year's garden:
1. I love squash and zuchini, but it's really hard to grow in a small garden. The vines just take over, and if the vines get out of control, sometimes they break off and kill the plant. Therefore, we didn't yeild very much veggies last year. I think out of the 2 zuchini and 2 spaghetti squash plants we ended up with 2 or maybe 3 zuchnini's,and or spaghetti squash. Same goes for cucumber plants. So not worth it. So therefore we nixed the squash. Sad for me, but better for the garden.
2. We also realized that we planted too many tomato plants. Tomato plants can also take over your garden, and they can become a tangled mess if you plant them too close together. You also have to be strategic because they grow really high and then block the sun from your other plants. So we limited to 3 tomato plants, planted them along the back of the garden bed, and spread them out. We also staked the crap out of them. So far so good. We have a lot of green tomatoes growing, so hopefully we will have something to harvest soon!
3. You need a good layer of good quality soil. We have very rocky clay soil here in Ohio. Not good for growing veggies. So you really need to have some height in your beds so you can put down a nice layer of top soil. I'll have to follow up the deminsions, but if you look at some of the pictures below you can see our bed is about a foot or so high. Last year we had a wider garden bed but it wasn't so high and it stunted some of our plants. This year we reworked the bed and made it skinner, but taller. This allowed us to have a nice layer of top soil, but it didn't cost a fortune because of the smaller width. It is less room for planting, but we are hoping to get better results from the plants we did plant.
Another thing that is growing like crazy...the ducks. We have had a lot of baby ducks and geese hanging out in our ponds. We have 2 ponds in our complex, 1 behind our place and 1 at the entrance near the clubhouse pool. It's been fun to watch them grow as we take our evening walks with the pups.
Exactly 2 months ago I posted this picture of some of the baby ducks with their momma on Instagram.
Here are the ducks on July 3. Roaming around with or without their momma, we are not sure as they are all the same size now. We haven't seen much of the ducks in the last week, so we are thinking they might have finally gotten around to flying and possibly flew away. We have a million geese though, and I keep telling Rick I need to get a picture of that soon. Such fun to see nature at work!

Follow Me: