Happy Monday! Hope you all had a great weekend! Our weekend was sort of busy, but we did have a little time to relax and watch a little True Blood (anyone else sad it's the last season?). We both had a crazy work week and worked super long hours, so by Friday night we were both ready to crash.
On Saturday, we met with some friends and went to the shooting range. Rick and his friend Jeff had been wanting to take me and Jeff's fiance out to help teach us how to shoot. I have been one time before, so it wasn't my first time at the shooting range, but I was still very nervous. And I hate hearing all of the shotgun shots...so loud! I didn't grow up with guns at home, so I had never been around a gun really until I met Rick. But with Rick previously being in the military and being a police officer, of course this is something that is going to be in our home. Rick thought it was important for me to learn how to use a gun, and to learn gun safety so I would be more comfortable and know how to properly use one if for some reason God-forbid I would ever have to.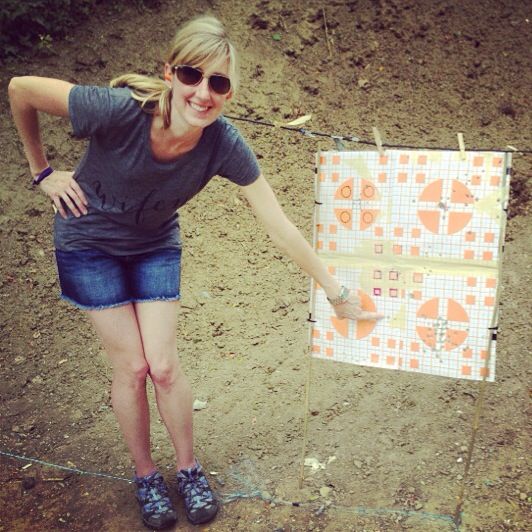 We ended up sharing a target this time, but it was easy to see my shots which were way off to the right. The good news is that I'm consistent, but I also end up always shooting to the right of what I am targeting. Rick said because I am consistent, the good news is that he can work on that.
Rick made fun of me for bringing my pink Coach purse and my Starbucks cup to the range. I told him "this is how I roll" (love
that song
by the way!). Rick posted the above picture to Facebook and one of his friends commented that I was "deadly and fashionable" Ha!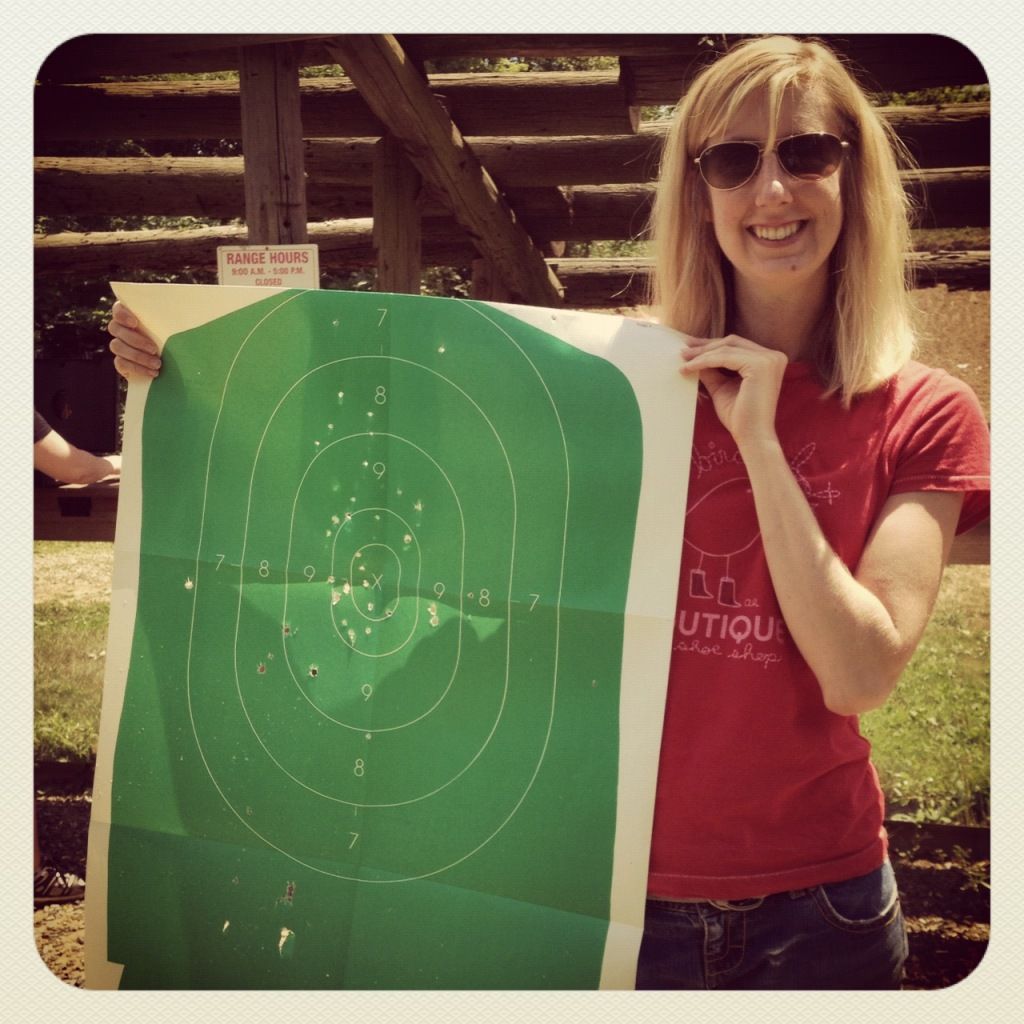 Here is my target from the last time I went, which was about 2 years ago. Rick said this was pretty good for my first time.
Also on the agenda over the weekend, we went to a new restaurant in Powell called
Local Roots
. It wasn't too bad. I had a Greek gluten free pizza that was pretty tastey. Downtown Powell is like 5 mins from our house, and we always seem to forget to head over there. We noticed a few restaurants we want to add to our list to try.
I also did some painting this weekend. I painted our entry way and am excited to begin painting our living room soon. We have really high celilings so we need to figure out how to either rent a really tall ladder, or we need to hire someone. Also, we need to repaint all of our trim, which I'm hoping to start next weekend. Now that the wedding is over, we have lots of DIY projects to complete, so lots of home updates to come soon! I'm kind of excited to get some things done that have been on our list for a while.
What were you up to this weekend? Any advice for painting 16 feet walls, including one with stairs?