I recently started reading Bread & Wine by Shauna Niequist, and so far I am loving it! When I came across this link up based off the book from Rachel's blog Oh Simple Thoughts, I just knew I had to participate. The link-up takes place once a month. There is a question revolving around hospitality and then the chance to share a recipe.
This month's question is: How do you use your table to make your guests feel safe?
It's interesting because whenever we have guests over, we always seem to gather around the dining room table. Our main living area is one big open space which includes our living room, kitchen and dining room. Last Fall we purchased a dining table that seats 6 and can extend to seat up to 10 people, so it's the perfect place for everyone to gather around and have a place to sit and visit.
I think our guests feel safe because our table is very informal and we love to start things off by serving snacks and/or appetizers. We always have chips and salsa on hand. Or I like to make up a few loaves of a quick bread, like the one I am featuring below, and keep in the freezer to snack on as well. Having snacks out helps to break the ice and make everyone feel at home. Having a few bottles of wine on hand doesn't hurt either :)
So the recipe I am featuring today is a Pineapple Banana Bread. Whenever I have bananas on the verge of going bad, I like to whip up some banana bread to keep in the freezer for when guests come over. It's also nice to send them home with a loaf to enjoy later. I thought this was an interesting twist by adding crushed pineapple. It makes a super moist bread that is very sweet. I also modified this recipe and used an all-purpose gluten free rice flour. I tend to have success modifying these quick bread recipes with gluten free flour since they are typically pretty moist to begin with. If the recipe makes a drier bread, they don't tend to hold together very well with the gluten free flour. You could make this with regular flour as well since the original recipe called for white flour.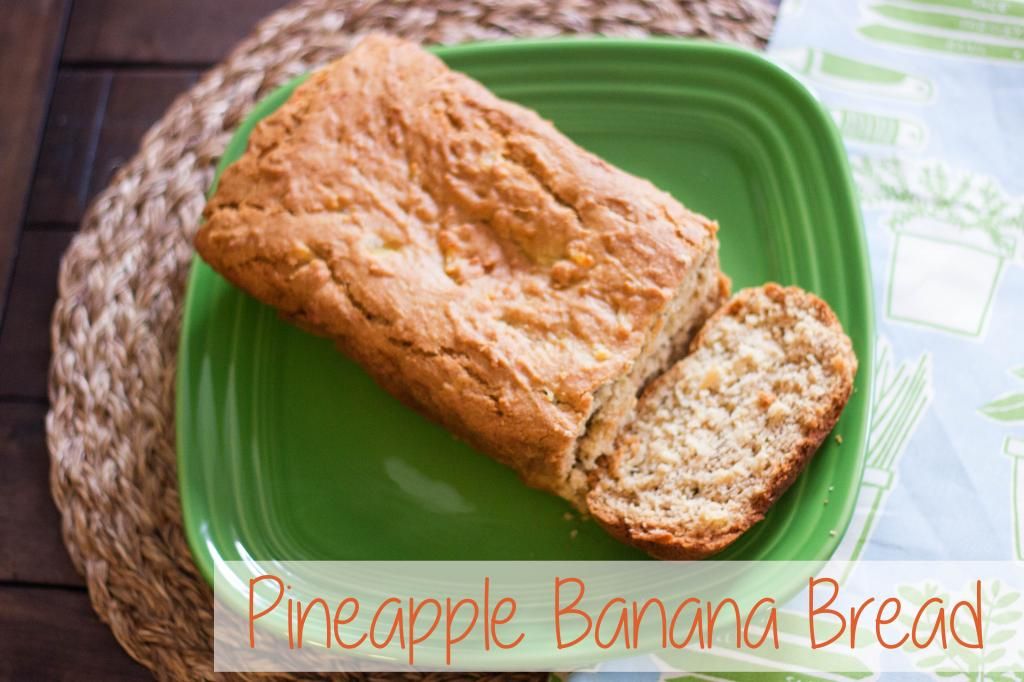 Pineapple Banana Bread
Makes 1 Loaf
Modified from Jam Hands
1/2 cup butter, softened
1 cup sugar
2 eggs
2 mashed ripe bananas
1 small can of crushed pineapple (drained)
2 cups all-purpose flour (I used gluten free rice flour)
1 teaspoon baking powder
1/2 teaspoon baking soda
1/2 teaspoon salt
1. In a bowl, cream butter and sugar. Beat in eggs. Stir in banana and drained pineapple. Combine dry ingredients and then stir into creamed mixture just until combined. Spoon into a greased 8-in. x 4-in. loaf pan.
2. Bake at 350-f degrees for 65-70 mins (I baked mine for 70 mins).
3. Cool in pan 10 minutes, then remove to a wire rack.