Happy Friday everyone! And Happy August! This is my favorite month because it's my birthday month. My birthday is on Tues, and we have a few fun things planned. So in addition to being excited about this weekend, where we have a few other fun things planned, I'm also excited about next week.

So in honor of the weekend, let's share some things I am loving, and might have to try this weekend:



This
White Peach Sangria
looks amazing. And peaches and cheeries are in season, so perfect for this time of year! I love Sangrias because they are super simple to make, and you can make a big pitcher and keep it in the fridge and enjoy all weekend. It's also perfect for parties because you don't have to keep making a bunch of individual drinks. Make a few batches and just enjoy time with your guests!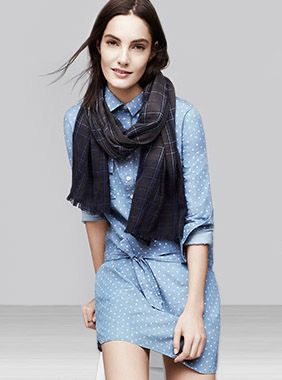 I'm in love with this dress from the Loft. Chambray + Polka Dots = Perfection! And since I have a birthday reward burning a hole in my pocket, I might just have to see if I can find this at the store this weekend.
I came across this on
Pinterest
the other day, and actually have the ingredients on hand to make it. I'm thinking I might try to make this for breakfast tomorrow. If it turns out, I'll be sure to share.
I also came across this on
Pinterest
and I am intrigued. I tend to make at least 1 batch of jam every year that I like to give away around the holidays. And we have a ton of wine left over from the wedding, so this would be perfect. I've never had blueberry jam before, but I LOVE blueberries, and think this would be perfect on banana bread.
I found this print on
Esty
a few weeks ago and I loved it so much I purchased it immediatly. It's an instant download for $5. A few years ago I read Beth Moore's
So Long, Insecurity
, and loved the book. It made a huge impact on my life and how I viewed myself and some of the situations I was dealing with. This verse was a big part of the book, and I think about it from time to time. So when I came across this print, I knew it would be perfect to add to our guest room/office that I am currently working on. I found a really cute frame and will have to share once I get that room in a better place. It's been wedding headquarters/storage for the past 9 months, so I am finally getting around to clearing it all out.
We have a few items on the agenda this weekend. Hoping to hit the Ohio State Fair for a Krispy Kreme burger. Also this is the last weekend for the BIA Parade of Homes, and it's really close to where we live, so we might check it out also.
Today's a vacation day for me, but I've already answered about 30 emails, so I'm going to try and take it easy for the rest of my day, and catch up on some reading. Hope everyone has a great weekend!