A week before our wedding, I received a new
VoxBox
to review. What was great was it was a wedding VoxBox, which was perfect timing. I wanted some time to use the products before I shared my review, so after using them for a little over a month, I figured it was time to give my 2 cents.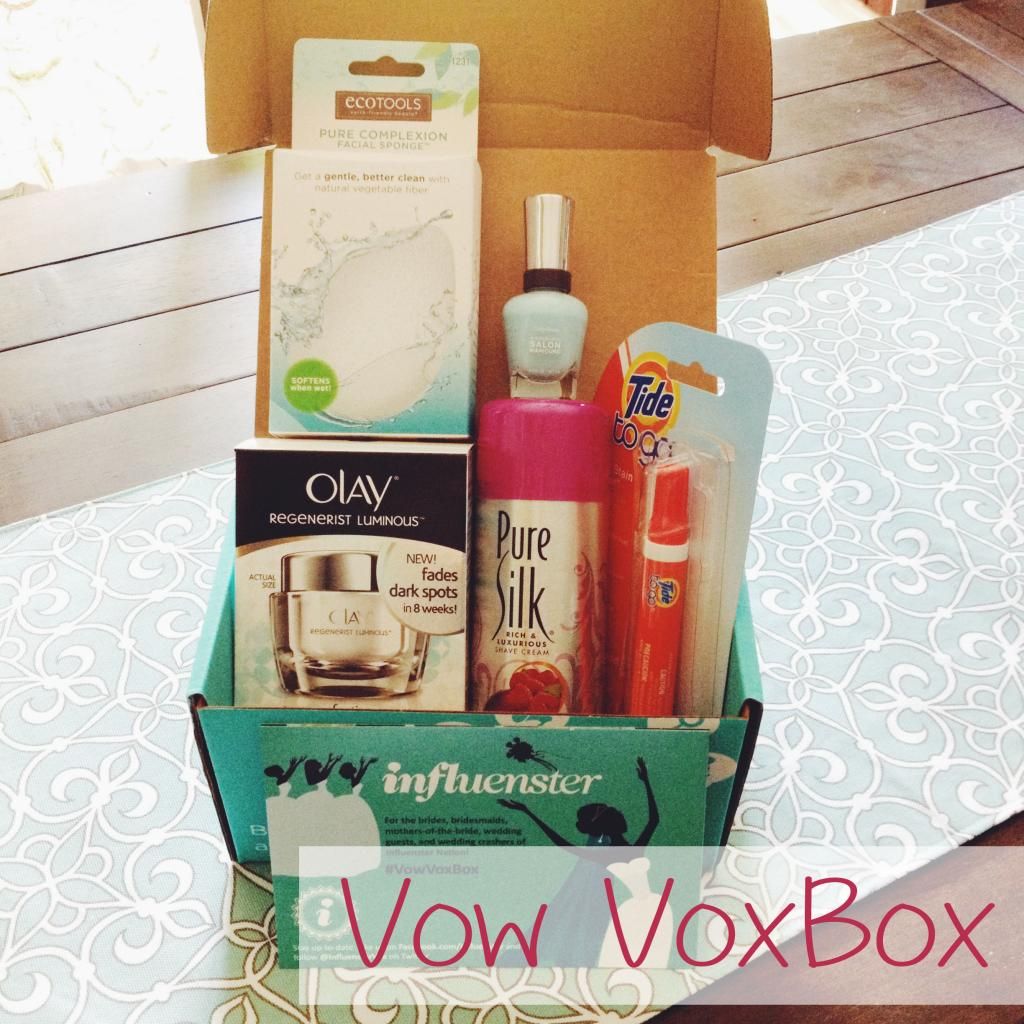 The Vow VoxBox contained the following:
Olay Regenerist Luminous Tone Perfecting Moisturizer
- I typically use the Mary Kay Timewise system, but I actually really liked this moisturizer. I'll be honest I was afraid to use this right before the wedding because my skin is usually very sensitive to certain products, especially if they are not oil-free. I couldn't find anything to confirm if this was oil-free or not, but when I started to use it, I had no problems.
One of the things I love about this moisturizer is it is really thick and creamy, and provides lots of moisture, but it leaves a very matte finish to my skin. I figured because it was so thick it might be a little too much for Summer, but I really love the finish it gave my skin, and didn't feel too greasy. The only drawback to this moisturizer is it has a really strong scent so some people might be turned off by that. I don't mind the scent, but it can be strong at times.
Ecotools Pure Complexion Facial Sponge
- this sponge was really interesting because when you first get it out of the box it feels like hard styrofoam. But once you wet it, it because a squishy sponge. When wet it has a little bit of grit, but is not too harsh, which I think would be good for very sensitive skin. I'll be honest I wish it was a little more grittier to help remove more dead skin cells, but again would be perfect for sensitive skin.
Sally Hansen Complete Salon Manicure - Barracuda
- I love this blue color and think it would be perfect for a bachelorette party. What's interesting about this polish is that it states it includes a base coat, strengthener and growth treatment all in one. My nails are really brittle after removing the gel manicure from the wedding (which I love, but totally wrecks my nails!) so I was excited to see the nail strengthener built in. I'll be honest I finally got around to painting my nails last night, so I can't vouch for how long it will stay on. One drawback is it was very thin going on, so it took like 5 coats to get a nice opaque color.
I used the
Sally Hansen No Chip top coat
and
Julep's Ta Da! Quick Dry Drops
, and I was happy to say my nails were good to go after about 20 mins. Which is good because I usually paint them late at night and then have to wait up for a while before going to bed so I don't get sheet marks (happens all the time!)
Pure Silk shaving cream
- I'll be honest I'm typically not a shaving cream kind of girl. I tend to just apply shower cell with a loofah, and mix a little bit of soap to create a sudsy formula. I liked the very light raspberry scent, and I love that it stays put and helps me know where I have and hadn't shaved. I'm going to keep using it, but I feel like I might go back to using my shower gel mixture since I can then buy 1 product that kills 2 birds with 1 stone. I'm sort of cheap like that...ha!
Tide To Go Instant Stain Removal Pen
- I think this is a brilliant idea to give a bride. Who doesn't need a stain pen while wearing an all white dress on the most important day of their life?!? Luckily I didn't need to use this, although my poor dress was sort of a mess after the wedding (I'm leaving that to the pros though). But I would definitely recommend to have one of these on hand for any figure brides-to-be.
Anyone else ever use any of these products?