I first want to say thank you to all of the brides and newlyweds who have been stopping by from the Wedding Wednesday linkup. This has become one of my favorite link-ups, and I am totally loving seeing everyones posts about their planning process and their wedding. So if you are stopping by, leave a comment with your blog name so I can head on over and see your posts!
Ok, so last week I shared part 1 of our reception. This week I wanted to share some fun party pics. I'll be honest our reception went by way too quickly. If we had one thing we would do over it would be to start our wedding and reception a little earlier so we had more time to visit and celebrate with our family and friends.
After the wedding I worried if people had a good time. There were a lot of things that happened that I totally missed, and was so grateful our photographer captured these moments. There were a couple of funny pictures where I had absolutely no idea what was going on, but overall it looked like everyone had a great time.
I also loved that we had lots of people on the dance floor. Our friends love to dance and have a great time, and I think that made our reception even more fun.
Rick will probably kill me for this, but he never dances. And I love that we have this photographic evidence of him dancing. I really wasn't sure what came over him.
And then I saw this pic. Whisky makes Rick dance apparently...ha!
I love this pic because these ladies are a few of my close friends who I was so glad made the trip to celebrate our day.
The kids had a great time dancing as well. They were the ones that actually got the party started and got everyone on the dance floor.
This one melts my heart...such a little gentleman.
Well until a little later in the evening...ha! One of Rick's friends asked me the next day if my nephew was up for adoption. He was like...that kid is so cool! When I told my brother about this, his response was, well on some days he could be up for adoption...kidding obviously. But he is one cool kid.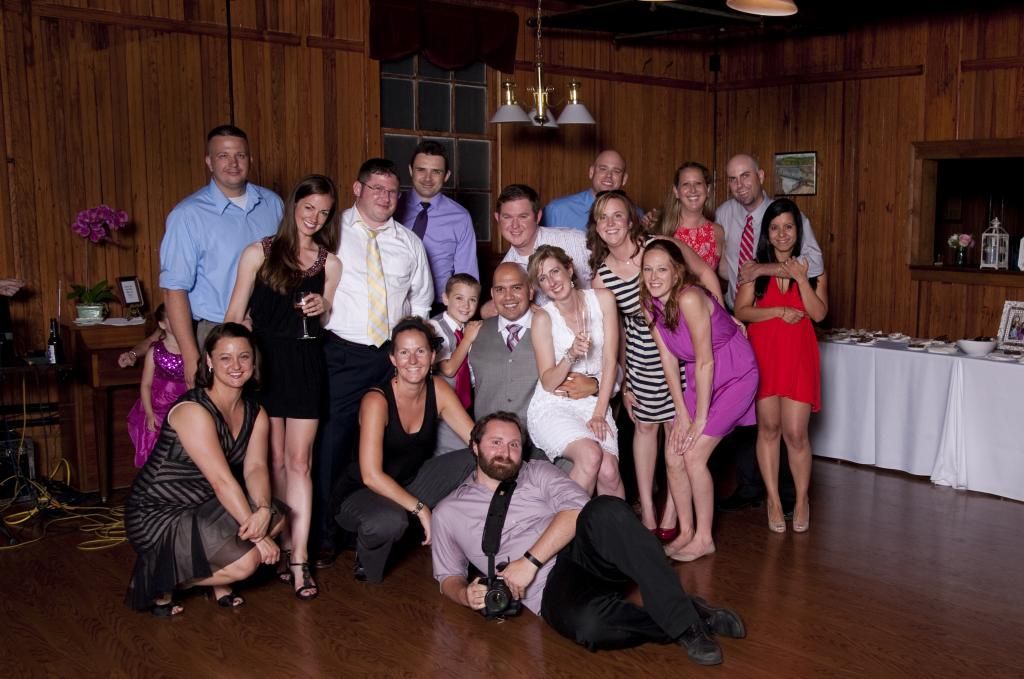 This is one of my favorite pictures. Every time Rick and I see this we are like, this is our people! And our photographers actually. We were getting a group shot at the end of the night when someone yells out, hey why don't you two get in the shot. Hillary (our main photographer) in the black tank hands her camera over to my father and quickly teaches him how to take a pic. He didn't do too bad of a job. I'm excited though because the majority of the people in this picture will be traveling with us to Puerto Rico in January for Jeff and Sharlene's (the couple on the far right) wedding, so I'm excited to be able to party with them all again soon!
All Photos by Hillary Ferguson Photography

Linking up today with: