Happy Wedding Wednesday! Although I have finished sharing my professional wedding pictures, I had a few more wedding posts in mind. Today I wanted to share my wedding hair inspiration, my trial run, and my tips for planning your own wedding hairstyle.
Like many brides, I had a "
Wedding Hair
" board in Pinerest. I debated for many months between having an updo vs having my hair down. I really wanted to wear it down, but my hair is hard to tame even on a good hair day, and I knew battling the humidity in the middle of June for our outdoor ceremony was not going to be easy. So in the end, the updo won.
I saved a few of my favorite pins (above) on my phone (in case the Internet on my phone started acting up) and shared these with my stylist during my trial run. I scheduled my trial run 3 weeks before the wedding, and this was also the same time I got my color updated. It was a 3 hour appointment at the salon that day, but it was a fun afternoon of pamering.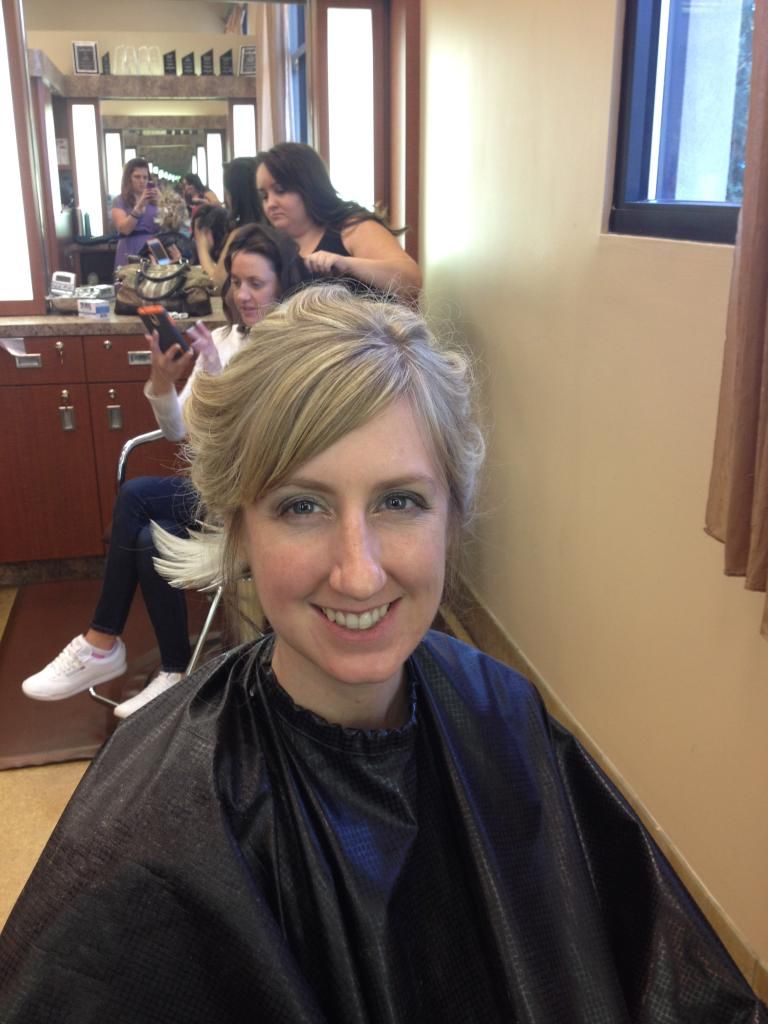 When she was done, I had her take a few pictures so I could share with my family and friends (I may have immediatly texted my Mom and friends these pics as soon as I got to the car...I totally needed their approval!!), and so we could both remember what we did and what I liked.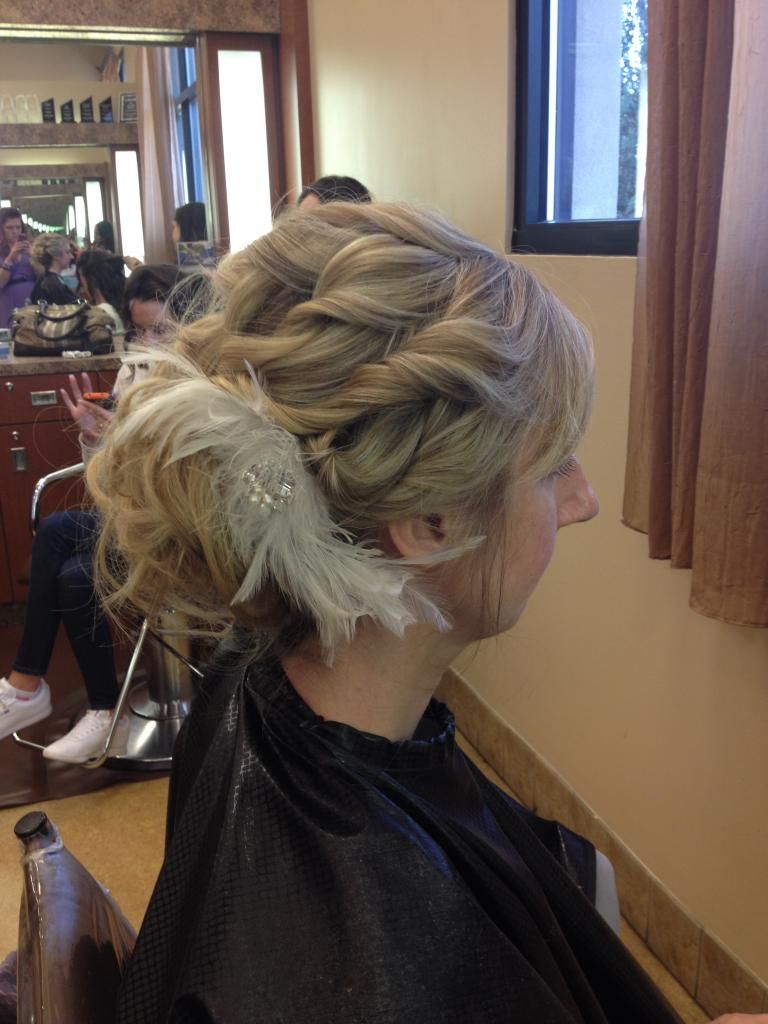 She pinned it up pretty loose because we were going out later that night for my bachelorette party and I wanted to be able to un-pin it before we went out and didn't want to have to rewash.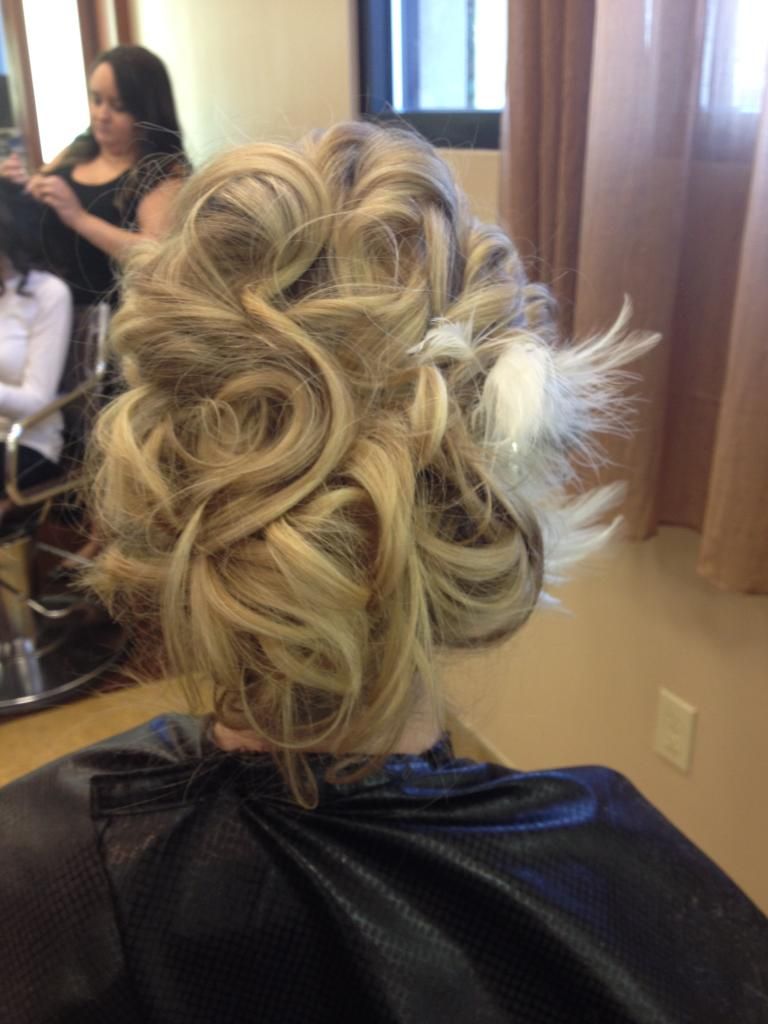 One of the things I told her was I wanted it a little tighter and less messy in the back at the bottom and that is exactly what she did.
I love how it turned out and was really glad that I did the trial run in advance so we could try out the style and then tweak it for the big day. Some of my tips for the bride-to-be's are:
1. I highly recommend a trial run. It's a great way to test out your stylist (especially if she is new), and also try out a style before committing on your wedding day. You usually only have about an hour the day of for hair, so if things aren't working out like you want, there isn't a ton of time to re-do it. One of my friends, who got married the month before me, totally hated her hair from her trial run. It gave her time to think of a new hairstyle and she ended up loving her new style on her wedding day.
2. Bring inspiration pictures. My stylist loved that I brought pictures so she knew exactly what I was looking for.
3. Keep an open mind. It can be extremly hard to recreate some hairstyles, especially if your hair color/texture is different than what is in the inspiration picture. That is why it's great to bring a few pictures and then your stylist can pick and choose what may work from each picture for your hair.
4. Don't be afraid to give feedback or change your mind. It's your day, and you want to feel beautiful. A good stylist will accept your feedback and work with you to ensure you are happy with your style.
5. Don't forget your hair piece/veil. Trial runs are also a great time to try out your hair piece and veil. It's a good idea to make sure they will work with your style and you feel comfortable once they are in place.
6. Trial runs may cost you. Some salons have packages where your trial run is included. Many salons will charge you the same amount as you will pay the day of. Just make sure to ask when you are making the appointment so you aren't caught off guard. To me it was worth the extra money to have a trial run, but everyone has different priorities when it comes to planning their wedding.
7. Check to see if your salon has packaged deals. When I was calling around, checking on pricing/options, some salons had packaged deals where you could get a trial run with hair cut before the wedding, and then wedding hair and makeup for a special price. You may also get a special deal if your bridesmaids are getting their hair, nails and makeup done as well. I also looked into having someone come on-site for my hair and makeup. It was pretty close in pricing to the salons, but there was a minimum price for them to come out, and since I didn't have a bridal party, it really wasn't worth the price for just me. I think if you had a large bridal party it would totally be worth having onsite hair and makeup.
8. Schedule your appointments in advance. Especially if your wedding is during prime wedding season, make sure to schedule your appointments well in advance. I schedled my trial run and my day of appointment about a month and a half ahead of time. And they were already starting to book up. Of course I got married the middle of June, which is a really busy wedding month. Keep in mind when proms and homecomings might also take place because those will cause salons to book up quickly as well.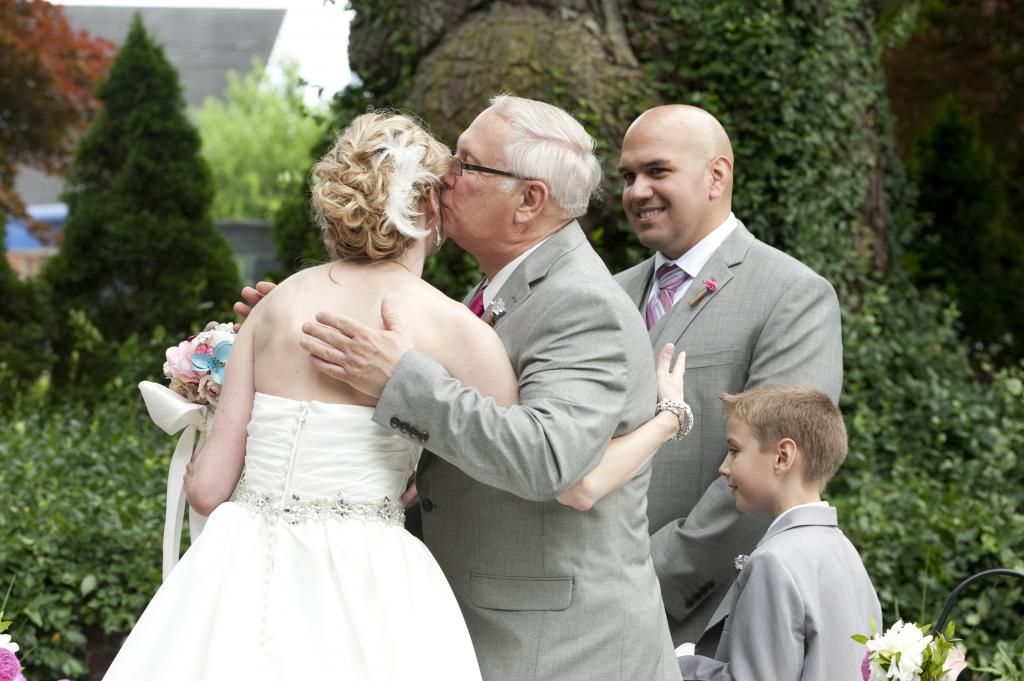 And here is my wedding hair on my big day!!
Did you, or are you planning, a wedding hair trial run? If so, how did it go? And what are your big wedding day hair tips?
Linking up today with: