Happy Monday!
Today I wanted to share 2 subscription boxes that I received this month.The first one is
Rocksbox
which is a premium jewelry subscription box and the second is
Julep
which is a nail/beauty subscription box.
At the end of December I came across a deal where I could try out the Rocksbox subscription for $9 for one month. I kept seeing different bloggers and Instagramers posting pictures of amazing jewelry with hashtag #rocksbox, and I was interested in seeing what this was all about.
Basically you pay a monthly fee and they send you 3 pieces of jewelry worth almost $250 total, and you can wear it on loan as much as you want. You then return the jewelry with the pre-paid shipping label, and they send you a new set of jewelry to wear. You can trade out your jewelry as much as you want to during the month, and the fee is $19 a month. It's kind of like Netflix for jewelry.
I'm not sure if this was a first time gift or not, but my box included this cute "shine" necklace as a thank you gift. Such a nice surprise.
My first box included these 3 pieces of jewelry. The Perry Street Abby Necklace in Black Crystal, the Charlene K Double Gemstone Earrings in Onyx and the Gorjana Teagun Cuff.
A few other things to note, when you sign up you fill out a style survey so your stylist knows what types of jewelry you like. I love statement necklaces, dangly earrings and chunky bangles, which is exactly what I got in my first box.
You can also browse the available jewelry online and indicate what interests you on your Wishlist. The necklace was one of the items I had added to my wishlist. There is also a way to tag the jewelry that Rocksbox posts on their Instagram account for your wishlist, but I haven't figured that one out yet. I see lots of people commenting #wishlist, but not sure how, or if, it links to your account.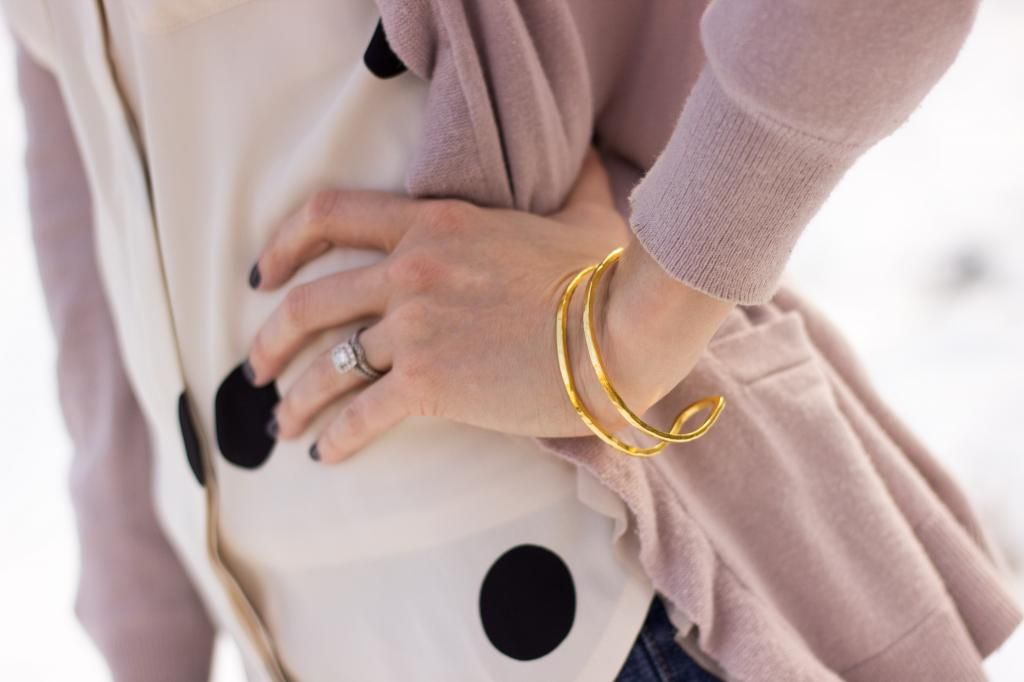 I loved the necklace and the earrings, but the bracelet wasn't my favorite. I'm not a huge gold lover, and it felt a little too lose on me. But I loved wearing the necklace and earrings and wore them a couple of times.
I wore all 3 pieces to a wedding we went to over the weekend...
...and also to the wedding that we went to in Puerto Rico.
The second box I received was the Julep box. Julep is known for their high-end nail polish. It's really thick and goes on really smooth. I sometimes can get away with only one coat of this polish and it tends to stay on my nails pretty well. Usually you get 1 or 2 nail polishes and then either a beauty product or another type of nail product like a quick dry. This month I received the
Sandi nail polish
,
Gel Eye Glider in Navy Smoke
and
Luxe Lip Treatment in Sheer Fig
. Oh and they always include something fun like the Junior Mints. One time I got a pixie stick, which I hadn't had in for-ev-er!
I loved this nail color. It's hard to tell in the pictures, but it's like a deep eggplant color. I also really love the gel eyeliner. It goes on super smooth and the color is really rich and lasts all day long. I wasn't sure about the navy color, but it's a really deep navy and looks almost like a slate color. I like wearing it with a brown eye shadow and it helps to bring out the blue in my eyes. I also really like the color of the lip gloss, but think it tastes a little funny. And it's really sticky, so not great for a windy day. In the pics above, I'm wearing both the nail polish and the lip gloss.
Over all a good month for subscription boxes. I'm going to possibly try the Rocksbox subscription at least 1 more month to see what I get next. For the Julep box you can preview what comes in your box each month, and can switch out things if you choose to, or you can skip. I usually like to preview the box and see what I think. We are really trying to save some money, so I may hold off a few more months on this one, unless I really see something I love.
What subscription boxes do you love?
*Please note I was not compensated at all for either of these subscription boxes.