Over the weekend I was watching this show, that I'm recently obsessed with, call the
Real Girls Kitchen
on the Cooking Channel. It's a cooking show with Haylie Duff, and it's a fun show. It blends her lifestyle in LA, with her story of getting her cookbook published, with a little bit of her Texas southern roots mixed in.
The show I watched over the weekend was about her family Crab Boil, and for dessert she made this Black Bean Chocolate Cake. I have heard about this before, but figured it would taste awful. Everyone was raving about it at the party, even the guys, and the ingredients looked really simple, and I already had most of them on hand. So I thought I would try it and see what it was all about. I figured worst case I ruin a few cans of black beans and some eggs.
OMG it was so moist, and rich, and tasted nothing like beans!! It didn't take long to whip up the ingredients and was pretty simple to make. Only complaint was it dirtied a few bowls and the blender, but totally worth it! My only warning is because it is such a moist cake, you really need to grease the pan very well and don't let it sit in the pan too long or else it's not easy to get out of the pan. My cake might have fallen apart, which is why you are only getting a photo of 1 slice as opposed to an entire cake...ha! #bakingfail
Rick tried a small bite, but was a little afraid of eating too much since it was full of beans. Beans and his belly don't mix well together, but I've had 2 pieces so far and no digestive problems...ha! He did agree that it tasted like chocolate cake, but he said if he really thought about it he could taste beans. I think it might just be stuck in his head as I don't taste them at all. I highly recommend you try this, especially if you like a more dark chocolate type of cake. It's not a really sweet cake. I also recommend using a milk chocolate type of frosting to off-set that the cake is not too sweet. I don't have a healthy frosting recipe (yet), so I just used a store-bought can of frosting. If I master a healthy frosting recipe (I've had a few fails), I'll be sure to share.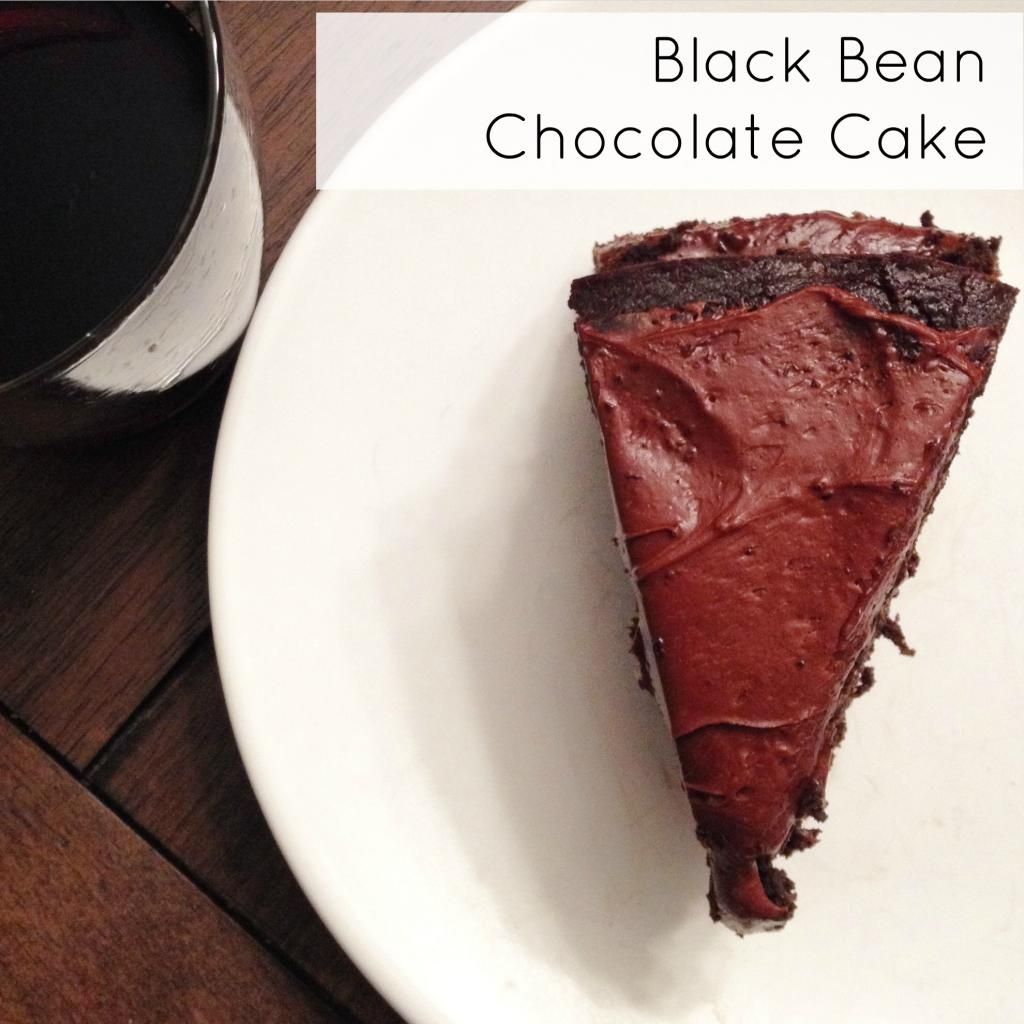 Black Bean Chocolate Cake
Makes two 9" cake rounds
Recipe from Real Girls Kitchen on Cooking Channel
Ingredients:
-- 10 eggs
-- 2 15 oz cans unseasoned black beans, rinsed and drained
-- 2 TBS pure vanilla extract
-- 1 TSP sea salt
-- 1 1/2 sticks of softened butter
-- 1 TSP pure stevia extract (I used the Skinny Girl brand I got at Walmart)
-- 1 cup of honey
-- 3/4 cup unsweetened cocoa powder
-- 2 TSP baking powder
-- 1 TSP baking soda
Directions:
Preheat oven to 325 degrees. Grease your pans (two 9" cake pans) really well, and sprinkle with cocoa powder to also help prevent sticking. This is key, learn from my mistakes.
After draining and rinsing your beans, add the 2 cans of beans, 6 eggs, vanilla, stevia extract and salt to a blender and mix until liquefied. Set aside.
In a separate bowl, mix your cocoa powder, baking powder and baking soda together. Set aside.
Then add your softened butter and honey to a mixer (spray your measuring cup with cooking spray to help it all come out), and mix together until light and fluffy. Add the remaining 4 eggs, one at a time, and mix until smooth. Then add in your bean mixture. Mix until smooth, and then add in your cocoa mixture, a little at a time, until well combined.
The pour the batter into the two prepared pans and tap to make sure all of the air bubbles are out. The original recipe stated to bake for 45 mins, but it took almost an hour in my oven. So I would start with 45 mins and then keep checking until the cakes don't look wiggly in the center, or a toothpick comes out clean.
Cool for about 10 mins and then attempt to flip onto a cooling rack. Once cool, frost one layer with frosting of your choice. Then add the 2nd layout and frost. Enjoy!!
Would you ever eat a cake made of beans?