Happy Wedding Wednesday! I've shared most of our wedding pics, but had a few DIY wedding projects that I am excited to finally getting around to sharing with all of the future brides. I have a few more I'll post in the next few weeks.
I found these really cute burlap banners on
Etsy
last year, and just knew that I wanted to do a "Just Married" photo with one. This is one of my favorite pictures, and we used it on the back of our Christmas cards this year.
Burlap started to become a big part of our wedding decor (I used it as table runners for our reception), so I decided to make more banners to go on different tables.
I envisioned this "Cheers" banner hanging on the bar, but I couldn't find a way to hang it, so it just hung over this mirror in the bar area.
I was expecting a little larger table for the cake, so our Mr & Mrs banner was a little big, but I stilled loved it anyway. This would also be great for a head table.
I totally want to share some great DIY's for our photo shoot, so look for those in the next week or two :)
So how did I do it?
Materials:
-- Burlap (maybe a yard or two depending on how many banners you are making)
--
Stencil set
(I found this set at Michaels a year ago with 50% off coupon, but heard it was being discontinued, so not sure if they still have it)
-- Black craft paint (I tried white but didn't feel like it showed up that well with my stencil)
-- Foam brush
-- Cardboard to stencil on
-- Fray Block (you can find this at JoAnn's)
-- Twine or some type of string to hang your banners
-- Glue gun and glue sticks
Directions:
Make a template for your banners. I just used a ruler and drew one out on paper. Then pin to your burlap fabric and start cutting out your banners. I started out making triangle banners, but switched to a different shape later on, which is why the pic below doesn't really match my banners...oops!!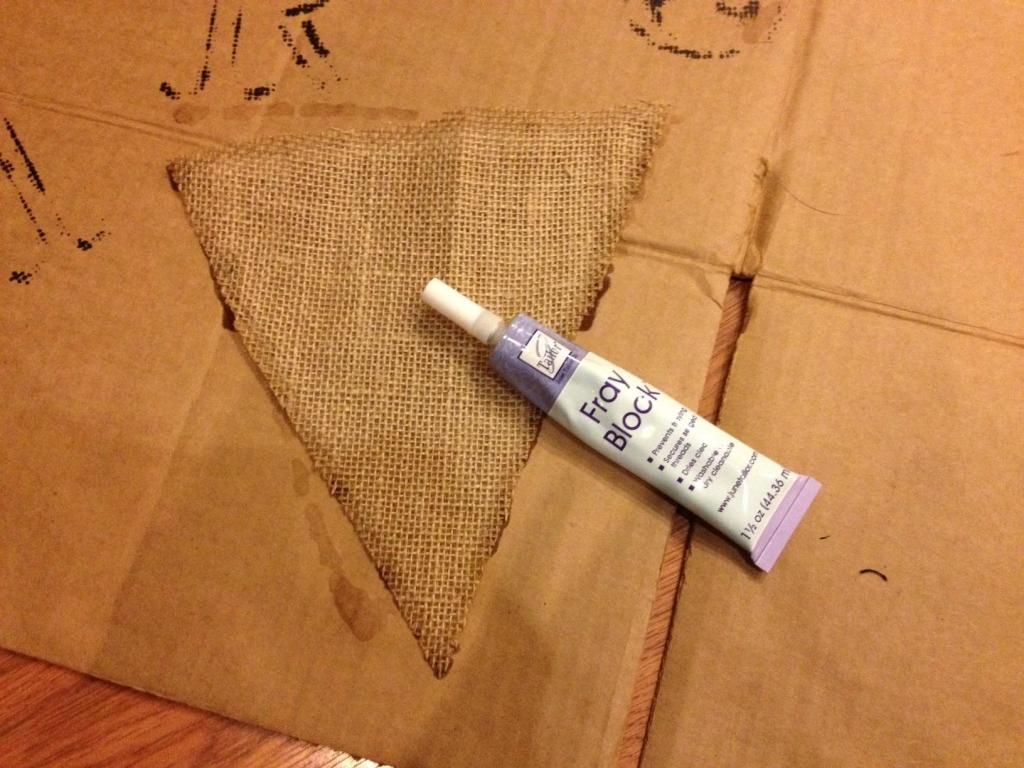 Once all of your banners are cut out, put a thin line of Fray Block all along the edges to keep the burlap from fraying. I would do this on a piece of cardboard to protect your surface...it will get everywhere as it's a very thin liquid. The fray block will dry pretty clear, but you may have darker edges if you put it on too thick. It doesn't show too bad though.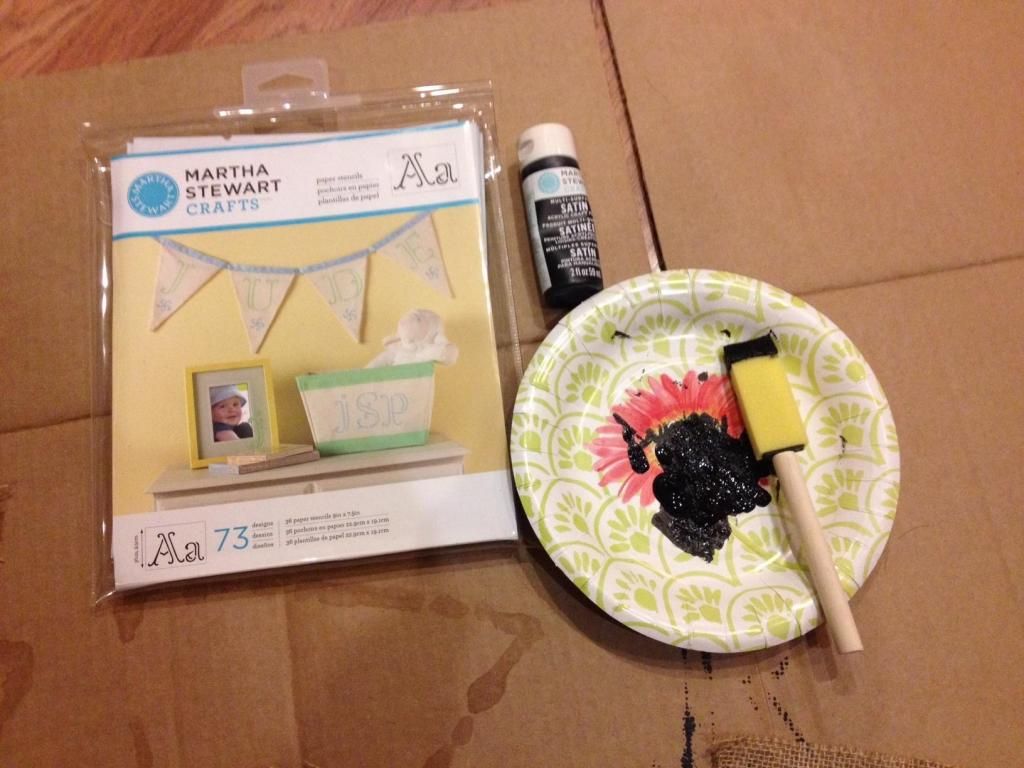 Once your banners are dry, you can begin stenciling. I used the same piece of cardboard as the paint will come through the burlap. Just place your stencil in the middle, hold down tight, dip your foam brush into the paint (I just squeezed a little on a paper plate), then pounce over the stencil. Once all of the letters were dry, I just used a glue gun to adhere the twine to the back of the letters.
Overall, this project took about 2-3 nights to work on. I cut all of the banners out while watching TV one night and then applied the fray block. The next night I stenciled all of the letters. I then let them dry over night and glued to the twine the 3rd night.
The entire project costs me probably around $20 or $25 and I got a lot of banners out of it. The one I linked above on Etsy was selling for $45 each, so you can definitely save money by making them yourself.
Funny story: So I was in the middle of stenciling the letters when I realized my stencil set was missing a "Y". I really wanted a "Thank You" banner for the gift table and my crazy Bridezilla mind felt that "Thanks" was a little too informal.
I went back to the original Michael's store and they were willing to exchange my used stencils. I went through the 1 pack of stencils left on the shelf and it was also missing the "Y". They said another local store had 2 packs in stock, so they held those packs for me and off I went to the other store to check them out. When I got there and checked those 2 packs, they were both missing the "Y's" also. The clerk there said the system said they were discontinuing this stencil set, and we both wondered if it was because it was missing the letter "Y".
I already had half of the letters stenciled, so I finally got over myself and decided "Thanks!" would be just fine. Just one of my few Bridezilla moments. Good news is that Michaels gave me a new set of stencils anyway, and let me keep the original ones that were already covered in paint. So I ended up with 2 sets of stencils.
Linking up today with: