Happy Snowy Monday! Did anyone else get snow? It started snowing yesterday afternoon and was still snowing when we went to bed last night. We were expected to get around 6" of snow, which I guess isn't too bad compared to some crazy snow storms. I was a little nervous driving into work today, but it was only a Level 1 Emergency, and the roads were mostly clear. A few spots were just messy, especially in the intersections. The puppies sure loved playing in the snow this morning, but only could stand being out in it for about 3 mins and then their toes started to freeze. But it was fun to watch them playfully run around in the snow.
Today's weekend recap post is going to be a little (or a lot) of randomness. I don't have a lot of pictures to share, but lots of fun things happened that I wanted to document and share. So here we go...
-- Friday night my friend Amy and her daughter Avery came over for BBQ Chicken Pizza and great conversation. We hadn't caught up since before Christmas, so it was great to have a little girl-time and catch up. I also love watching Rick interact with Avery. You can tell that Avery loves playing with Rick. At one point Rick fell asleep on the couch (thanks to having to get up at 3:45 every morning) and Avery just wanted to go over and start playing with him. We were like...no he's sleeping...and she just kept going over and looking at him. Then at one point he got up and went upstairs to go to the bathroom, and she got all concerned about where he went. She kept saying his name, and once he was out, they had a little tour of the upstairs bedrooms. Then as they were getting ready to leave, she runs over to give him a hug, but sees that he is laying on the couch again. She got afraid that maybe he was sleeping again. But no worries, Rick wasn't asleep yet (but close), so Avery got her Rick hug. Such a cutie!!
-- Then on Saturday we met up with Jackie and Nate for some adult bevies. We started out at a sports bars that was close by. Then we decided that we wanted to go check out Tequila Cowboy...and boy was that an experience. This bar opened up a few months ago, and is in the same building that my old gym was in that went out of business. It's a 2 story country bar that is separated into different rooms/bars. The main area had live music, next to that you could ride the mechanical bull. Another room had karaoke, and the upstairs had billiards. There was also an outside bar, but of course it was too cold to enjoy that. It seemed like it would be a fun place, but at 9 pm on a Saturday night it was packed. We literally drove around for 10 mins to find a spot, could barely walk through the bar, and there was no place to sit or stand. We all thought this was crazy considering most bars in town don't get busy until around 11 pm. Also, the crowd was quite a mix of people. There were the younger 21 crowd, but also an older crowd. And there was quite a bit of Carhartt and camo outfits, which is definitely different than the crowd going to the downtown bars...ha! We decided to just go next door to Murphy McFlips and enjoy another bevy before calling it a night at 11 pm. Yep that is how we roll.
-- On Sunday Rick and I went to see American Sniper. It was a great movie, but I'll admit there were some scenes that were just too much for me to watch. I'm not good with movies with a lot of shooting and deaths, and it felt even more overwhelming knowing that this was a true story. But overall I was glad I went to see it, and it made me respect the men and women who serve our military, and their families that have to spend time away from their loved ones, even more. It's definitely a must see...even if you have to close your eyes during a few parts.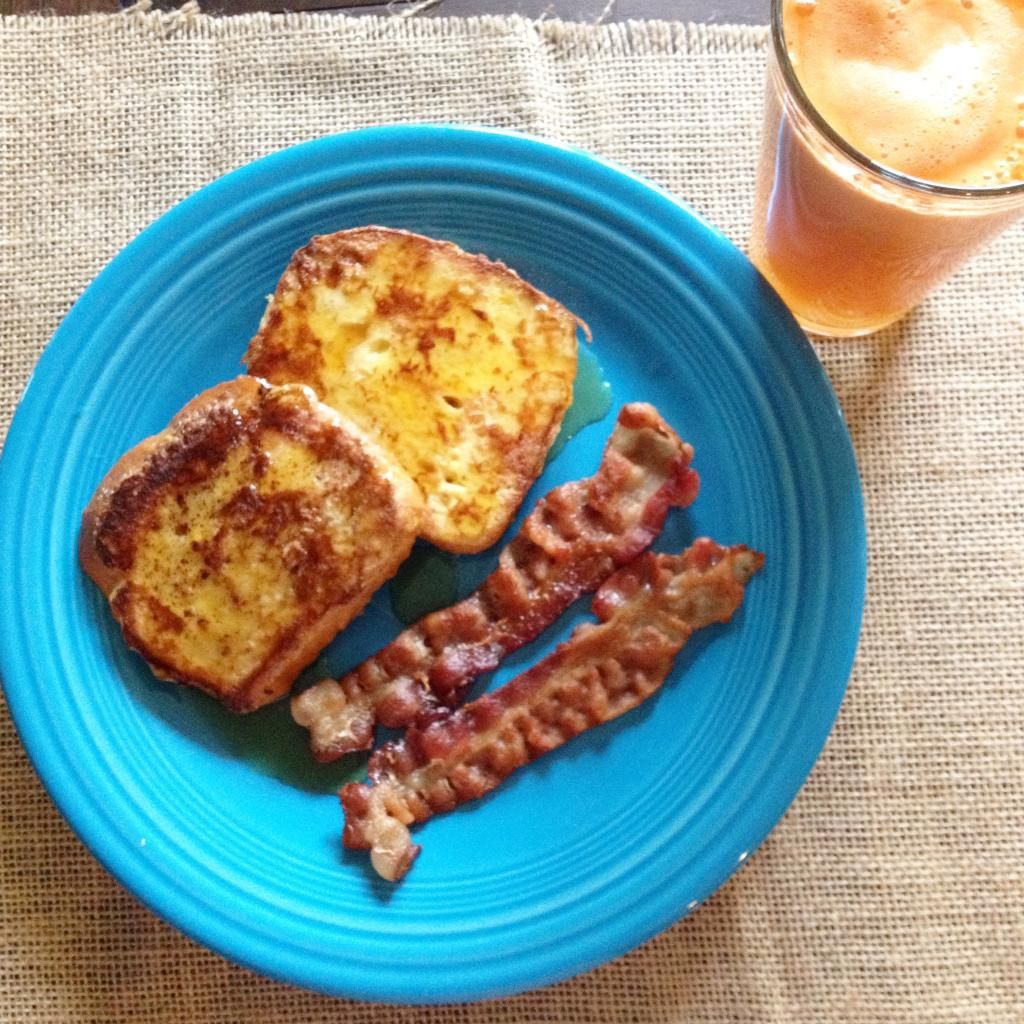 -- One thing I did capture a picture of is our new weekend tradition. Every Saturday morning (and sometimes on Sundays too), Rick has been making us french toast and bacon. He makes mine with Udi's gluten free bread, and it's actually pretty amazing. You just have to let the bread sit in the egg mixture for a little longer to make sure it really soaks up the egg mixture since this bread is a little denser. Actually it kind of holds up better than regular bread since it is denser. I thought I would share his recipe since it is pretty amazing, and a little unique. He changes it up almost every time he makes it, but this is the recipe he used this weekend.
Rick's French Toast
For 2 pieces (double the recipe or triple for more)
Ingredients:
-- 2 pieces of bread
-- 2 eggs
-- Splash of milk (we used unsweetened vanilla almond milk)
-- 1 TBS of Disaronno
-- Small drop of vanilla extract (like an eyedropper amount)
-- Small drop of maple extract (like an eyedropper amount)
-- Butter
-- Cinnamon
Directions:
Whisk your wet ingredients (eggs, milk, Disronno, vanilla and maple extract) together in a bowl. Then transfer to a plate and dip your bread. If you are using a dense bread, let it sit there for a minute or two. Heat up your skillet and add some butter. Once the butter is melted place your bread onto the skillet. Add some cinnamon and fry for a few minutes. Then flip and add cinnamon to the other side. Once both sides are brown, remove from the skillet. I love to add real maple syrup, and a side of bacon.
-- Also on tap for the weekend was a little Sunday Funday dress up with Abby. I was organizing the coat closet in the entry way and came across Bryn's Tin Man costume. We decided it sort of looked like a dunce cap, but Abby sure looked cute.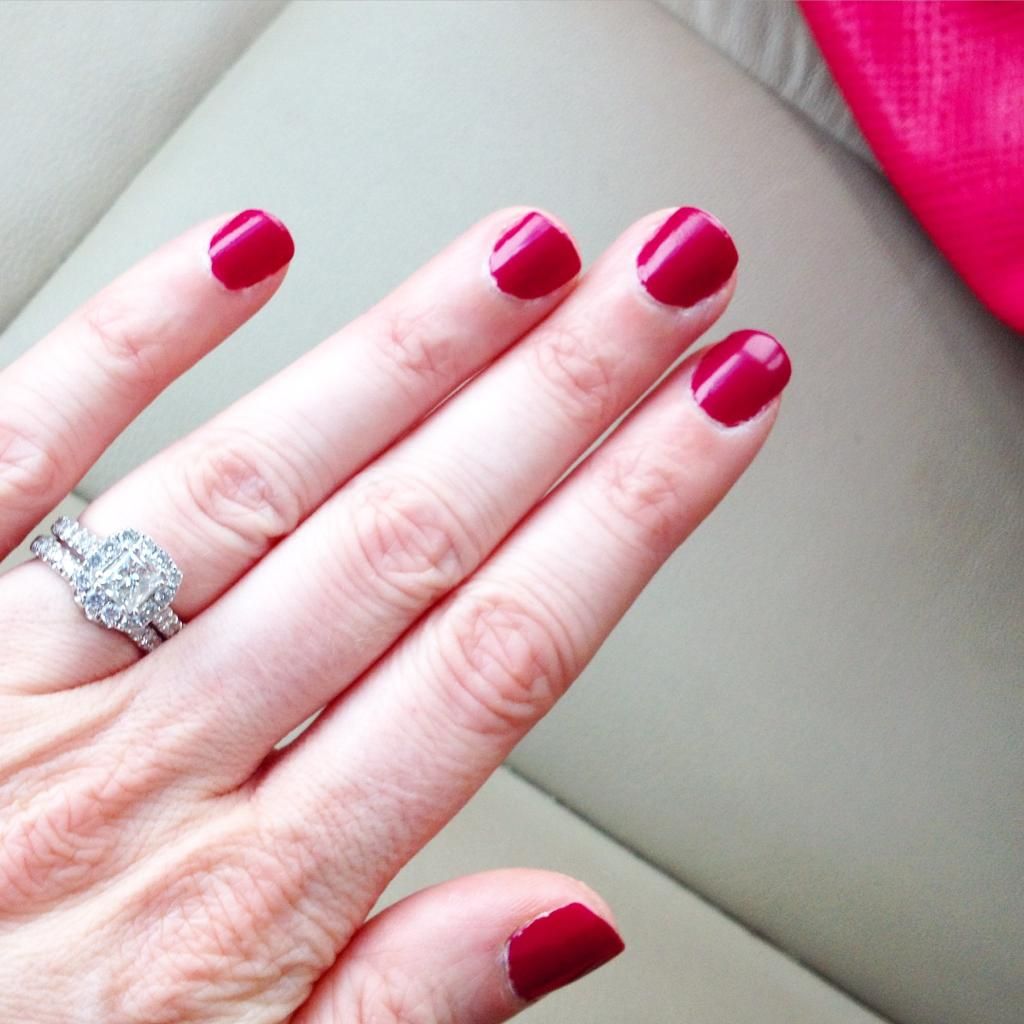 -- I also wanted to share that on Thursday I posted about some of my favorite nail tips for Winter. I wanted to share that I painted my nails on Tuesday of last week, using the products mentioned in my post, and her are my nails 5 days later. They still look just as good as the first day I painted them. I've since then done some cleaning, so I'm expecting them to start chipping any second. But to get 5+ days without a single chip is a miracle in my book considering most of the time they chip the next day. So if you are looking for some DIY nail chips...check out this post!
-- One last fun thing to share. Last weekend we went to a wedding of one of Rick's coworkers (well she used to be a co-worker). She had the coolest cake which was made of donuts. Rick said it was the perfect wedding cake for a cop wedding, and everyone totally agreed. They also had Schmidts cater the reception. and OMG it was amazing. Bahama Mama sausage and warm potato salad...I'm still kinda thinking about it over a week later.
I know that was the most random weekend post ever, but lots of fun!
How was your weekend? Did you get any snow?
Linking up with Life of Meg for Mingle Monday and B Loved Boston for Weekending