Happy Monday! Hope you all are surviving the first full work week back to work. Luckily this is a very short work for me, which is the only thing getting me through this very cold Monday morning.
Today I wanted to share a little about our weekend, plus a few shows that we are obsessed with that also made up part of our weekend.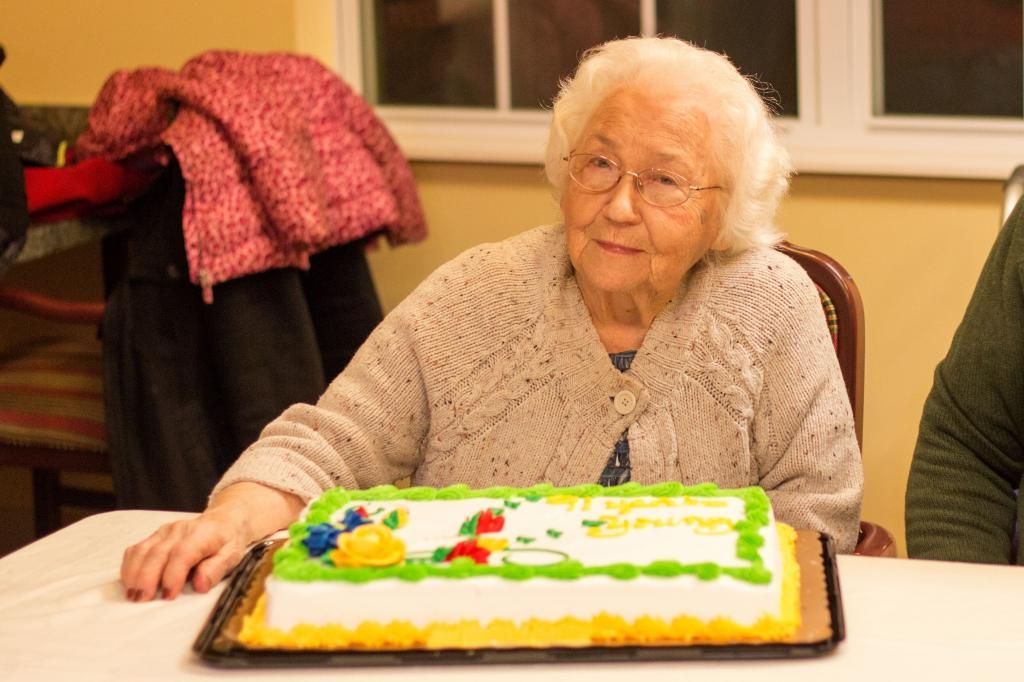 This pretty lady turns 91 next week. She certainty is a spunky woman, and reminds me every time I see her that she is waiting on a phone call to announce when her next Grand-baby is coming. Not that there is any pressure or anything...ha! Over the weekend my aunt and cousins were in town from FL and we had a birthday celebration.
Since almost everyone from our family was in attendance, we decided to get some family pictures. Here Grandma Libby is with 2 of her 3 children, 5 of the 6 Grandchildren, and 6 of the 10 Great-Grandchildren + spouses.
Since Rick and I are still trying to get over our colds (will the sickness ever end???), we spent a lot of downtime getting caught up on shows over the last 2 weeks. Our obsession...
...
Scandal
. We watched half of season 2, all of season 3 and half of season 4 in the last 2 weeks. We have 1 more episode to watch tonight and then we will be caught up for when it comes back on air at the end of January. I keep thinking that at some point they are going to run out of scandals and it's going to get boring, but it seems like every episode leaves me on the edge of my seat wondering what's going to happen next. This is the first show in a long time that I really gotten into and just can't wait to see what happens next. Rick has a few issues with some of the story lines. Since many of the scandals have actually really happened in the past, they have re-written them and changed the political party that they are associated with, and Rick isn't crazy about that. He thinks it going to confuse people's views of politics, but sadly I admit to him I don't think that much into it. Maybe that is bad, but I just enjoy the pure entertainment. Of course this is coming from someone who also enjoys the Real Housewives...ha!
Another show that we started to watch on OnDemand was How to Get Away with Murder. This show comes on right after Scandal, and is only in the first season. We only watched 2 episodes, so I'm still working on getting into it. It keeps going back and forth between present and 3 months prior, so it's a little confusing. And without spoiling it for those who haven't watched yet, I'm still trying to figure out how they are going to drag this show out into multiple seasons. Maybe I haven't watched enough episodes, but I'm going to watch a few more and see what happens. Anyone else watch this show? What are your thoughts? Is it worth watching?
Another show I'm excited about starting up again is
Fixer Upper
. This is my favorite home improvement show, and I'll admit I would love to move to Waco, TX just so they can find me a fixer upper to become my dream home. And of course in my dream world, this house would be next door to Chip and Joanna, and we would become the best of friends :)
What shows are you excited to start back up? We are looking for some new shows, so recommendations are welcome!