Happy Friday!
Hope everyone is staying warm and surviving all of the snow. Speaking of cold weather and snow...I am so ready to breakup with Winter..who's with me? I'm also so very ready to breakup with my Winter wardrobe and can't wait to start wearing some of the cute Spring fashions everyone is posting about. BUT, Winter is here to stay in Ohio for at least another month, and it's still likely we will have some cold weather into April. So I've been searching on Pinterest to find some cute outfit inspiration that will keep me warm, but feels a little Springier (yes that is a word I looked it up :) ).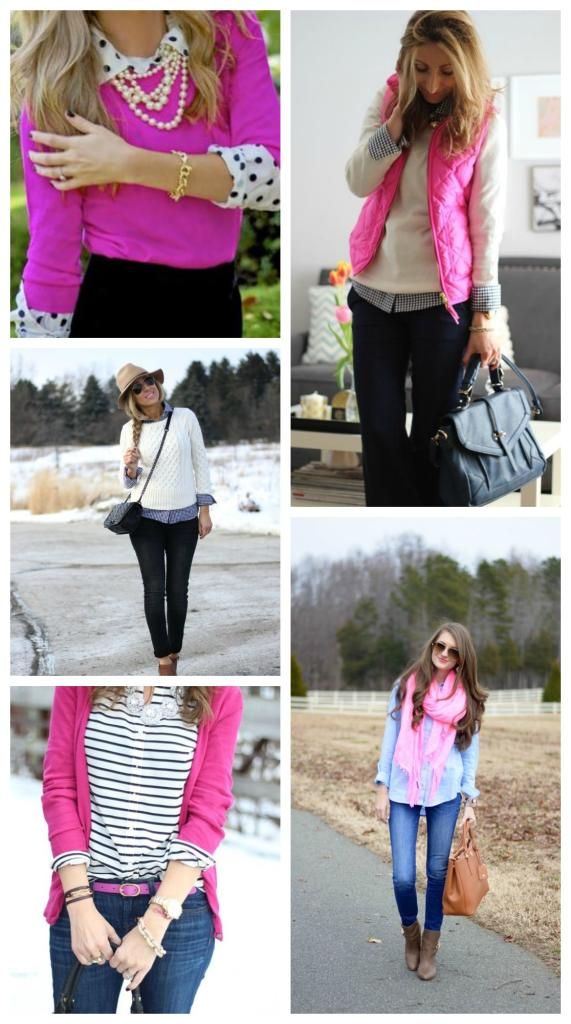 Yes pink is a big theme here, and seems to be a big trend in many of the wardrobes I've come across lately. My goal is to wear more fitted layers for warmth, and then add a pop of color through jewelry, a scarf, or a cute vest or cardigan to brighten things up. Pink, teal or bright yellow are perfect colors this time of year and will hopefully give Mother Nature a hint to bring on Spring.
I'm actually planning on recreating some of these outfits, as well as a few other outfits I've found on Pinterest. I found this really cute
reversable pink vest
at Kohls, and have found a few cute ways to wear it on Pinterest as well. I'm hoping to share next week, so stay tuned!
What are you wearing lately? What colors are you excited to wear for Spring?
And for more Friday fun, check out the Five on Friday linkup hosted by
Christina
,
Darci
,
April
and
Natasha
.