I've shared
before
how much I'm loving the
Rocksbox subscription box
. If you are not aware, Rocksbox is a monthly jewelry subscription box. You pay a fee of $19 a month, and they send you 3 pieces worth up to $250 to wear as much as you want. When you are done, just package everything up in the pre-paid envelope and send back. In a few days they will send you new pieces to wear.
I also recently started earning "Shine" dollars, which is $10 a month to spend towards purchasing any piece(s) of jewelry in your box. I actually purchased one of my jewelry pieces (which I'll share below), so in addition to receiving 20% off the regular purchase price, I also received an additional $10 off. I actually priced the piece I purchased on a few sites and this was definitely a savings. I assumed there might be a markup, but there wasn't which is good. So you pay $19 a month, but you get $10 towards a piece of jewelry if you choose to purchase. If you don't then you lose that $10.
What I love most is that I can try out all kinds of fun jewelry, some that I may have never tried before, and then whatever I don't like I send back. It's like Netflix for jewelry as you can switch out your box as many times as you would like to during the month.
So today I thought I would share my 2nd and 3rd Rocksboxes.
For my 2nd Roxbox, I received the Perry Street Gwen Crystal Studs, the Charlene K Charm Necklace in Turquoise (it's a long necklace that is doubled up in the pic), and the Gorjana Bali Three Charm Necklace.
My 3rd Rockbox is my favorite box so far. I received the Perry Street Lina Necklace, Margaret Elizabeth Faceted Drop Earrings in Moonstone, and the Gorjana Ryder Charm Bracelet. I LOVED the Margaret Elizabeth earrings, and ended up purchasing them because they seemed to go with everything. I think I wore them almost every day for the last 2 weeks.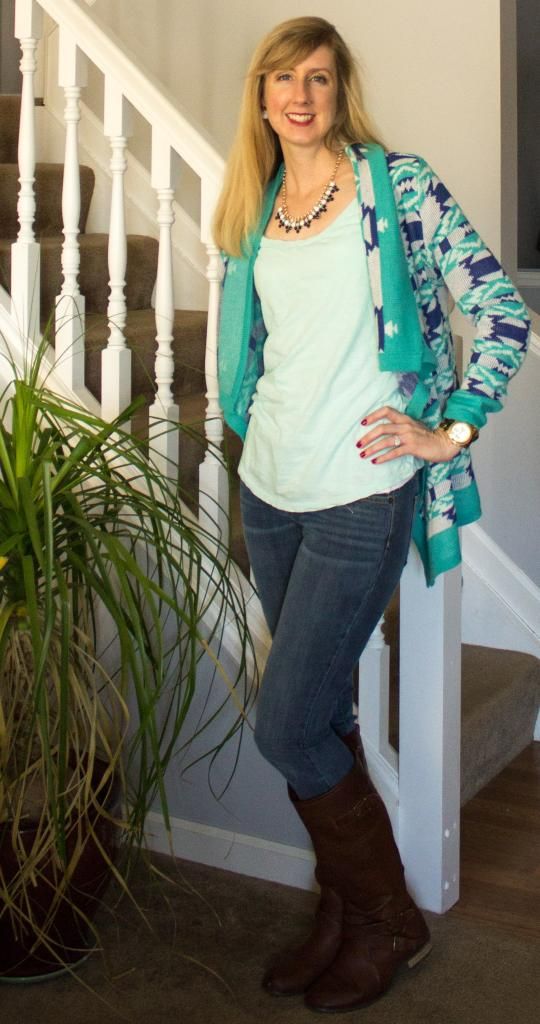 I also attempted to take some pictures of how I wore Rocksbox #3.
I got the cardigan last Fall from
Hazel and Olive
, but unfortunately it's sold out and I'm not sure if they will restock due to the new Spring styles coming in. It's been one of my go to pieces this Winter to stay warm and I get a ton of compliments when I wear it.
I sent my 3rd Rocksbox back yesterday and can't wait to see what I get in #4. I'll be sure to share soon!
Has anyone else tried Rocksbox? What did you think? If your are interested in trying Rocksbox FREE for the 1st month let me know and I'll share a coupon code with you. Just leave me a comment below or shoot me an email at lifeloveandpuppypaws@gmail.com. It's a lot of fun and a little addicting!!
*Please note I did not receive any compensation for this post. Just sharing things I love.