I mentioned a few weeks ago when I was discussing
meal planning
that I use
Pinterest
for most of my recipes. But I do LOVE cookbooks and have a very large collection of them. Sometimes it's just nice to browse a cookbook, and I especially love having all of the recipes of some of my favorite Food Network stars all in one place.
One of my newest cookbooks is
Supermarket Healthy
by Melissa D'Arabian. I love her show 10 Dollar Dinners, and was really excited to see she had book about money saving meals that were healthy! Especially since I am currently on a clean eating kick.
A few things that I love about the book:
-- It is full of helpful tips like a list of supermarket pantry must-haves, Asian pantry staples (I love to cook Chinese take-out at home, so this is perfect!), and even tips for taking the skin off of chicken.
-- She also talks about some of the hot button issues of today like buying organic and Non-GMO foods, and what that really means, as well as discusses food allergies and sensitivities.
-- One of my favorite things about the book is that it is filled with healthy recipes with simple ingredients you can pickup at the regular grocery store. I have a few clean eating/healthy cookbooks and I have no idea what some of the ingredients are, or where you would even find them. And I have no time to go to multiple grocery stores...it's one-stop shopping for me.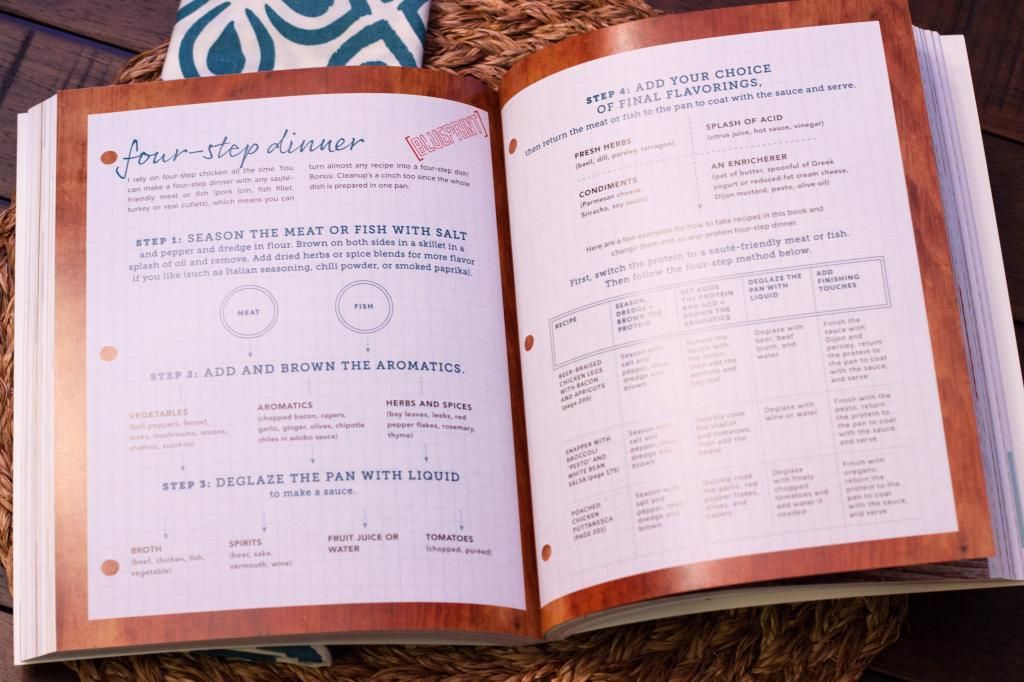 -- Another thing I love is there are a ton of tips throughout the book like the picture above on how to create a 4-Step Dinner with whatever you have on hand. Some recipes have tips for swapping out ingredients, which I seem to do all the time (see my recipe below).
The book includes the following sections:
-- Breakfast
-- Snacks
-- Soups and Stews
-- Salads, Wraps & Sandwhiches
-- Veggie Mains
-- Pasta
-- Fish & Seafood
-- Chicken & Turkey
-- Beef, Pork & Lamb
-- Sides
-- Desserts
The only complaint I have of this cookbook is I wish there were more pictures of the food. I am a big visual person, so I love to see what I'm cooking should look like. Plus pretty pictures are always fun to look at.
Of course I had to share one of the recipes we've tried so far. I actually did a few modifications to the original recipe and used ground turkey instead of ground beef, and left out the onions and garlic since Rick can't eat those. I also omitted the greek yogurt from the salsa because I'm trying to be dairy free. Even with these modifications, it turned out really good, and I think I may have a new taco recipe to add to our dinner rotation. Rick always gets excited when we come across an awesome new Mexican meal.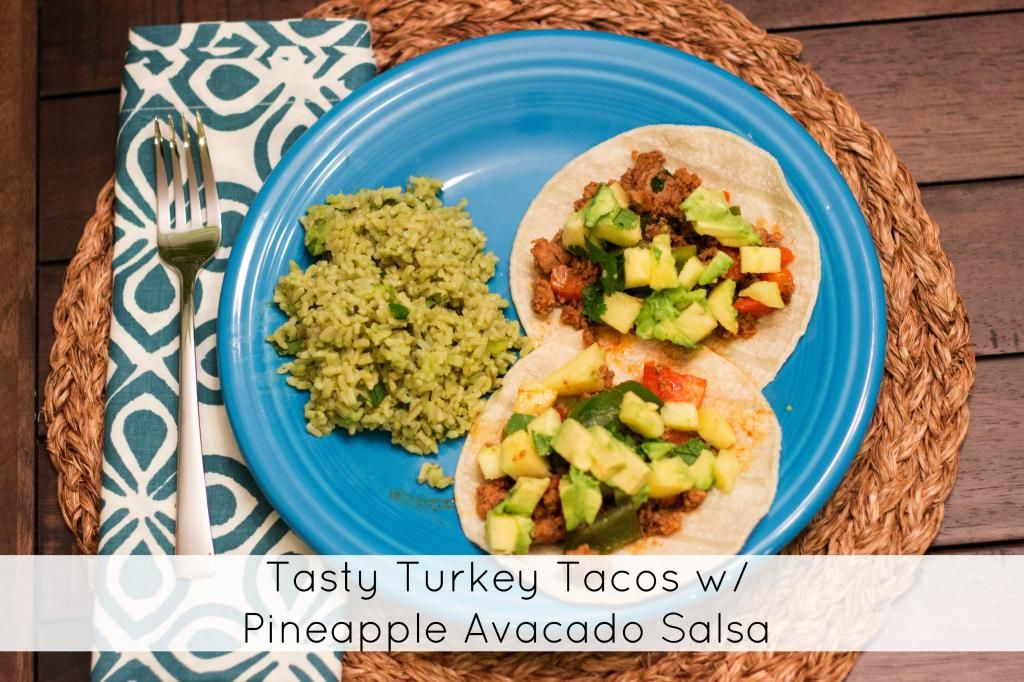 Tasty Turkey Tacos with Pineapple Avacado Salsa
Inspired by Supermarket Healthy
For the Tacos:
Olive oil
1 lb ground turkey
1 chopped bell pepper
2 roma tomatoes
1 1/2 tsp paprika
1/2 - 1 tsp chili pepper
3/4 tsp ground cumin
1/2 tsp sea salt
1/2 tsp pepper
3/4 cup chicken broth
8 white corn tortillas
For the Salsa:
1/2 medium avacado, chopped
Juice of 1 lime
1 cup chopped fresh pineapple (or you could used canned tidbits)
1 tbs chopped cilantro
1 small diced jalepano
Salt and pepper to taste
Optional: greek yogurt (we did not use this, but recipe suggested)
Begin by browning your ground turkey, drain and then set aside. Then place olive oil in your pan along with your chopped bell pepper. Cook until soft and slightly brown. Then add back in your ground turkey, seasonings and the chicken broth. Simmer until the broth evaporates.
While your taco mixture is simmering, in a bowl add all of the salsa ingredients and stir. You can make this ahead of time and leave in the fridge for a few hours for better flavor, or make at least 10 minutes ahead of time.
When your taco mixture is ready, begin assembling your tacos. The original recipe suggests warming up your taco shells in the microwave, then filling them, then folding them over and placing in a 350 degree oven for 10 mins to make them crispy. We skipped this step and just enjoyed them.
I also made this
Avacado Cilantro Lime Rice
as a side and it was amazing!
I recieved this book from
Blogging for Books
to review.