Last week
Sarah
and
Katie
shared what's going on in their lives when they aren't blogging. I thought it was a fun idea, so I decided to do my own version since nothing really Pinterest-picture worthy is really going on in our right now lives...ha! So....
Work, work, work...and then more work: Work has been super busy these last few weeks with our client's POA meeting coming up next week. There has been a couple of long days, and a few frantic calls/texts at crazy hours from our clients. They are really nice guys though, and very appreciative, but they are stretched super thin and things have been a little hairy lately. Of course I would rather be blogging and crafting and reading your blogs, but we gotta pay the bills somehow. You know so the puppies have food and treats...we do it all for the puppies (or so they think).
Watching Smut: Rick says my choice in television shows is downright horrible. I counteract that the Family Guy isn't much better...ha! But lately I've been enjoying a little Real Housewives OC, VanderPump Rules, Fixer Upper, Scandal and How to Get Away With Murder, in addition to my favorite weekend cooking shows. The other day I saw a commercial that Southern Charm comes back on Bravo in March and I might have done a little jig. Rick just rolled his eyes and said I needed to find a better choice in programming.
Reading: One of my goals this year was to read more books. I set my Good Reads goal at 15 books, which sets me at 1-2 books a month. So far I've finished 2 in January, 1 in February and am almost halfway through number 4. There is a link-up next week for the book I'm reading now, so I'm pushing to finish it by the weekend. I plan on sharing reviews every couple of months since I for one love to hear about what people are reading.
Running: Believe it not I've started running. I definitely need to share more details as there is a bit of a back story to all of this, but I'm proud to say I've been running 10 miles per week for about a month now. I usually run 3-3.5 miles on Tues and Thurs, and then I run 4 miles over the weekend. It's definitely a start and I've been tracking my run times to see if I am progressing. I still have good days and bad days, but I'd say I'm off to a pretty good start. I'm going to need to get some new shoes soon as mine are probably beyond the point of where they should be. But I've set some little goals to reward myself when I reach 50 and 100 miles, so I'm sure I'll end up rewarding myself with some new shoes soon. Is there any other running gear that I should look into? Hopefully once the weather warms up I can start running outside.
DIY's/Gettin Crafty: Even though we are trying to save money and not spend, I've got a lot of DIY/home projects I still want to accomplish. We are ticking off some of the more in-expensive things on our list and I have some fun in-expensive DIY projects that I'm thinking through and can't wait to share once they are done. Rick's super excited too as his honey-do list just keeps filling up!
Working on the Blog: I have some ideas to spruce things up around here. Mainly I need to rework my navigation bar and I keep going back and forth on how I want to do that. I'm also trying to refocus my blog and the types of posts I share. So you might start seeing some different types of things going on in the next couple of weeks.
Question: What types of things do you like to see in the main navigation bar (i.e. about, contact, wedding, recipes, DIY's...etc). I find myself wanting to include everything but the kitchen sink. I'm hoping as I try to refocus things I'll figure out how to streamline it a little. Any thoughts/advice is welcome.
Experimenting in the Kitchen: Since we are in the year of no-spend, we pretty much eat at home all the time. So I've been experimenting with some different recipes so we can keep things interesting. Also, it's fun when you can create restaurant-style meals at home and not feel like you are missing out on great food. I've shared a few of our favorite meals, and will continue to share some more of what we've been eating.
Speaking of experimenting in the kitchen, Rick and I came up with a new recipe together over the weekend. Last month when we were in Puerto Rico we had a few meals with plantains in them. One of my favorite meals were these quesadillas with chorizo and plantains. I told Rick I needed to figure out a way to make these back home, and this weekend we did a similar version but made them tostadas instead. It was a fun lunch/snack and I can't wait to make them again.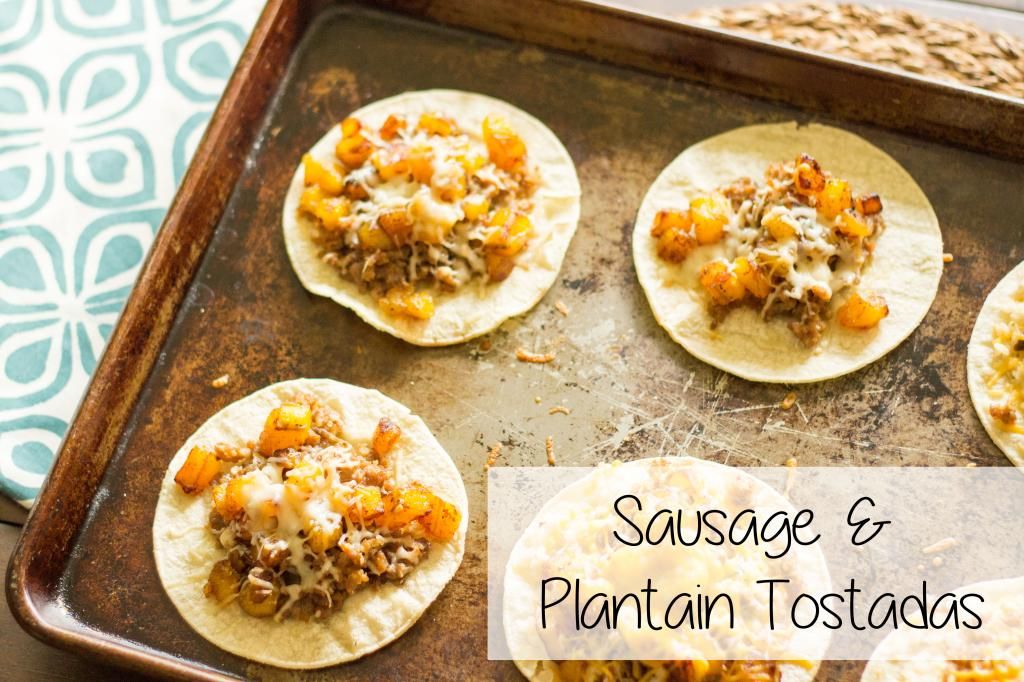 Sausage & Plantain Tostadas
Makes 6-8 tostadas
Ingredients:
1/2 lb Sausage (we used Italian sausage
1 ripened plantain, peeled and diced
Soft corn tortillas
Cheese of choice (we used Parmesan)
Other topings of choice
Directions:
First brown and drain your sausage (we used Italian because I love it, but you could use chorizo) and set aside. Wipe the excess grease out of your pan and then add the diced plantain to the pan. Cook until the diced plantain is softened and starting to brown a little. TIP: Make sure your plantain is rip and has turned from green to yellow. You may need to sit it in a window for a few days (to possibly even a week) in order for it to ripen.
After your ingredients are cooked, begin assembling your tostadas. Place a corn tortilla on a baking sheet and then place a little sausage, plantains and cheese on top. You could also add some sauteed onions or even some left-over rice like Rick did to his. One thing we didn't do, but I would recommend, is brush some olive oil on the corn tortilla before baking so they don't dry out too much. Then bake at 350 degrees for about 7 - 8 mins or until the cheese starts to melt. Then enjoy!
Have you ever cooked with plantains? I actually love them now, and can't wait to find more recipes with plantains. If you have any that are good, please share :)