Last week I shared an
update on my fitness journey
and my success after 1 month of the 21 Day Fix. A few of the biggest questions I had when I first started this plan was: What am I going to eat? Will it be expensive and time consuming? Was I going to starve?
Today I wanted to share a little bit of what I ate on the 21 Day Fix for those of you who were interested. But before I get to sharing the food, I wanted to share a few of my thoughts:
1. Did I starve? The first few days I was a little hungry, especially in the late afternoon. But once I got the hang of what foods to eat and when throughout the day, I was fine. I actually ended up eating more than I normally do because I was eating 6 small meals a day. There were a few days when I didn't end up eating all of my containers, and yes there were days when I ate them all. I think my hungriest days were Mondays (probably from getting back on schedule from the weekend), and Wednesdays which were leg days (I have heard leg workouts burn the most muscles).
2. Was it expensive? Although our grocery bill did go up a little bit, we actually ended up eating out less, so I think it evened things out. As the weeks go by though I'm starting to stock up on healthier ingredients that I can use week after week. So the first few weeks are probably the most expensive because you could be starting your pantry over from scratch depending on what your previous eating habits were.
3. Was it time consuming? Yes the beginning of the week is a little time consuming because you need to plan out your meals, go shopping and prep some of your snacks. In reality, it saves time throughout the week because all of my breakfasts/snacks are all ready to go, and our dinners are planned out so I know exactly what to fix for dinner each night. I then prep a container each night with left-overs for lunch the next day. So in the morning all I have to do is grab 3 containers and go. Easy, peasy.
So what did I eat for 21 days? Here are 9 meals that I made for dinner and then had left-overs the next day for lunch. I have a few other meals to share as part of a cookbook review, so I'll be sharing those in the next week or so.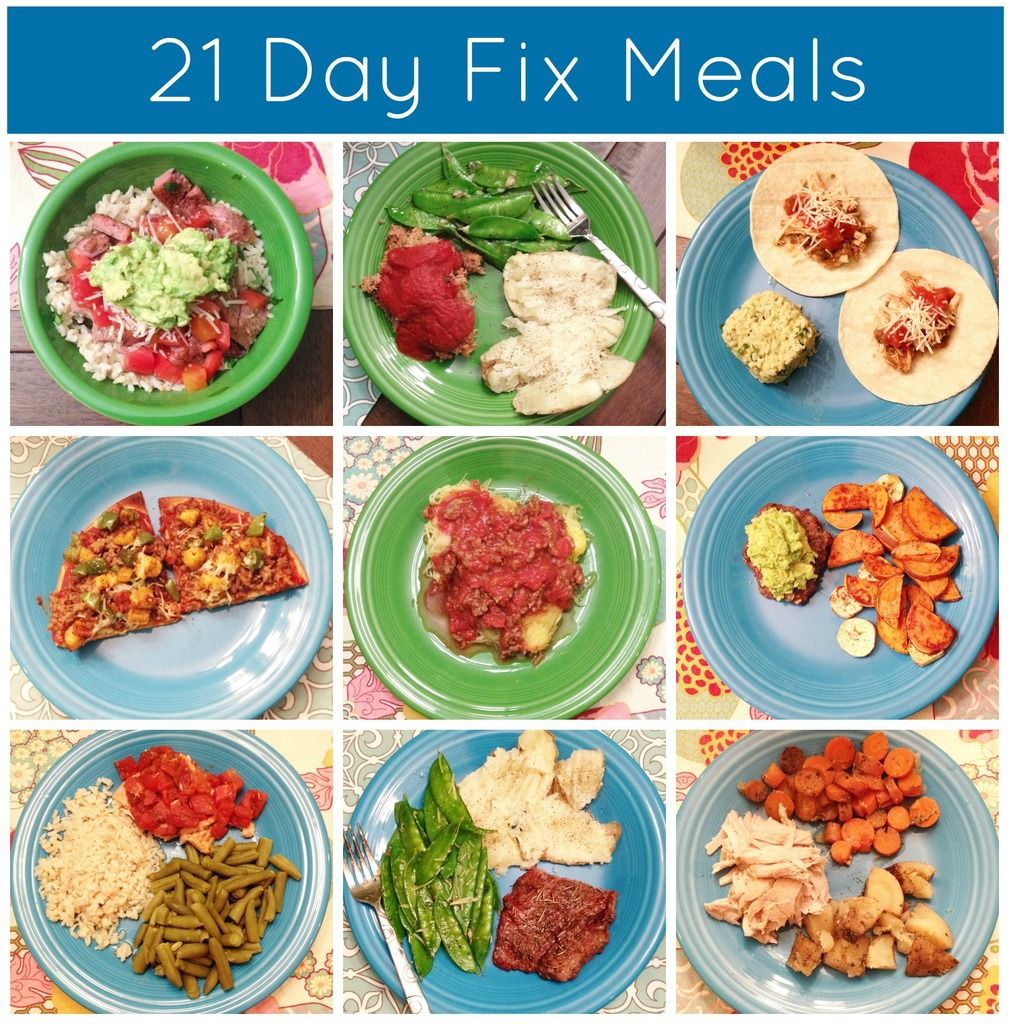 1. Homemade Chipotle Bowls - we just grilled some strip steaks (seasoned with salt, pepper, chili powder and cumin) and placed on top of brown rice made with lime juice and cilantro. Then just piled on tomatoes, clean salsa, a little cheese and homemade guac. It was seriously better than the real thing.
2.
Italian Meatloaf
, with some snap peas sauteed in olive oil, salt/pepper/Italian seasoning and a little parm cheese added at the end, along with a baked potato with salt and pepper.
3. Taco night consisted of these
slow cooker tacos
and
Avocado Cilantro Lime Rice
(which is amazing!). This will take up 2 of your carb containers, so you really need to plan this one out so you don't have any carbs throughout the rest of the day.
4. Pizza night! We did enjoy some pizza, I just used a thin crust (Udi's GF Thin Crust), added a little pizza sauce and then loaded it up with tons of Italian sausage, green peppers and a little cheese. Again, this took up 2 carb containers, so you have to plan this one out.
5. Spaghetti squash with some Italian sausage and clean (or close to clean) marinara sauce.
6. Turkey burgers with avocado, and roasted sweet potatoes and plantains.
7.
Mediterranean Fish
, green beans and brown rice.
8. Grilled steaks, snap peas sauteed in olive oil, salt/pepper/Italian seasoning, a little parm cheese, and a baked potato with salt and pepper.
9. Pork roast, carrots and potatoes cooked in the slow cooker (similar to this
recipe
, just use pork and chicken broth instead of beef, and omit the chocolate).
For Breakfast I had Quinoa Breakfast Cups and Banana Oatmeal Muffins, which I posted about a
few weeks ago
. I usually saved the Banana Oatmeal Muffins for the weekends since they had a little more carbs/natural sugar and I tend to combine breakfast/lunch on the weekends. And then took the Quinoa Breakfast Cups to work during the week since they had more protein to get me through the long work day. This week I made egg cups without the quinoa and just included diced ham and finely diced zucchini and green peppers. They are really good to, full of protein, and perfect if you are cutting back on your carbs for the day so you can enjoy those tacos and pizza later for dinner.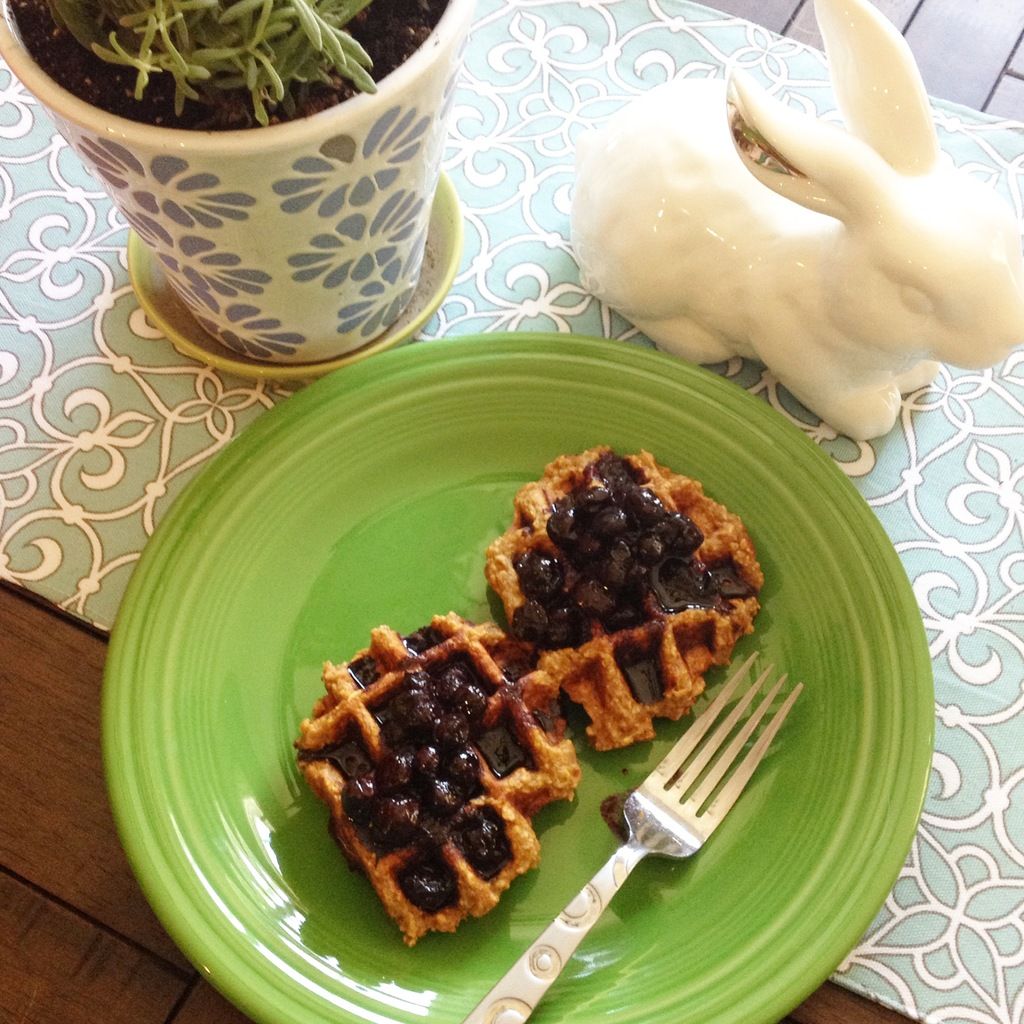 I also made
Sweet Potato Waffles
with homemade blueberry sauce. For the sauce I just combined 1 cup of frozen blueberries, with 1 cup of water and a few TBS of honey. I then brought it to a boil on the stove and let it cook until it reduced down (maybe 5 mins or so). I'm also experimenting with Acai Bowls, but am still working to perfect my recipe. Once I do, I'll be sure to share.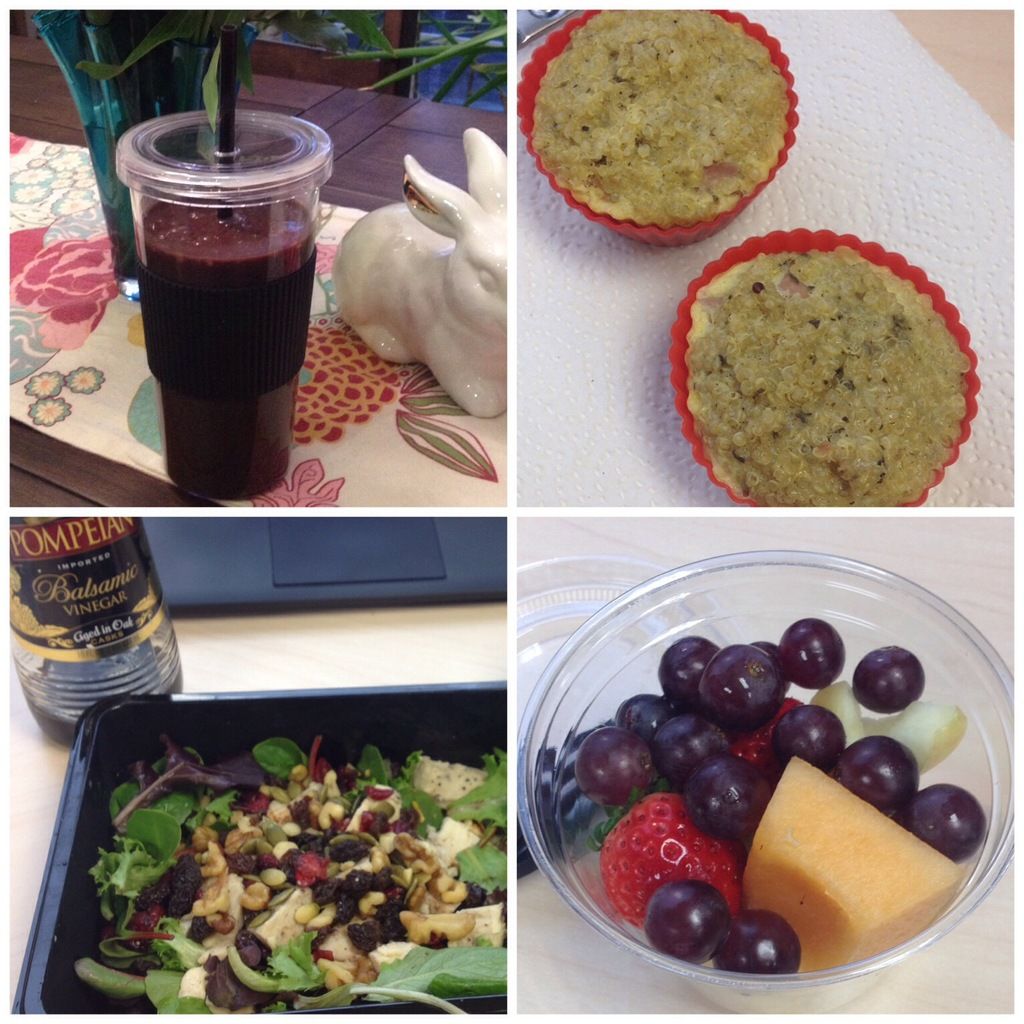 Here is an example of one of my days:
1. I typically start my day off with my Shakeology (recipes to come soon!) while I get ready for work.
2. Then about an hour or so after I get to work I break out the Quinoa Breakfast Cups.
3. I have lunch around Noon or 1 pm. I usually have left-overs from the night before, or that day I went to Jason's Deli and had the Nutty Mixed Up Salad with balsamic vinegar as my dressing.
4. For my snack around 4 pm I usually have some fruit -- fresh pineapple and grapes are currently my jam. Sometimes if I'm getting a little hungry before dinner I'll have a tsp of all natural peanut butter.
5. For dinner I'll have one of the meals above.
6. For a late night snack I'll have either some more fruit, or just drink some herbal tea. I also came across some amazing snacks using Shakeology - Chocolate Peanut Butter Cups and Chocolate Mug Cake. These are both considered a protein with a few tsps (you get 2 a day), and they are sinful. I'm going to share them here soon as well, so check back!
Ok that was a lot, but that is what I ate for 21 days. I took a week off, and kept most of these habits, but I did splurge a little more than I should have. I started round 2 yesterday, so I'm back on the plan.
Does anyone have any clean recipes I should check out? I'm always looking for great recipe ideas. And for more healthy recipes, check out my
Healthy Dinners Board
on Pinterest.