I have something really exciting to share today. Many of you may know about the
Clare V Leopard Clutch
. It seems to be popping up all over fashion blogs, Instagram posts and fashion pins. This clutch seems to go with everything from a fancy evening gown, to a classy work outfit, to a casual brunch with friends outfit.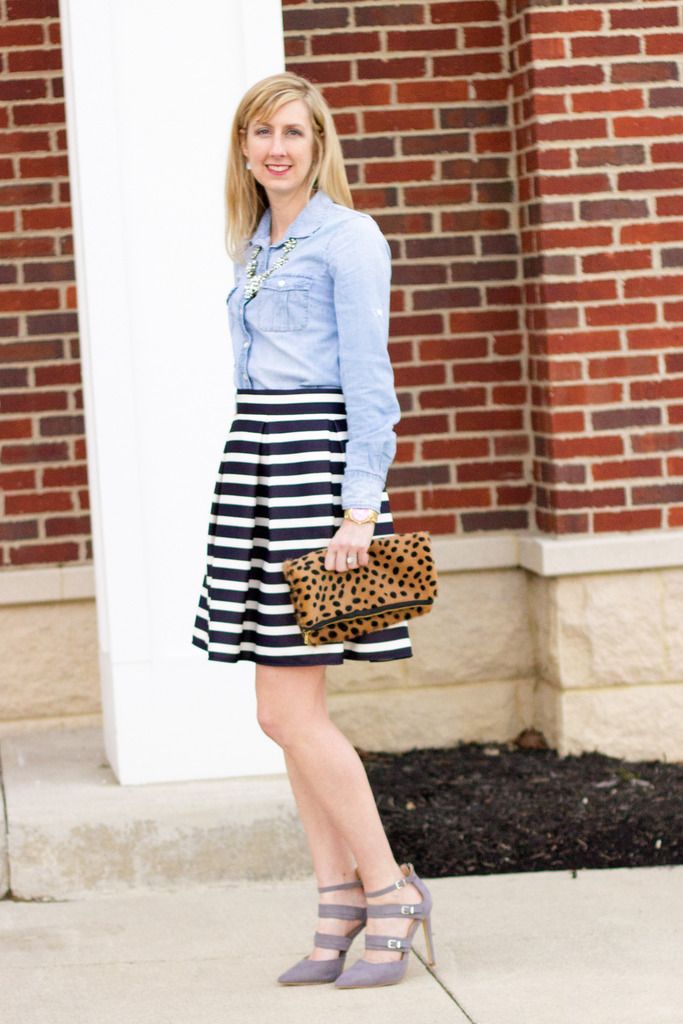 I, along with everyone else in the blog world, seems to have this clutch on their wish list. But this girl's budget doesn't like the $260 price tag. So when I came across a couple of DIY versions on Pinterest (
here
and
here
), I immediately started to search for the fabric so I could make one of my own.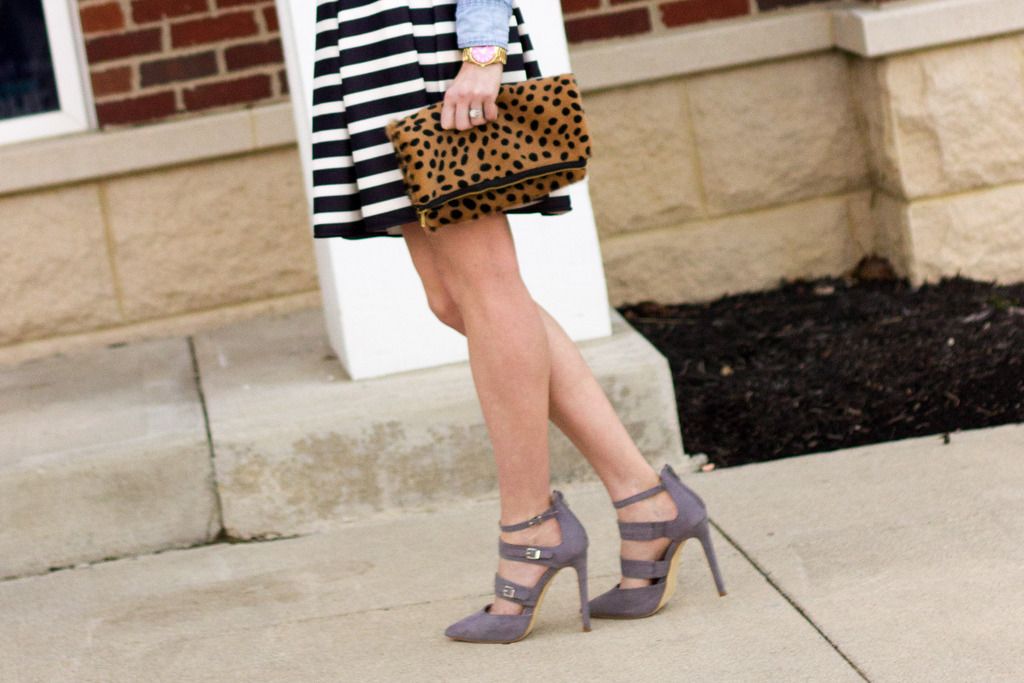 I finally came across some fabric on eBay which I think was the same fabric used in the two pins I shared above. I had a hard time tracking it down, so if you are interested in making a clutch of your own, you can order the fabric
here
.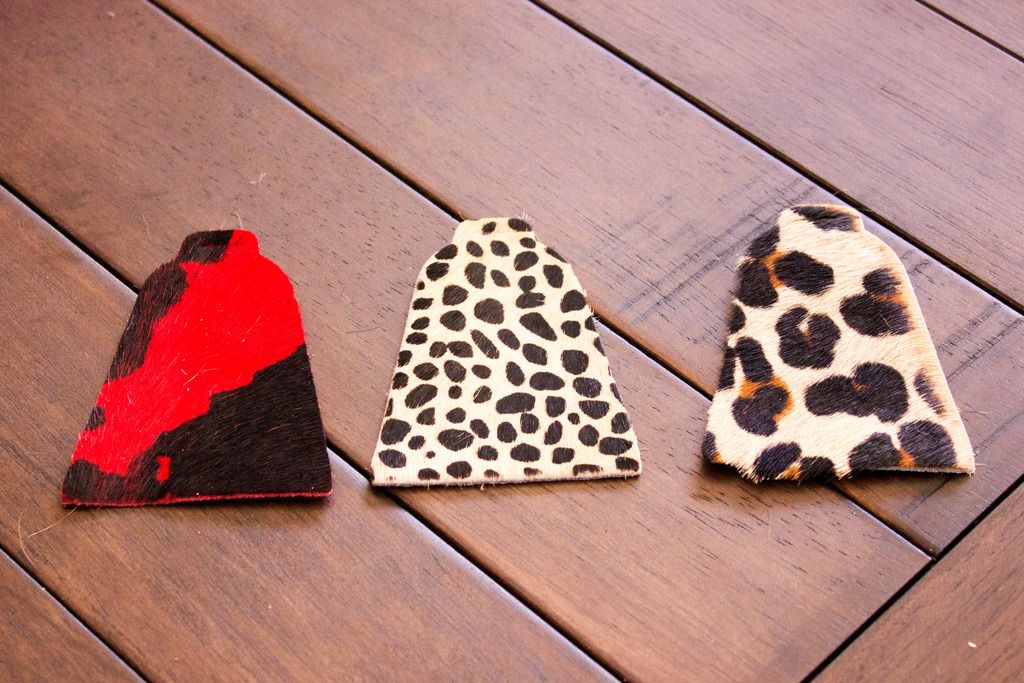 The shop actually has all kinds of colors/styles, and included these 3 fabric samples in my package. I really liked the one in the middle and the one on he right, and think they would be great options as well.
This was a pretty simple sewing project. The only hard part about it was the fabric was really thick so it was a little hard to run through the sewing machine. I actually had my Mom help me sew it up because I was sure I was going to break my machine. In all reality, she's just a really good and fast, and she is always up for a good DIY project. So shout out to my Mom on her sewing assistance!! When I told her how much the original cost her comment was "Well, we are in the wrong business!"
DIY Leopard Clutch
Supplies:
1 zipper (12" if you can find, but I used 14")

Thread and sewing machine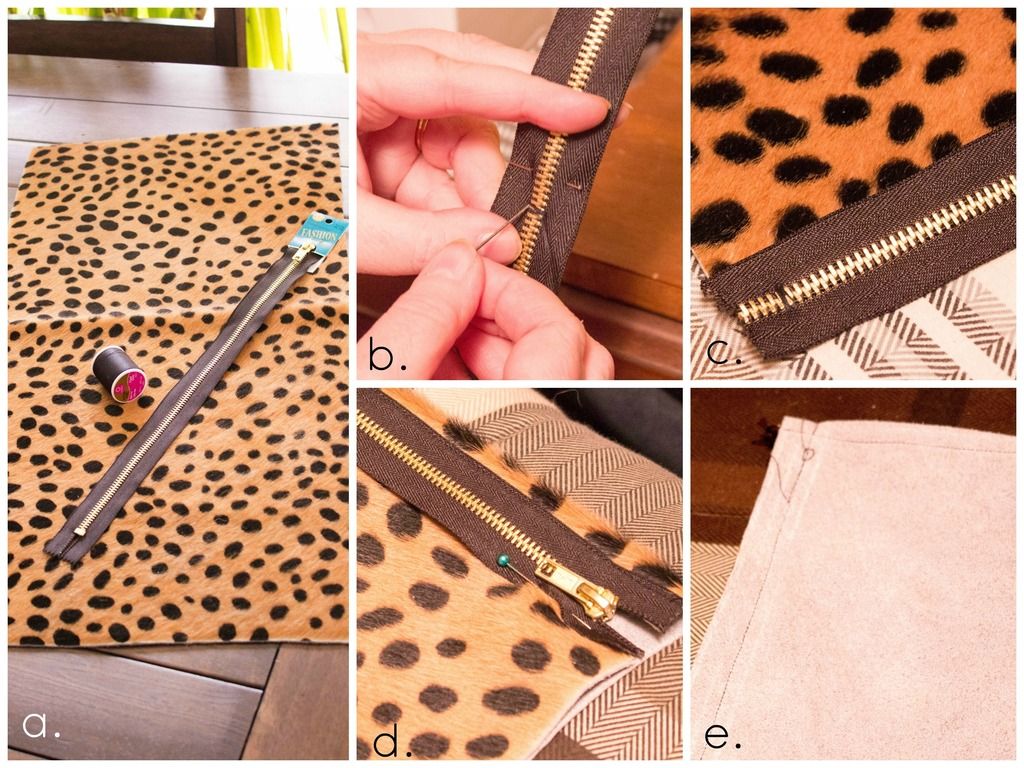 1. Gather all your supplies (pic a).
2. I could only find a 14" zipper, so my Mom first showed me how you can sew up the end of the zipper so you can trim it down to size. You basically just sew across the zipper on both the front and the back sides (pic b) so it won't unzip any further. You can then cut off your zipper to the size you need for your piece (pic c).
3. Then just pin your zipper to one of the short ends of the face up side of the fabric, giving yourself about 1/8" seam allowance, or as close to the edge of the zipper you can go. I used a fully exposed zipper on this clutch because the leather fabric was really thick and was already pretty difficult to get through the sewing machine. The black thread blends in really well with the black zipper and I think it actually finishes off the clutch rather nicely to have the zipper exposed.
4. Once you have sewed the zipper on one side, zip up the zipper and pin it to the other side so you are forming a tube (pic d).
5. Then once your zipper is sewn in place, turn your fabric inside out. You will then need to sew up the long sides of the fabric with about a 1/4" seam allowance (pic e). A few things to note: Unzip your zipper a little before you do this, or it will be very hard to unzip your bag once it's complete because it's inside out. Please learn from our mistake…ha! Also the fabric is really thick, so it's going to be a little difficult to feed through the machine. If you have a sturdy needle use it. Also just grip the fabric and tug it through. It's pretty sturdy fabric, so it's not like it's going to rip easily.
6. Once your sides are sewn together, unzip, turn right-side out, and press out your bag with your hands (do not use an iron!). Because my fabric wasn't cut perfectly straight, and it was really difficult to sew due to the thickness, my clutch was not perfectly flat when you lay it flat. But once you fold it over, you don't notice this. Also, I did not line the inside, but that is definitely something that I might do in the future. I will likely hand sew in the lining since the bag is already sewn together and I think it might be easier than trying to re-run through the sewing machine again.
I wanted to find something to finish off the zipper, so I found this cute tassel at Michaels. It actually came as part of a pendant, and I just used pliers to un-hook from the pendant and then hook onto the zipper.
The total project cost was:
Fabric - $39.00
Zipper - $3.00
Tassel - $3.00
Total Cost - $45
**That's almost 1/6 the price of the original!!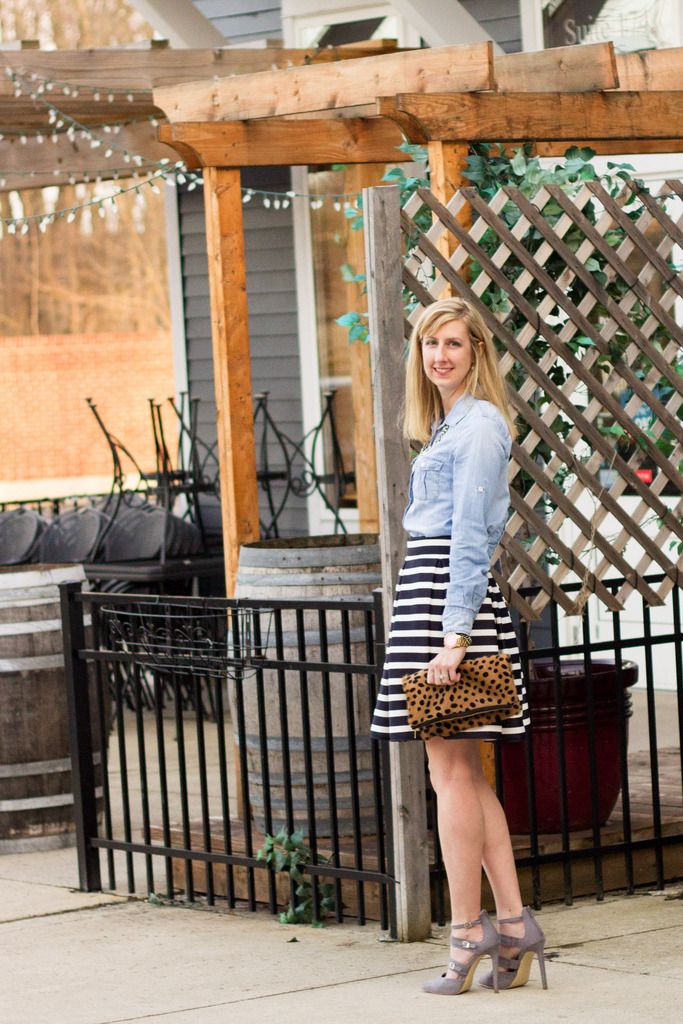 So what do you think? Would you be willing to try and make your own? If you do, please share as I'd love to hear how it turned out!
Linking up with Style Sessions on
Style Elixir
.
Linking up with In Residence for
Pin to Present
.