I mentioned a few weeks ago that I'm currently trying the 21 Day Fix program. It's a program that combines clean eating with a 30 min a day exercise program. The workout portion is pretty simple, just press play and workout according to the plan.
The clean eating portion was a little more work to find recipes that were considered clean and fit within the nutrition components of the plan. You get to eat so many fruits, veggies, grains, proteins and healthy fats per day, and you just need to stick within those requirements. Lunch and Dinner were pretty easy as I already cook pretty clean meals for dinner and then always have left-overs for lunch. Breakfast was hard as I don't have time to cook breakfast every morning and needed something grab and go.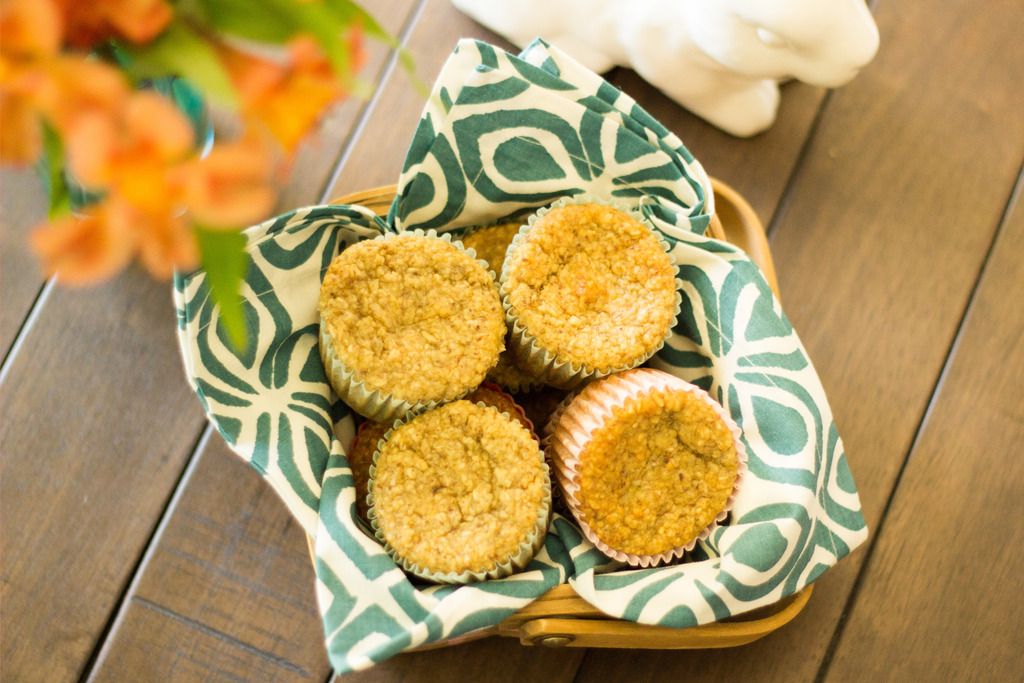 I found some really great recipes for muffins and quiona bites that I modified to fit the needs of the program. I also did some math to calculate what I think are appropriate serving sizes per the plan. It may not be perfect, but it's close and a good guess! They are both very delish and I would highly recommend you try even if you aren't doing the 21 Day Fix Program.
What I love best is they are healthy, and don't require a visit to the health food store for crazy ingredients (I hate taking extra grocery trips). You can find all of these ingredients at your local Walmart or other grocery store. I make them on the weekend and then place what I need in containers for the week and then freeze the rest if there are left-overs. I've been eating the quiona cups during the week and then the muffins on the weekend with a serving of scrambled eggs.
Banana Oatmeal Muffins
Makes approx 16 muffins
For 21 Day Fix - 2 muffins are 1 carb container, 1/2 fruit container, 1/2 protein and 2 TSP due to the honey
-- 2.5 cups of old fashioned oats - pulverized in a food processor
-- 1 cup of plain low-fat greek yogurt (2 individual sized Chobani plain yogurt cups)
-- 2 eggs
-- 1/2 cup of honey
-- 2 tsp baking powder
-- 1 tsp baking soda
-- 2 tbs ground flax seed
-- 1 tsp vanilla
-- 2 ripes bananas
Directions:
Preheat your oven to 350 degrees. Place your oats in a food processor and pulse about 10-20 seconds. Add your remaining ingredients into the food processor, pulsing every so often to keep from getting too full. You will likely need to scrap the sides of the bowl often also. Continue to pulse until everything is a smooth-like batter. Then place into muffin liners or silicon muffin cups (which are my fave!). And bake for approx 20-25 mins or until the tops are brown and the insides are set. Just keep an eye on it from 20 mins on.
Quinoa Breakfast Cups
Makes 10-12 cups
For 21 Day Fix - 2 cups are 1 carb and approx. 1/2 protein; If you add cheese or veggies you will need to account for those
Ingredients:
-- 1 cup of uncooked quiona
-- 2 eggs
-- 1.5 cups of diced ham
-- Salt, pepper, Italian seasoning, other seasonings to taste
Preheat oven to 350 degrees. Cook 1 cup of quiona based on the packaged directions. Typically this is mix 2 cups of water to 1 cup of uncooked quiona, place on the stove until boiling, then turn down and simmer for 15 mins or so. Then mix in your quiona (this should make 2 cups cooked), with your eggs, diced ham, seasonings and any extras if you want to add them (veggies, cheese, etc). Place in silicon cups and bake for about 25-30 mins or until brown on top and set.
Do you happen to have any great grab and go breakfast options?