Happy Monday!
A few weeks ago I came across these cute beaded tassel necklaces and I immediately started searching for where I could buy them. But the cheapest ones I could find were $20 each. I felt that spending $40 on necklaces wasn't the best use of my budget, so I started thinking about how I could possibly make my own. After visiting a few craft stores, and searching for beads online, I finally found the perfect beads at Hobby Lobby. Between some of the beads being on sale, and using a coupon for the more expensive one, I was able to get the supplies to make 2 necklaces for $18 (less than half the price of the original ones, and I got 2 for the price of 1!). Plus I had some money left on a gift card from Christmas, so I practically paid almost nothing for the supplies...even better!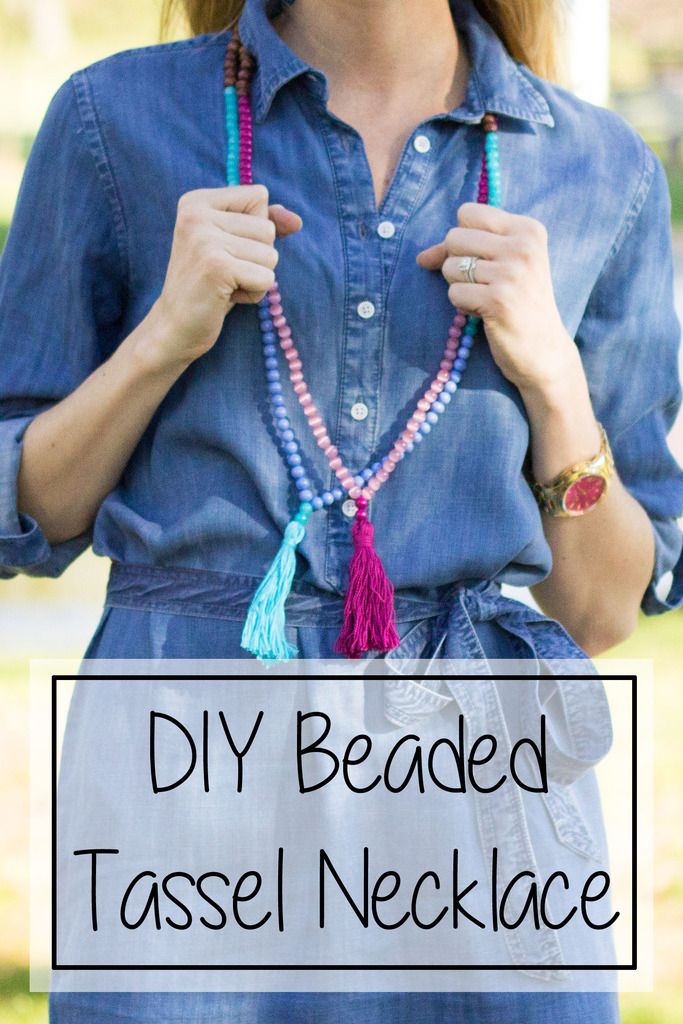 They were rather simple to make and took me about an hour to make both of them, and that included time to try and figure out how many beads to use of each color. I think I re-strung these beads about 3 times before I finally got them right. My only regret is I wish I would have used more wooden beads, but I only purchased 2 packs, so I basically used what I had.
As I mentioned I got all of my supplies at Hobby Lobby. Here are the supplies I used for 1 of the necklaces. I used the same supplies/same brands in pink colors for the other necklace, just didn't get a picture. I ended up using 20 of the wooden beads and the purplish/blue beads. I used 22 of the turquoise beads because I used 2 at the bottom to attach the tassel. So other than the 2 tassel beads, I used 10 of each color on each side. I also used some of Rick's fishing line as my base and embroidery floss to make my tassel.
The first step is to make the tassel. I used this pin to help figure out how to make the tassel. I used a small picture frame to wrap almost the entire embroidery floss around. You do need to keep about 12" free to wrap around the tassel and finish it off. I made a loose knot around the top to hold it together and then carefully pulled it off the frame and then snipped the bottom.
I then strung my fishing line through the top loop of my tassel. I threaded 2 beads through both strands of the fishing line to hold the tassel on the line. I used a small rubber band to lightly hold the tassel together so it wouldn't fall apart until I was ready to finish it off. I then took 10 of each bead and strung it on each strand of the fishing line. I tied them off at the top with a few tight knots. Rick suggested I go back and use some super glue to reinforce the knots. I told him he was in charge of that.
After I finished beading my necklace, I finished off the tassel. Unfortunately I didn't get any pictures but basically I untied the loose knot first, and then just took the extra long piece of floss and wrapped it around the top of the tassel. I then used a large needle to thread the end through the wrapped part at the top. I then straighted out my tassel and trimmed the bottom to make it even. If you have any questions feel free to email me. It sounds complicated, but it was really easy to make.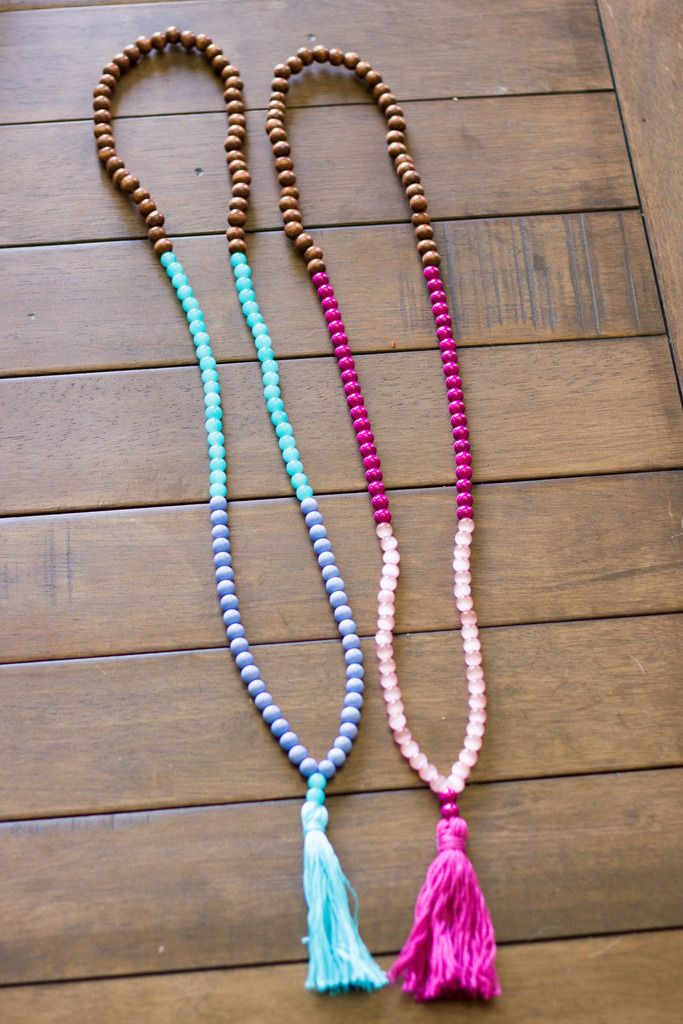 Here are the finished necklaces. I love how they turned out and love how well they work together. I think they would also look cute separately, but I originally saw them together so I just had to recreate the look.
I love how they add some fun color to this chambray dress that I got from Loft a few weeks ago. You know my love of Chambray, so when I got an email with this dress in it for 40% off, I might have immediately high-tailed it to Loft to pick it up.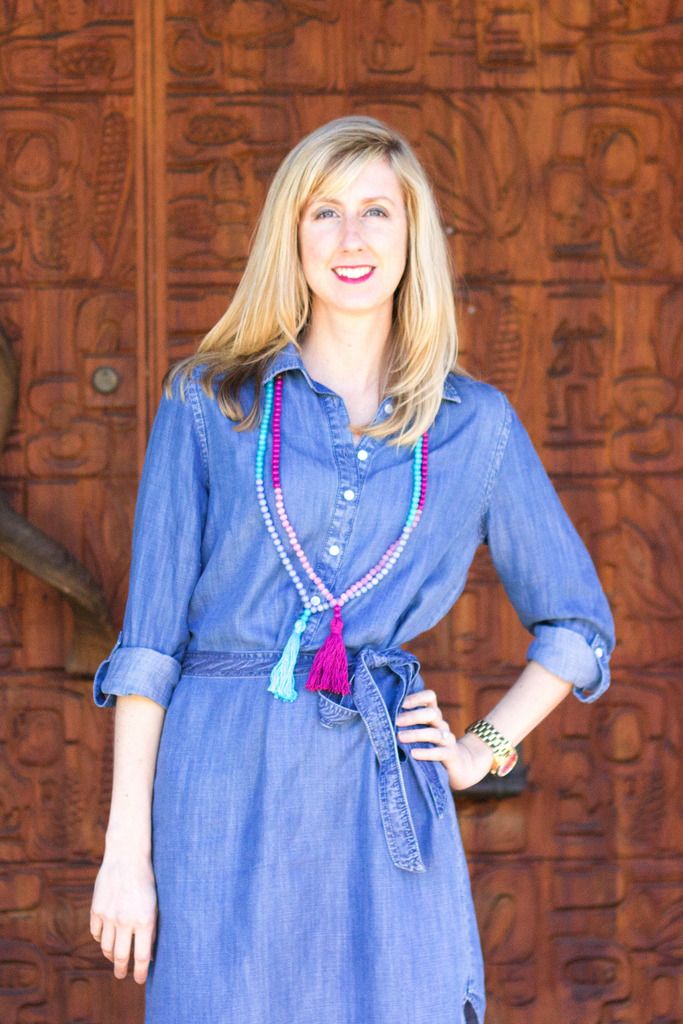 The dress is super soft and is perfectly worn in. It will be perfect to wear to work or for a casual event on the weekend.
These necklaces were a lot of fun to make, and so easy! I already have a few more ideas of ones I can make. I'm going to need to need some more jewelry storage, or maybe I'll just give them away as gifts.
I have a few more DIY projects to share in the upcoming weeks, so check back next week to see what I've created next!