About a month or so ago I got a copy of
Inspiralized
and was so excited to try some of the recipes. Given I had to go on a low carb diet due to some stomach issues about 6 months ago, we had practically given up on all pasta dishes. Rick and I had replaced our typical spaghetti with spaghetti squash, which we love, but it always takes about 45 minutes to cook, and sometimes we want something a little faster and that doesn't require heating up the oven.
We already really loved zucchini, so we were really excited to try out some zoodles (zucchini noodles). I was also really interested in this cookbook because there were lots of other veggies to spiralize like sweet potatoes, plantains, carrots, broccoli and more!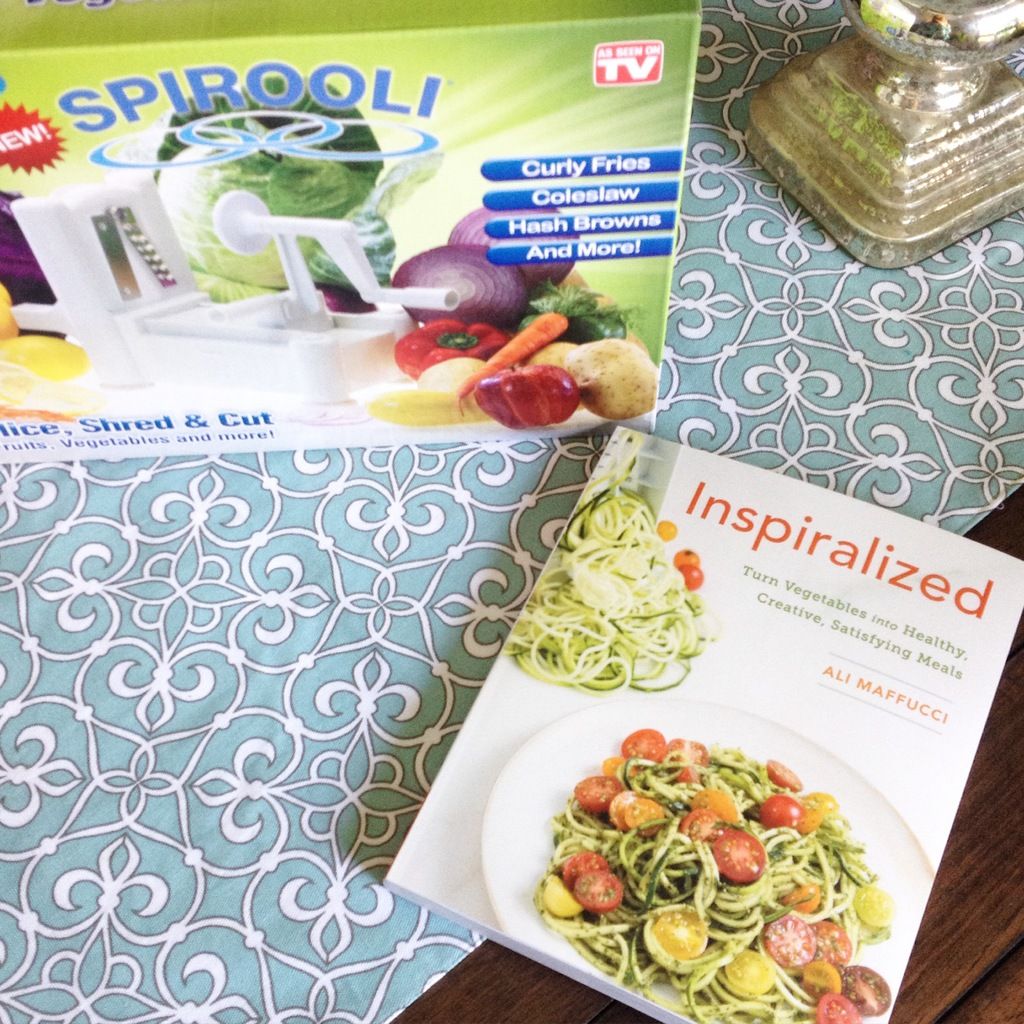 Ali Maffucci starts out the book telling everyone a little about her story. Growing up in an Italian family, pasta was a big part of her life. But these meals were far from healthy. She committed to finding a way to enjoy the pasta dishes she grew up with, but as healthier versions. So she uses vegetables (and some fruits) to replace pasta and believe it or not, it actually tastes pretty good.
She also has a small section on the benefits of swapping veggie noodles for pasta, as well as a chapter on tips and tricks to use when spiralizing. She provides guidance on using different blades, how many servings each veggie will make, other tools you can use, and staple ingredients you should have in your pantry to make all kinds of healthy meals.
The main tool you will need with this cookbook is a Spiralizer. I had a
Veggetti
that I picked up a few months ago, but I struggled with it a little. It worked great if I had a really skinny zucchini, but there was no way I was going to get a sweet potato to fit. So I came across this
Spirooli
at Bed Bath and Beyond, and it was only $20 after my $5 coupon. I think the Veggetti was around $20 also, so they are both pretty comparable in price. I feel that the Spirooli has more options as it comes with 3 different blades, it works better for larger veggies, and my arm doesn't get as tired. But it is kind of big and does take up some cabinet space. The Veggetti is nice and compact, just not as easy to use, so just something to keep in mind when you are picking out your tool.
The cookbook is sectioned off into categories such as Breakfasts, Snacks & Sides, Soups, Stews & Salads, Sandwiches, Wraps & More, Casseroles, Rice Dishes, Pastas & Noodles, and then Desserts.
Who knew you could spiralize so many dishes right??
We tried 2 pasta dishes (recipes below) and we loved them both. The zucchini tasted just like pasta, and the sweet potato dish was different, but it tasted good. Rick even enjoyed both dishes, so they are both husband approved!! There are so many dishes that I still want to try and I really want to try some of the desserts. I have the ingredients for Sweet Potato Chocolate Chip Muffins, I just haven't gotten around to making them yet. I promise if they turn out amazing I'll share.
Zucchini Bolognese
Makes 2-3 servings
**This is titled Bikini Bolognese, but I made the name a little more husband friendly :)**
Ingredients:
-- 2-3 zucchinis
-- 1 lb ground turkey
-- 2 tbs olive oil
-- 1/2 of 1 whole carrot diced
-- 1 tsp red pepper flakes (or more if you like it spicy)
-- 1 14 oz can of crushed tomatoes
-- 3 tsp tomato paste
-- Salt and pepper to taste
-- 1/4 cup chicken broth
-- 1 tbs dried oregano or Italian seasoning
-- Parmesan cheese for garnish
Directions;
Start by dicing up your carrots. I did this in a food processor so they were finely chopped. Also begin spiralizing your zucchinis and set aside. If you want your zucchinis to be on the softer side, you may want to microwave or steam for a few minutes as they will not cook completely in the pan at the end. Or if you like them a little more al dente, then just hold them until the end.
Then, heat some olive oil in a l
arge skillet over medium heat, add in the carrots and saute for 1-2 minutes.
Push the carrots to the side and add in the ground turkey, crumbling as you add. Crumble with a spatula or wooden spoon. Cook turkey until the meat is no longer pink.
Combine the veggies with the turkey and then add in the chicken broth and cook until reduced (water evaporates). Then a
dd in the crushed tomatoes, tomato paste and season generously with salt and pepper, and add in the dried oregano/Italian seasoning and some red pepper flakes to taste. Bring to a boil and then lower heat and let simmer for 15 minutes.
After 15 minutes, add in the zucchini pasta and mix thoroughly to combine. Garnish with Parmesan cheese and enjoy!
Sweet Potato Carbonara
Makes 2-3 servings
Ingredients:
-- 2-3 sweet potatoes
-- 4 tbs olive oil
-- 1/4 ts red pepper flakes
-- 1 cup cubed pancetta or diced ham
-- 2 eggs
-- 1/2 cup Parmesan cheese
-- salt and pepper to taste
Directions:
First spiralize the sweet potatoes into noodles. Then heat 2 tbs olive oil in large skillet over medium heat. Add sweet potato noodles and cook for 5-7 minutes, tossing frequently, until noodles are cooked to preference.
In a separate skillet add the other 2 tbs olive oil over medium heat. Heat up the pancetta/diced ham along with the red pepper flakes about 5 minutes.
While the pancetta/diced ham and the sweet potatoes are heating, combine the eggs and Parmesan cheese and whisk until well combined and not very clumpy. Season with salt and pepper, then set aside.
When your noddles and the pancetta/diced ham are cooked, turn off the heat, combine, then add the egg/Parmesan cheese mixture. Make sure to stir constantly so the eggs coat the noodles and cook without clumping. Garnish with some more Parmesan cheese if desired and enjoy!
Have you tried any zoodle dishes? If so, please share as we would love to try them!
I received this book from
Blogging for Books
in exchange for my review. All opinions are my own.