Hi ya'll! Now that it's officially Summer, I wanted to share my Summer Turkey Burgers recipe. Why are they called Summer Turkey Burgers you ask? Well basically because this has become my favorite way to make burgers and I'll likely be making them this way all Summer long.
We use a lot of ground turkey in our house for 2 reasons: it's much leaner and it's much cheaper than ground beef. When did ground beef get to be so expensive??? But the problem with using ground turkey for burgers is that sometimes they get dry or are just not very flavorful.
This recipe gives the turkey a lot of flavor, and really goes well with any burger topping...we prefer bacon, avacado and mayo. They are perfect for cookouts all Summer-long!
Summer Turkey Burgers
Makes approx 4 burgers
Ingredients:
-- 1 lb ground turkey
-- 1/4 cup of whole oats
-- 2 tbs balsamic vinegar
-- 1 tbs low-sodium soy sauce (use tamari for gluten-free)
-- 1 tbs Italian seasoning
-- 1 tsp black pepper
-- Lots of toppings -- bacon, avacado, tomato, lettuce, cheese, and don't forget the Hellmann's Mayo
Directions:
To make, I first grind up the whole oats in a food processor until it resembales coarse flour. This will help your burgers stick together. Then combine all ingredients, mix with your hands, and then make into 4 patties. Then get your handsome husband to cook them on the grill for you.

I served our bugers with lemon herb potatoes. To make those I just diced up potatoes, drizzled them with olive oil and lemon juice, sprinkled with salt, pepper and Italian seasoning, and then baked on 400 degrees for about 25 minutes. Then I finished them off with some fresh thyme and rosemary herbs. The fresh herbs totally bring the flavor up a notch!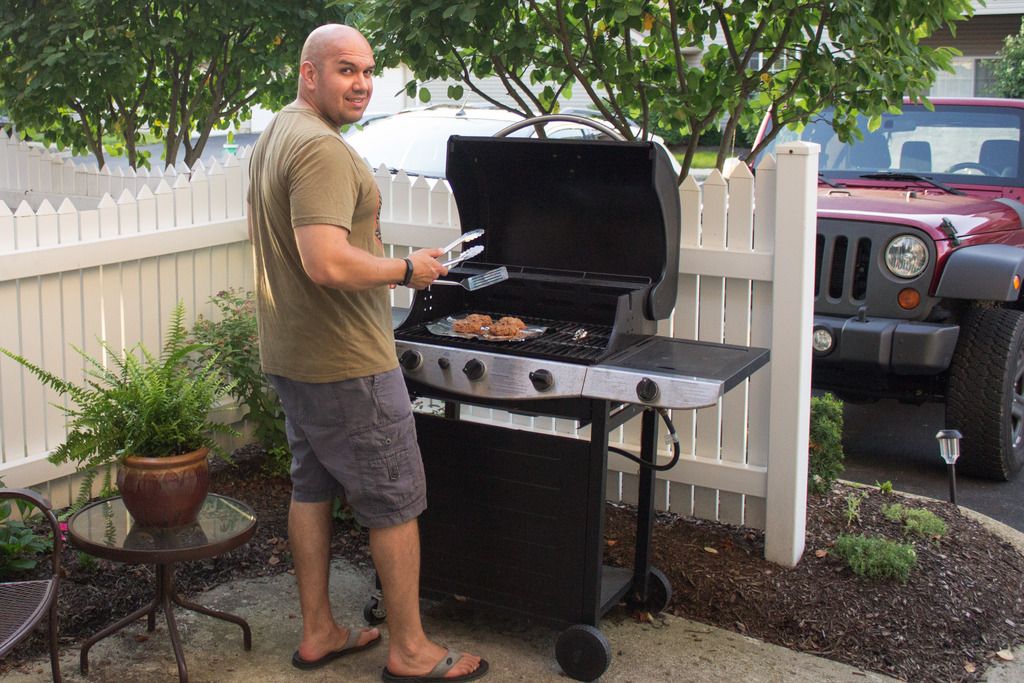 My favorite part about grilling out during the Summer? Its that my handsome husband is the cook! I can't wait for many more Summer grilling nights!
What is your favorite burger recipe? Do you prefer ketchup or a mayo on your burger? I typically prefer ketchup, but I'm kind of liking this mayo that we tried out compliments of Influenster. It's got great texture and flavor, and Rick loves that it's a squeeze bottle and he can write his name on his burger. It's the little things!