I have always loved Calligraphy and really wished I could have had someone address all of our invitations. Our budget was tight though, and I didn't see it important enough to spend $200+ to address all of our invitations. I thought about trying to do it myself, but was a little intimidated because my handwriting is not all that great.
Last week I came across a free online calligraphy class from Scarlet & Gold, and immediately reserved my spot for Sunday evening. It was a very informative class, and they provided a packet to download with some introductory information and exercises. They went through the packet page by page and gave you time to try out the exercises. The webinar lasted 45 minutes, and they really packed in a lot of good information. The only downside is they emailed the packet about 3 hours before the class, and since we don't have a printer at home, I was unable to print the packet in time for the class. I still enjoyed watching the class, and kind of was glad that I was able to just watch and take it all in.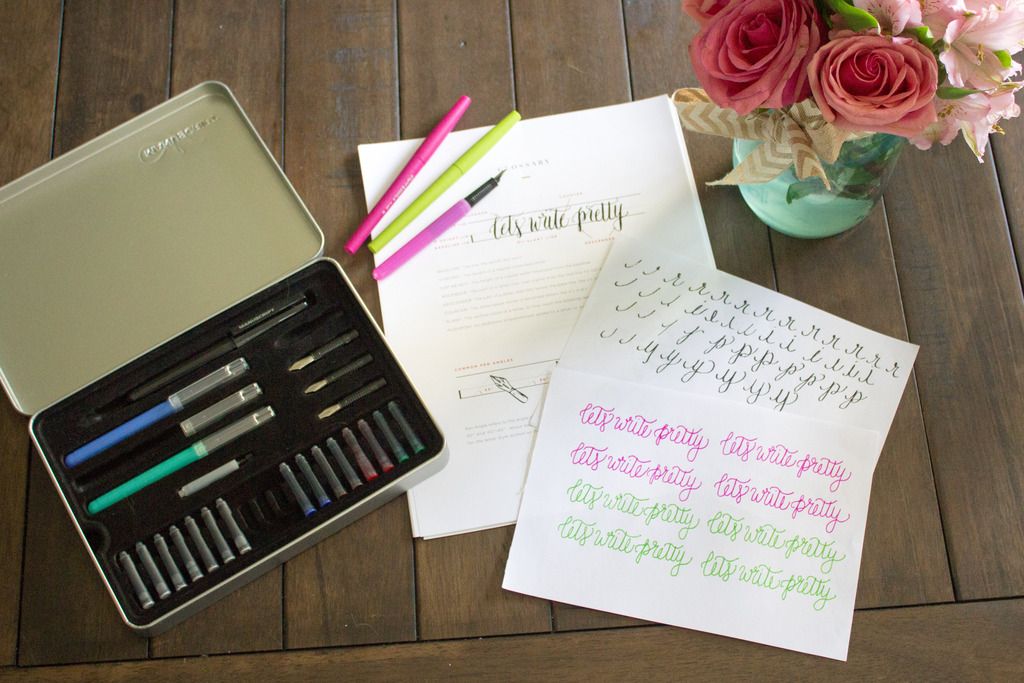 I went ahead and printed the packet the next day at work, and I've been working on my skills the last few days. Rick's parents got me the above calligraphy pen set for my birthday last year, so I've been using it, along with some felt pens to work on getting the letter forms correctly. I also ordered a dip pen and some larger paper from the site that Scarlet & Gold recommended, and once it arrives I can't wait to try my hand at using the dip pen. I've been doing some online research, and realize there is still so much to learn, but am enjoying the learning process and hope to be able to add this as one of my hobbies.
Great news: there is 1 more free webinar left on Thursday (6/25) at 11 pm EST if you are able to stay up that late. If you are interested in learning this craft, I would highly recommend the class as a great introduction. You can go to their site to RSVP, and they will email you a link to the webinar and a packet to download.
For those brides out there, did you, or are you planning on having, calligraphy for your wedding? Have you ever thought about doing yourself? I wish I would have come across this webinar last year as I might have tried it on my own.
Linking up today for Wedding Wednesday.