This is the 3rd year for our little garden and we have loved getting to grow and enjoy our harvest these last few years. Gardening is definitely a learning experience. We have had great success with some veggies like tomatoes, peppers and lettuce, and we have had some learning experiences with others like squash, carrots and radishes.
This year we are bringing back the tomatoes, peppers and lettuce. We are also adding to the mix green beans, peas and sunflowers (both regular and Mexican sunflowers). This year we also tried something different and started a bunch of plants from seed. Rick's parents gave him a greenhouse for his birthday back in March, so our peas, green beans, sunflowers and some of our pepper plants were grown in our greenhouse from seeds. The lettuce was also from seed, but we grew that directly in our garden beds. The tomatoes were purchased at Home Depot, and I also purchased a few other pepper plants as well as the peppers in the greenhouse had a pretty slow start and we didn't think they were going to make it at first.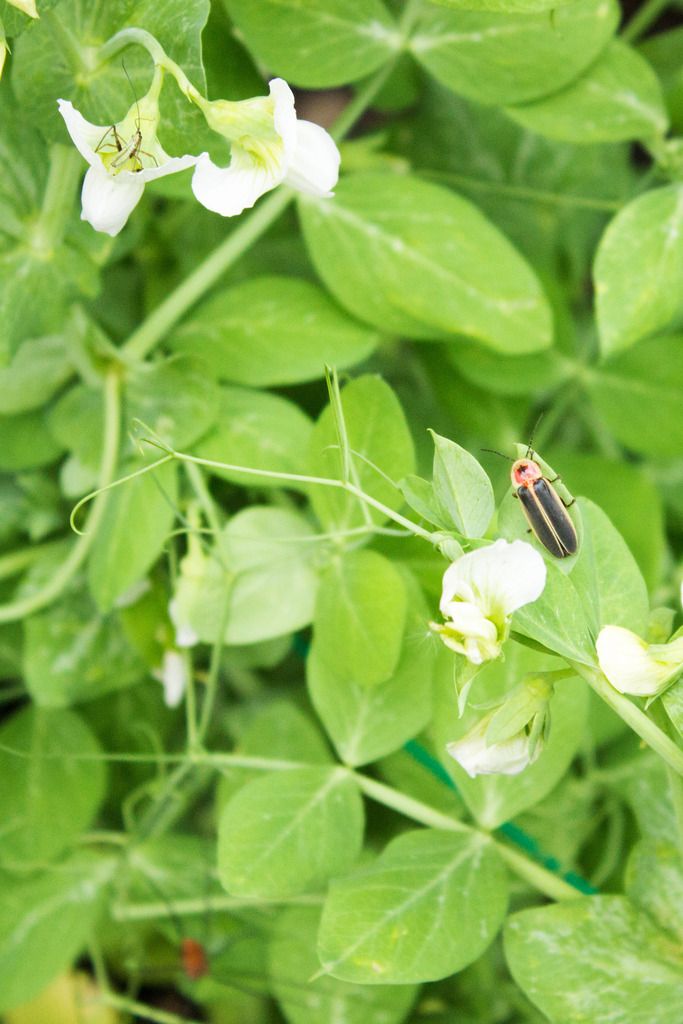 Pretty flowers on our pea plants...and lots of insects too...can you see them all?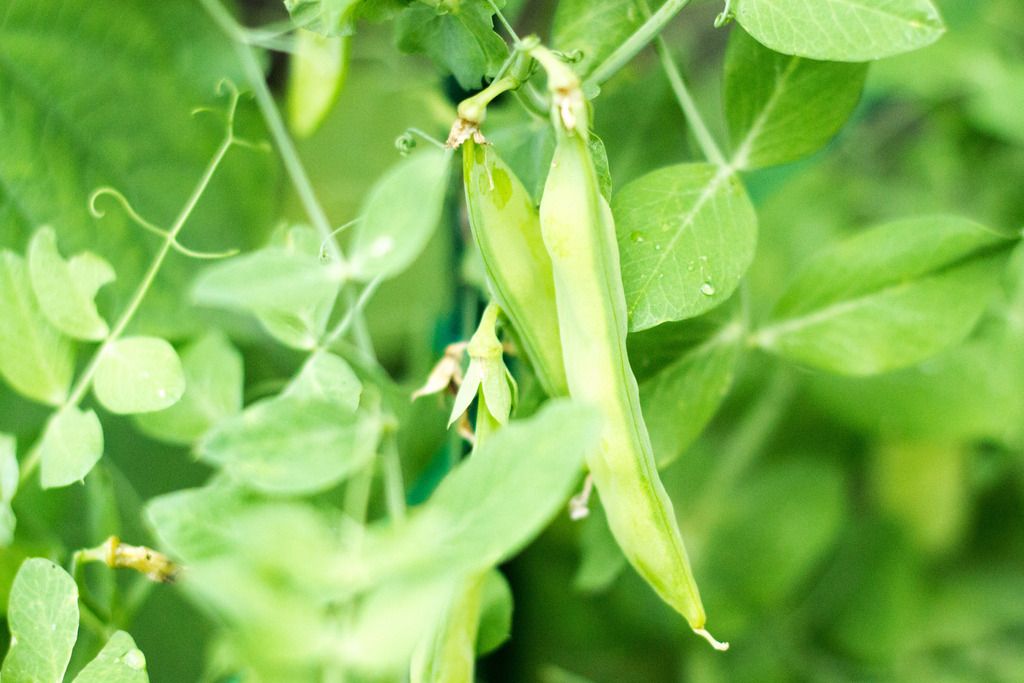 Which have turned to pea pods in the last week. I'm so excited to start harvesting these as we eat peas and green beans ALL the time. The green beans and the tomatoes have started to flower as well, so I'm hoping we will have more veggies soon.
I think it's always fun to see the progression of the garden, so I started taking pictures a month ago, and have a few progress pictures to share: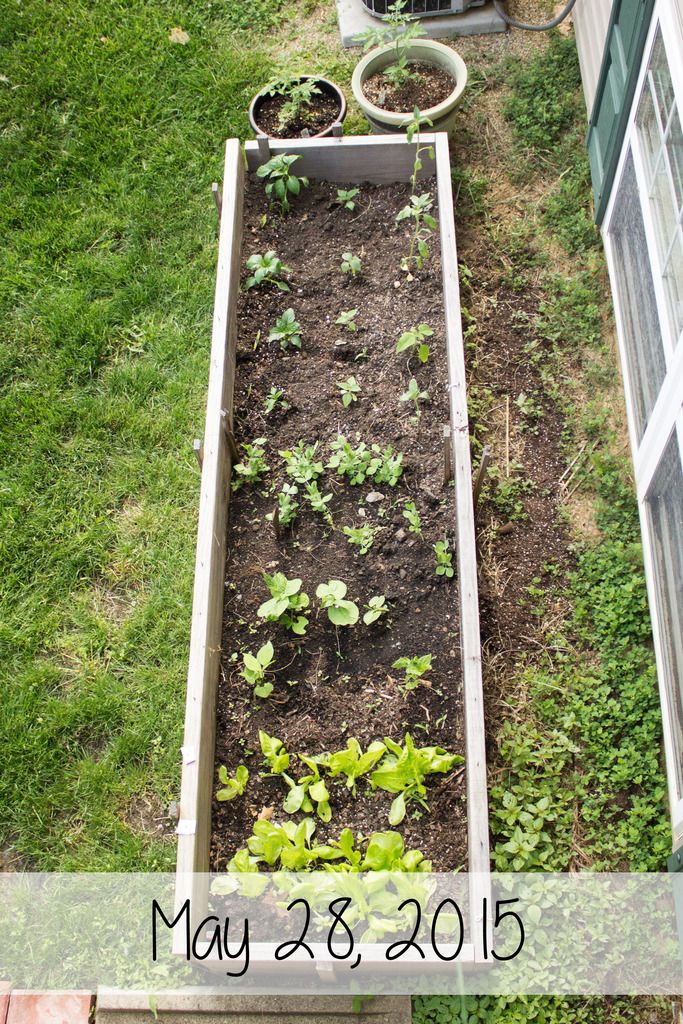 This was about a week or so after we planted everything. The lettuce was actually planted about a month earlier in the garden bed.
Here we are a few weeks later. The peas and the tomatoes started to take off, so Rick had to stake them to keep them from growing everywhere (a lesson we learned from growing squash).
And here we are a few days ago. You can see everything is really taking off. The lettuce is at the bottom, then the green beans. The peas are in the middle and the sunflowers are at the top on the right side. The peppers are at the top on the right side (getting overtaken by the sunflowers I'm sad to say), and we have a few other boxes with the peppers (you can see one at the bottom) from our greenhouse.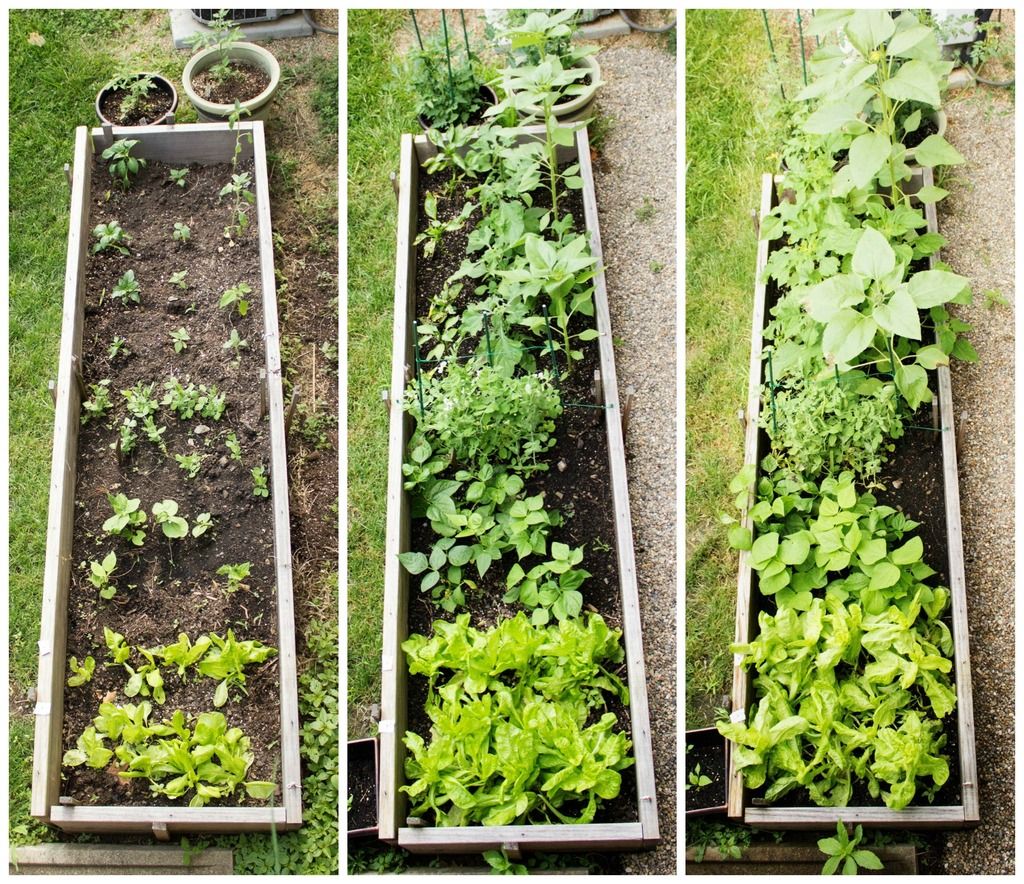 Here is a side-by-side progression. It has rained no-stop for the last 2 weeks which is great for our garden and things are going crazy. It's supposed to rain all this week as well, so I'm sure it's going to look like a wild jungle by the end of the week. You will also notice Rick weeded the right side between the garden bed and the house and then added some gravel to keep the weeds from coming back. We had some poisen ivy growing back there, and thankfully the rocks are keeping the weeds and the poisen ivy away for now.
Although most of our plants are doing really well, our poor pepper plants aren't doing all that great. Between the sunflowers taking over, and possibly a weird fungus in or beds, they are barely growing at all and something is eating all of the leaves. I tried to move my purple pepper plant to one of the containers to see if that might help, but only time will tell. We may need to look into another solution. Any advice on how to deal with something eating pepper plants?
We also have some herbs on our deck, but I'm hoping to share an update post on our deck sometime soon, so I'll share those later.
Anyone else love to grow veggies? What have you had success growing?