Per my
post
last week, I shared how I'm completely obsessed with pumpkin. And since we are in prime pumpkin season, I thought it appropriate to share yet another pumpkin recipe. I can't promise there won't be more to come in the upcoming months, so if you are into pumpkin as much as I am, you are in luck!
So I've been seeing all of these 2 ingredient pumpkin donuts all over Pinterest. I for one LOVE pumpkin donuts, and haven't really been able to enjoy as much as I would like given my issues with gluten and sugar. So I was really curious if I could try the recipe with a gluten free cake mix. So this weekend I tried it out, and it was a success...with a few tweaks.
I have not tried the 2-ingredient recipe with a regular cake mix, but I do know with the gluten free cake mix it's sort of bland. I did add a few spices to help give it some flavor, and I'll be honest the next time I make these I'm going to take them up another notch as I felt they still could have a little more. I highly encourage you to include some cinnamon, pumpkin spice and cloves to help give it some really great Fall flavor. I also included a cider glaze that was amazing to give them even more fun flavor.
Gluten Free Pumpkin Donuts with Cider Glaze
Makes approx. 12
Ingredients:
-- Gluten free yellow cake mix (or a regular one if you don't need to go gluten free)
-- 1 can of pumpkin
-- 1 tsp cinnamon
-- 1/2 tsp cloves (I originally used 1/4 tsp, but I think I'll use 1/2 tsp next time)
-- 1 tsp pumpkin spice (I did not originally include this, but I think I will next time)
For the Cider Glaze:
-- 1 cup of powdered sugar
-- 2-3 tbs of apple cider
-- 1/2 tsp pumpkin pie spice
Start by mixing your cake mix with your can of pumpkin and then add in your spices.
It will take a little arm strength to get it mixed, but it will eventually all mix together.
Then place your mixture in a gallon zip lock bag, squeeze out all of the air, seal, and then push the mixture to the bottom corner of the bag. Snip the corner so you can pipe into the donut pan. I found my donut pan at Michaels for about $13 and then I used a 50% off coupon, so it came to about $7.50.
Spray the donut pan with non-stick spray and then pipe the mixture into the pan. I piped mine a little high and they did rise above the pan, so you could pipe in slightly less. Also, take a spoon and even out the mixture. I didn't do that at first and my donuts were a little lumpy looking. This may also be because of the gluten free cake mix, but just a FYI.
Turn them out onto a wire rack to cool and then once cool you can drizzle on some cider glaze. Just mix 1 cup of powdered sugar, 2-3 tbs of apple cider and 1/2 tsp of pumpkin pie spice. This made way more glaze than you need, so you may be able to half this recipe if you don't want any extra.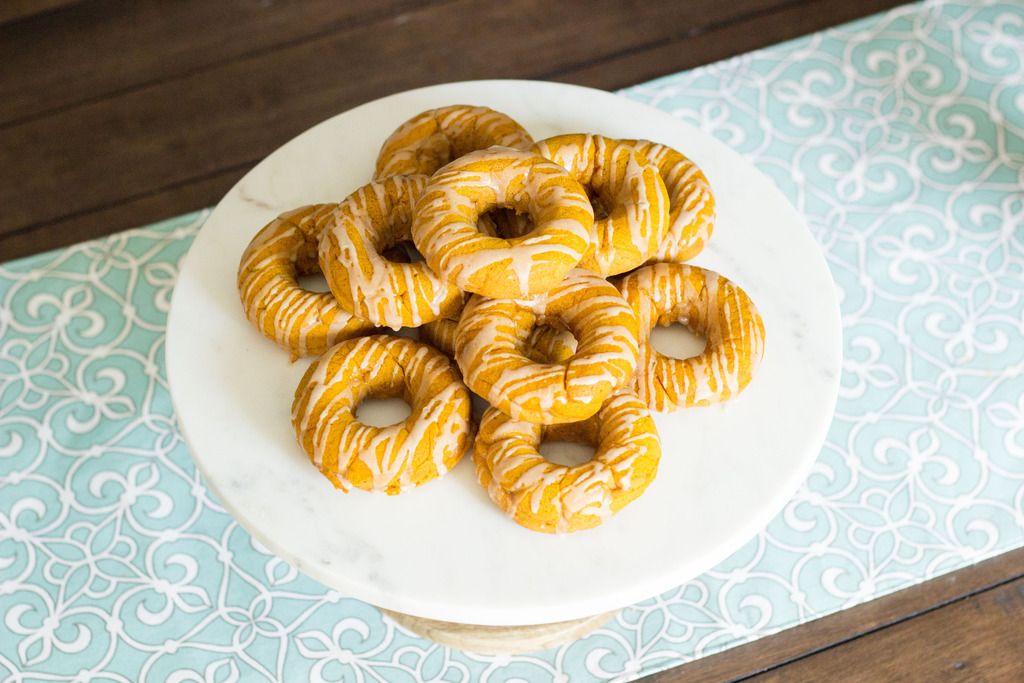 Store the donuts in an air tight container in the fridge for a few days, or freeze to last longer. I recommend heating them up before eating them. Also after a day the glaze absorbed into the donuts, so you may want to keep a little extra on hand to drizzle before serving.
Has anyone tried this recipe before with a regular cake mix? If so, what were your thoughts?