Happy Monday all! The puppies have been complaining they haven't had much spotlight on the blog. They keep reminding me it's Life, Love and PUPPY PAWS! So today I wanted to share a Puppy Product Review.
Since their mama has taken a new job promoting dog and cat food for a very well known pet food manufacturer, the puppies have enjoyed trying out some new puppy products. It's important they review and provide their feedback to the stuff their mama is promoting. They take their job very seriously and love the perks of the new job.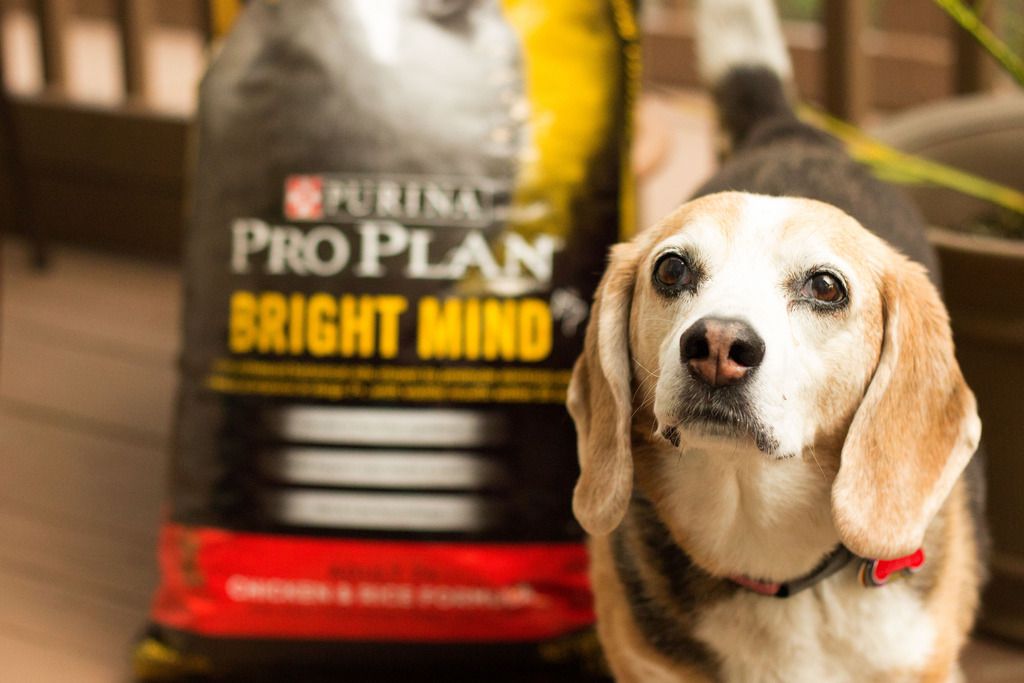 Recently the puppies tried out Purina Pro Plan Bright Mind (Adult 7+). Since we have 2 senior dogs, and 1 almost senior dog, in the household, we thought it appropriate to try out this new product. Miss Abby is the oldest at 13 years old, so we were hoping to see the best results with her.
Purina Pro Plan Bright Mind contains enhanced botanical oils that have been shown to promote alertness and mental sharpness in dogs 7 years and older. Results can take up to 30 days, but some of the differences you may notice is their interaction with you, their interest in playing and their ability to adapt and cope with change.
Abby loves the flavor, and when we first gave it to her she immediately gobbled it down and spit out the old dog food (we did a week of transition and mixed 1/2 Bright Mind with 1/2 of her old dog food). Apparently the old dog food just wasn't good enough.
It's been about a month and a half, and we have noticed a few changes with Abby. She has been interacting with us and the other puppies a little more and seems to be a little less grumpy. For the last year or so, she would get really grumpy, especially in the evenings, and would stay on her dog bed and didn't interact with the family much. We've noticed her coming up to us more lately wanting some ear scratches and she's had a few instances where she has tried to play with the other pups. This is kind of amazing because she's sort of socially awkward since she was an only-pup for many years and doesn't fully understand how to play. She's still a little awkward, but she's getting better.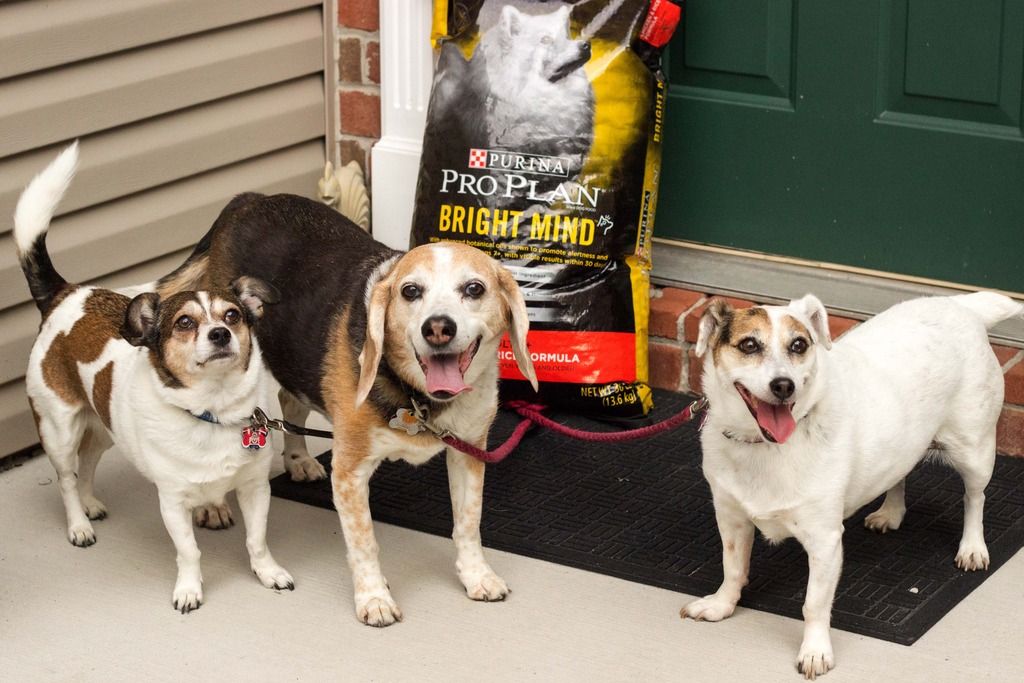 We've actually been feeding this to all 3 pups. Napoleon is 11 years old (although he never acts that old), and we think Bryn is either 6 or 7. We haven't noticed much difference in the other 2 dogs, but from what I've heard, older dogs like Abby's age seem to have more noticeable results.
And here is a fun outtake from our little Bright Mind photo shoot. Abby was so curious about her new food that she couldn't wait for us to open the bag so she could try it out. Napoleon is also thinking..."can we go inside and eat already??"
I also wanted to share that there is a great deal going on right now at PetSmart for all
Purina Pro Plan
dry dog and cat foods. If your dog isn't a senior dog, I hear that the
Purina Pro Plan Savor Shredded Blend
is the best tasting food. We may actually try that next, or maybe buy a small bag as a treat for the pups.
The deal is spend $10 on any Purina Pro Plan Dry Dog or Cat Food* at PetSmart between 8/31 and 10/4, and save $10 on your next Purina Pro Plan Dry Food purchase, 14-lb. or more, on or before 11/1.
*Subject to availability. Transaction total is after discounts and before taxes.
Do you have a senior dog? If so, have you noticed any changes in their behavior as they have aged?
**Please note I do work for an agency that promotes products for a very well known pet food manufacturer, and I did receive a coupon to try this product. I was not required to share my review, but I do love sharing products on my blog that our family, including the puppies, love.