A few weeks ago I took a DIY centerpiece class at the
same place
we did our
DIY wedding flowers
. I loved putting our wedding flowers together, so when I heard they were offering a Thanksgiving Centerpiece class, I immediately signed up. It was $39.99 for the class, and you got to take home your centerpiece for your Thanksgiving table. I thought that was an amazing deal considering flower arrangements of this size could cost at least this much, and I learned so many amazing tips from this class.
Here is the inspiration piece for the class, and I just LOVED the saying above it. The sequin table was also pretty amazing!
For the class we used the following flowers:
-- 3 Sunflowers
-- 6 Roses
-- 2 Stems of Purple Mini Carnations
-- 2 Stems of Hypericum Berries
-- 2 Stems of Alstroemeria
-- 1-2 Sprigs of Bittersweet
-- 1 Bundle of Assorted Greens (Lemon Leaves and Eucalyptus)
-- Dry Wheat
-- Dry Lavender
We started out by preparing our flowers. We trimmed all of our flowers so they had fresh cuts, stripped them of their leaves/thorns and quickly placed in fresh water.
One of the tips I learned to get most flowers to bloom is to place a bag over them and place them in a warm room. They recommended not doing this to flowers that are really fragile (like roses, peonies or hydrangeas) because the bag could bruise the petals, but it would work really well for sunflowers or lilies. In order to make the carnations bloom, we just gently opened them up with our fingers.
After our flowers were ready we got our basket and begin prepping our base. We inserted a plastic liner into the basket, and then also lined the basket with an extra strong trash bag to make it even more leak proof. They said sometimes those plastic liners are not 100% leak proof. We then placed a piece of floral foam that had been soaked into the basket. They recommended placing your floral foam into a bucket of water and let it sink by itself until it's completely soaked. They recommended not pushing it down into the water or else it could damage the floral foam. I did have to trim the floral foam to fit, and we did this with some floral wire.
We then began building our centerpiece from the bottom up. We started adding our greenery. I assumed this would be the last step, but we actually started by adding lemon leaves all around the base of the basket. I then added some other greenery (which I cannot remember what it's called), to fill in the center.
I then began adding in the flowers in between the greenery. I started with the sunflowers, then the roses, the carnations and then added in the rest.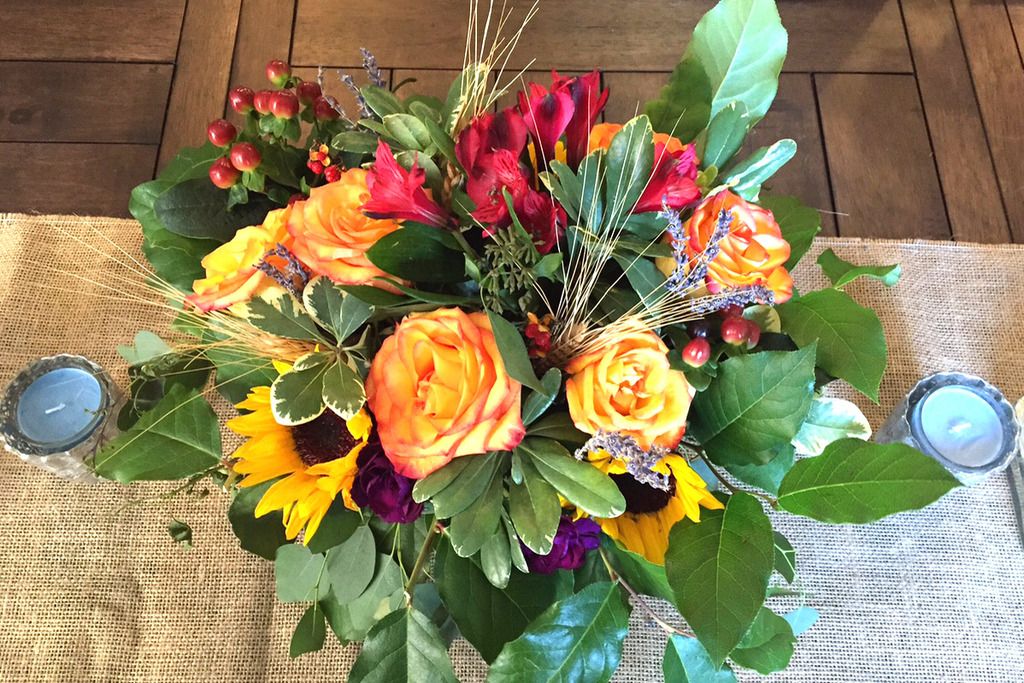 I finished off my arrangement by adding some dried wheat and lavender, and then added some eucalyptus to fill in any empty spots.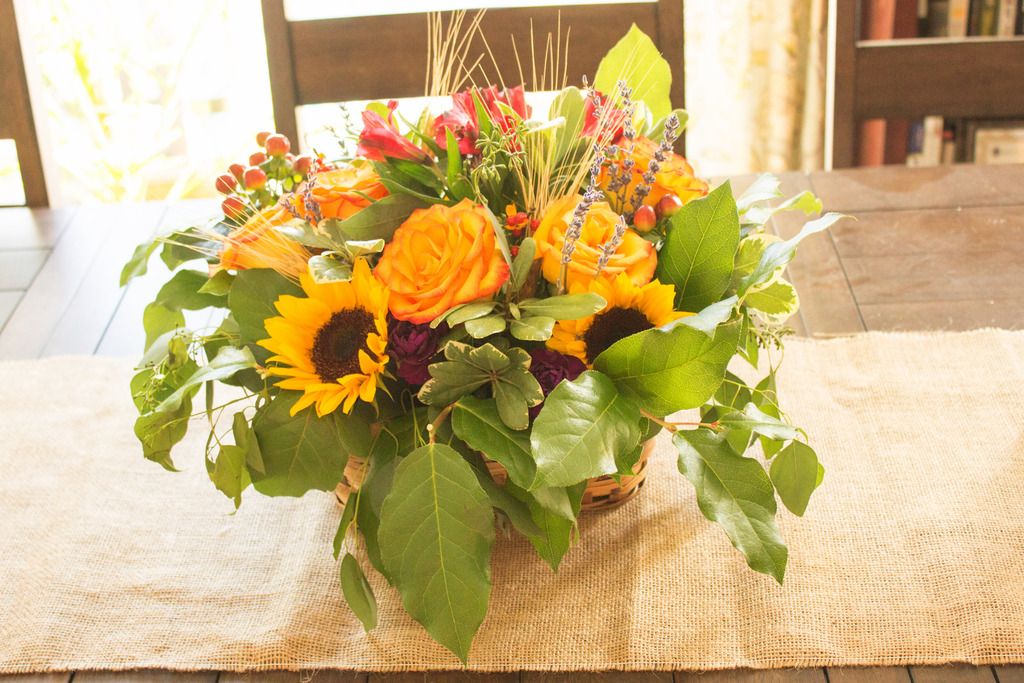 And here is my finished arrangement. It didn't turn out too bad, and it lasted for almost 2 weeks. We did spray it with something to preserve it and they suggested we water it every other day to keep it from drying out.
The class was a lot of fun, and I actually signed up for a Christmas centerpiece class which I'm taking this week. Follow me along on
Instagram
to see the final piece, and I'll be sure to share my DIY tips here soon!