Happy Monday! It's taken until mid-January to get myself organized and to set my goals. I blame it partially on the fact that I ordered my planner way too late, and partially because I feel like I'm still getting used to working a full work week (anyone else struggling??). But I finally received my Plum Paper Planner on Friday, and spent some time this weekend getting organized, so all is now in order in my little OCD world.
I love seeing how other people use their planners and how they keep organized, so I thought today I would share my planner and how I'm using it, along with some ways I'm attempting to stay organized with blog planning.
This is my second year using a
Family Planner
from Plum Paper. I actually purchased this exact same
planner
last year (same cover design too), and loved it so much, I ordered the exact same one again this year. If it works, why not. The previous two years I used an Erin Condren planner, and although I loved those, this planner is much more budget friendly and I LOVE that you can personalize it. More on that here in a minute.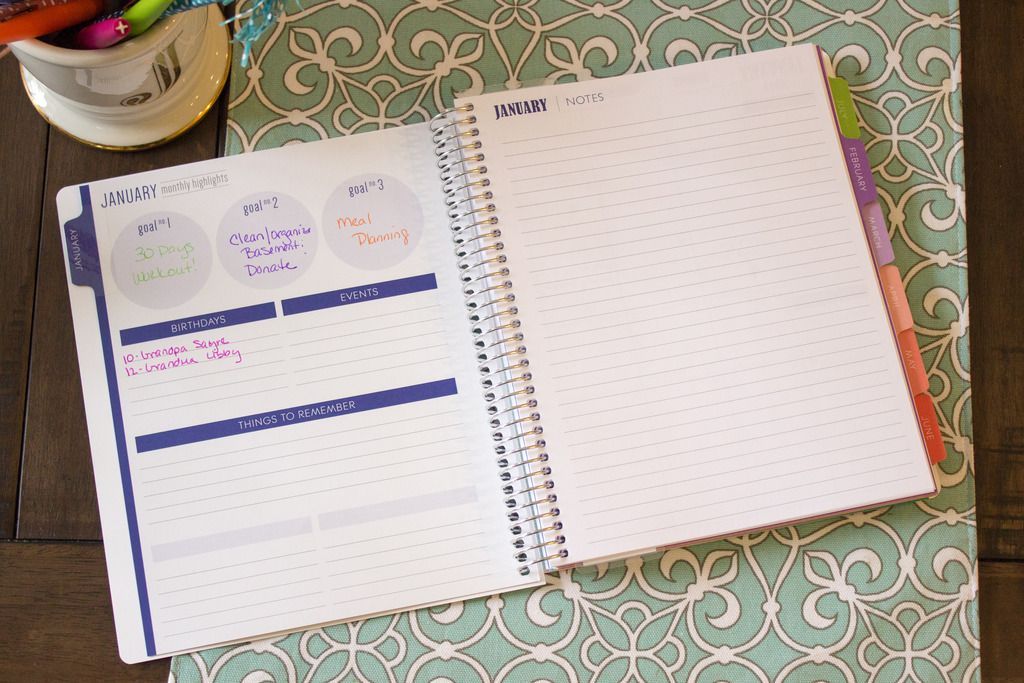 There are some new features for 2016. The first is that the cover is made from a durable synthetic material. Previous versions had a white frosted plastic cover, which kind of muted the cover design. The second is this monthly highlights page. I love that it gives a quick glance of what's going on for the month, and I especially love the goals section. There isn't much going on right now for us, but I'm sure this will start to fill up as we get into the warmer months.
As you can see, my big goals for the month of January are:
-- Workout every day for 30 days
-- Clean/Organize our Basement and donate some items
-- Get back into weekly meal planning
Next up comes a monthly calendar and I love to add birthdays and other important events here. Although these items are listed in the highlights section I love being able to see it out on a calendar. You can also list monthly To Do's or notes on the far left side.
Here is my favorite section. Each month is then broken out by week, and the Family Planner allows you to personalize up to 7 categories. I choose to categorize my planner by: Celebrate, Appointments, Work, Blog, Dinner, Workouts and To Dos. These categories seemed to work for me last year, so I thought I would use them again this year. I don't really use my planner to keep track of my hourly appointments. My Outlook calendar at work keeps track of that, and it's linked to my phone.
But I love having a way to keep track of my meals and my workouts, along with any personal appointments. I did include a Work section to indicate any work trips or big To Do's that I might want to keep track of. I didn't use that section too much last year, but I liked having that category for when I needed it. I've seen others use these sections for different family members to keep track of sports or other after school activities. The options are endless.
In the back there is another Special Dates section. I'll be honest I really didn't use this much last year, but it's another way to organize birthdays if you want to have them all in one place. It might be a good way to keep track of buying/sending cards or presents, so I may end up using it for that purpose.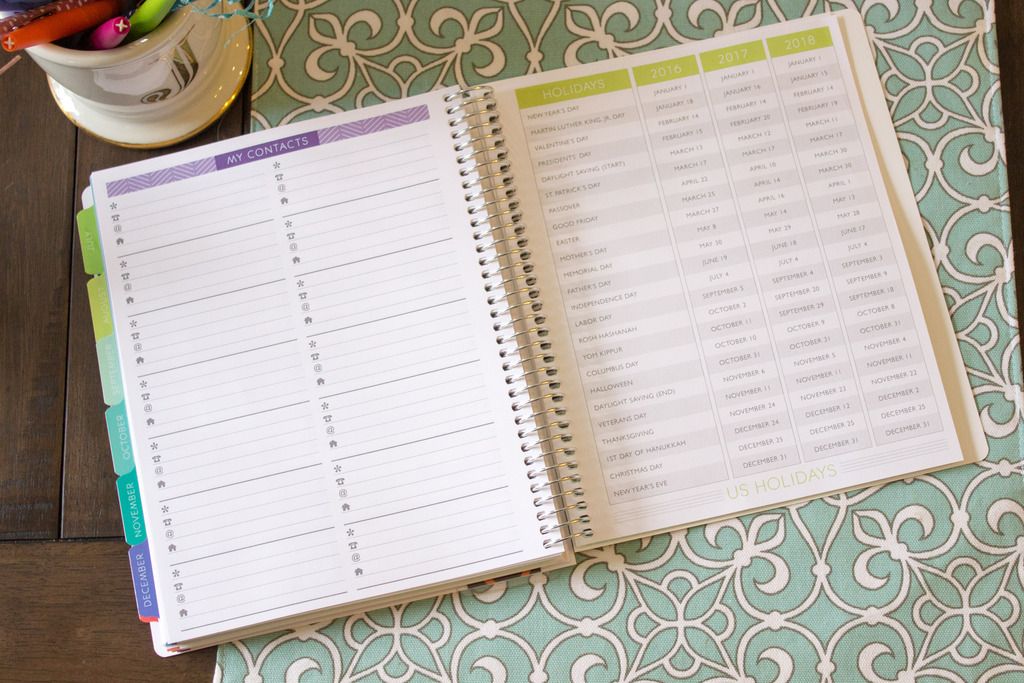 There is also a Passwords page (which I didn't take a picture of as I did already write in a few of those :) ), a contacts page and a Holiday schedule page. Again I didn't really use these that much, but I think last year I did include important phone numbers like my bank or the insurance company. Numbers you may not keep in your phone, but may need handy at some point.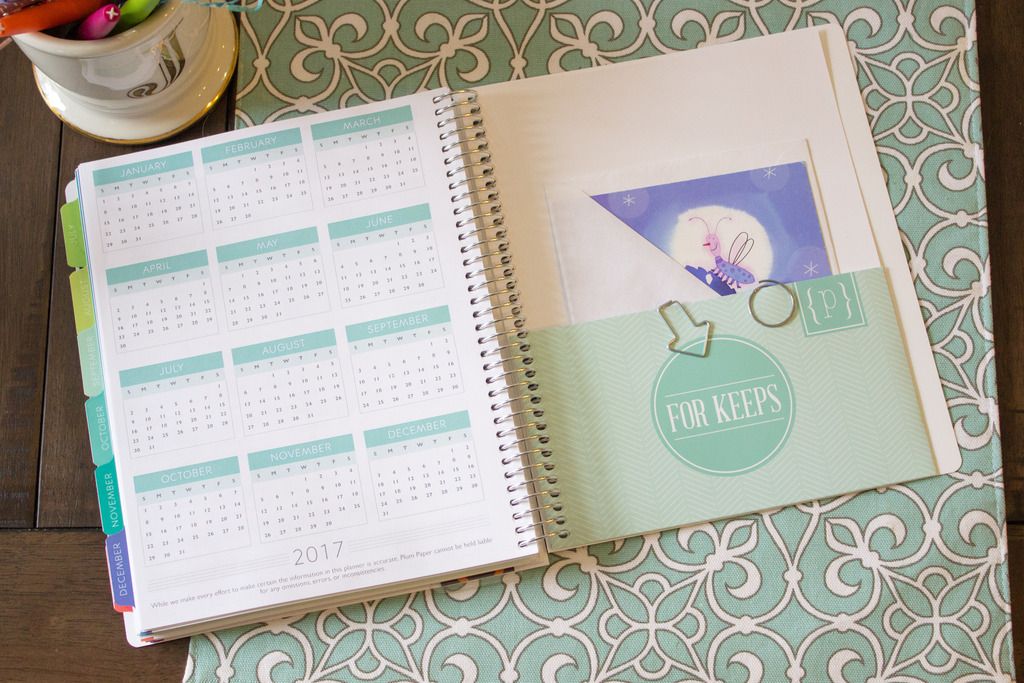 There is also a 2017 calendar and a pocket page which I like to keep card or bills that need to be paid or things that need to be dealt with.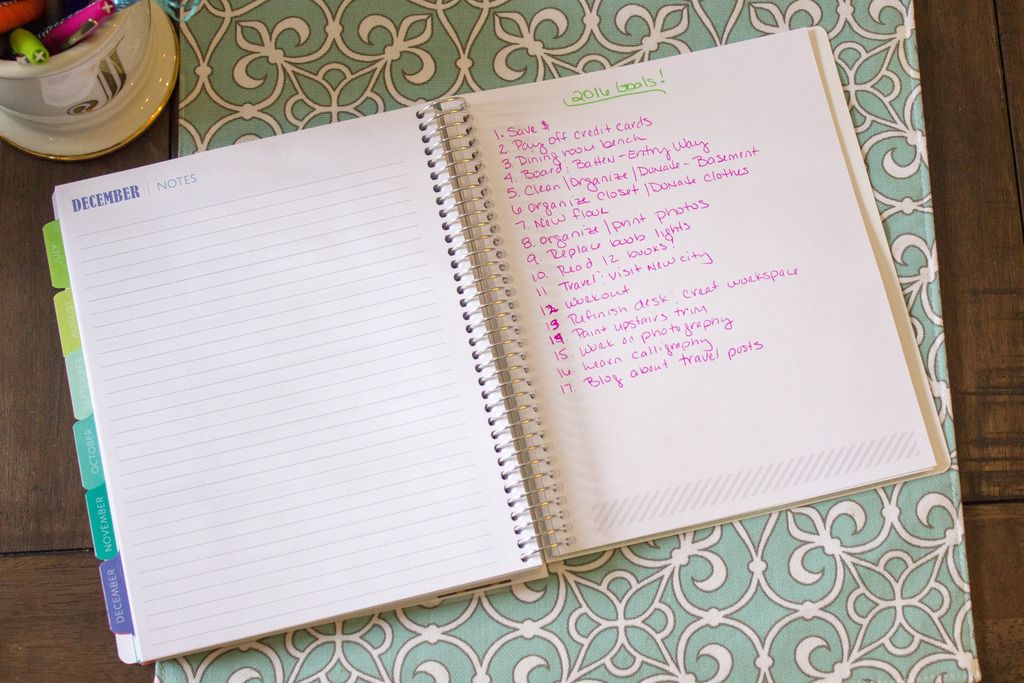 There are also some blank pages, which is where I am keeping my 2016 Goals. Some of these are personal goals, and some are projects that I want Rick to help me out with (or really just do...ha!).
My goals for 2016 are:
1. Save some money - We have a dollar figure from last year and are already half-way to our goal.
2. Pay off credit cards - We started this goal last year and are half-way there. Hoping to have this complete by maybe Summer (crossing our fingers no more unexpected expenses!!).
3. Dining Room Bench - I really want a bench for our dining room table so we have extra seating for when we entertain. This is a Rick project :)
4. Board & Batten for Entry Way - Another Rick project that I've been wanting to do, and we finally have the tools to do so.
5. Clean/Organize the Basement and donate some items.
6. Clean/Organize/Donate items in our closets.
7. New floor for the 1st floor - half of our 1st floor is laminate and the other half carpet. The carpet has got to go, and hopefully that will happen this year. We were debating on trying to match the laminate, but I think we might possibly go with a tile option that looks like wood floors. The debate continues.
8. Organize and print photos - I have about 4 years of photos to go through, organize and print. Going to be a major project, but one I can't wait to have complete, and hopefully keep up with.
9. Replace the boob lights - We have 2 that just need to go, 1 in each of our stairways.
10. Read 12 books - hoping 1 book per month is a more manageable goal.
11. Travel and visit 1 new city - travel plans have been made and partially booked!
12. Workout - starting with a 30 day challenge; will try to workout at least 4-5 days a week.
13. Refinish desk and create fun workspace - so excited about this, and will hopefully start this project in February.
14. Paint upstairs trim - we painted the downstairs trim last year, and need to work on the bedrooms this year; and possibly touch up the downstairs again.
15. Work on my photography skills - an ongoing process, but I need to dedicate more time to this
16. Learn calligraphy - I started this last year, but again didn't give it as much time as I wanted to.
17. Blog about travel posts - I have a ton of travel pictures to share and am hoping to get those documented on the blog soon.
For my blog, I purchased this
Sugar Paper calendar
from Target and I thought it would be a fun way to keep track of posts and plan future posts. I'll be honest I hate writing things on a calendar in pen and then having to scribble them out because for some reason they did not happen. And many times I have plans for posts and they just don't happen. So my goal is to use stickie notes and then I can move things around to give myself a little more flexibility. I also purchased this cute note book from the Target dollar bin to keep my blog goals and to also jot down different ideas. It will be interesting to see how well this works for me. If anyone has any other tips for blog planning, I would love to hear, so please share.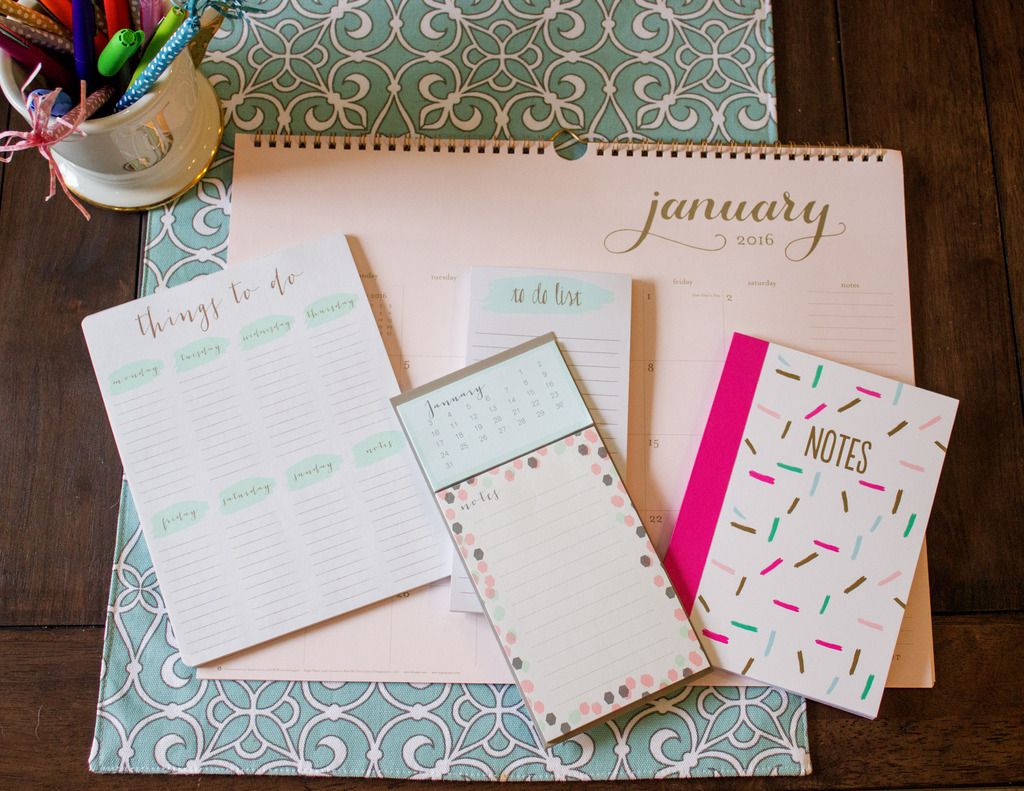 So speaking of the Target dollar bin, they had a ton of notepads and other cute things to organize last week. I purchased a few notepads and may go back for a few more items if they are still there this week. Such great stuff lately!
Ok so now that I've shared how I'm planning to stay organized, please share your favorite tips. Organizing is one of my favorite things, along with cute office supplies, so I may have to share some more tips soon.