I am kind of obsessed with the Banana Chocolate Chip Bread at Starbucks. But it doesn't really work with my current clean eating plan. So when I came across this
recipe
on Pinterst, I wanted to try making a few tweaks to work with the 21 Day Fix plan. The texture is a little different, but it is quite delicious with a cup of tea or coffee for breakfast (or as a mid-day snack). And since all of the ingredients are natural (minus a few chocolate chips), you can feel good knowing you are fueling your body with a healthy snack.
The modifications I made were to use oat flour instead of real flour and I made my own using old fashioned oats. I also used raw honey instead of brown sugar. I think the oat flour is the biggest change as it does add a little more texture to the muffins and they do not rise as much. The honey made the muffins slightly less sweet, but I think the chocolate chips totally make up for that.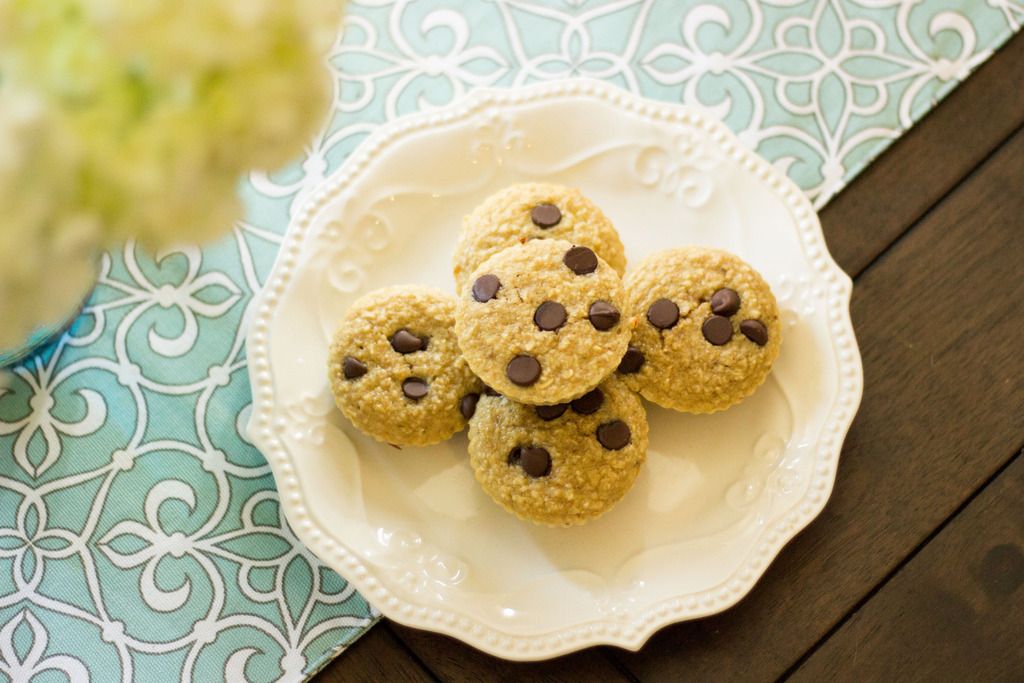 Banana Chocolate Chip Muffins
21 Day Fix - 2 muffins = 1 yellow treat container
-- 1 cup plain Greek yogurt
-- 2 medium ripe bananas
-- 2 large eggs
-- 2 cups rolled oats (old fashioned or quick)
-- 1/4 cup of raw honey
-- 1/2 cup dark chocolate chips (or cacao nibs)
Preheat oven at 400 degrees.
Place your rolled oats in a food processor and pulse until ground into a flour consistency. Then place the remainder of your ingredients in the food processor and pulse until well combined. Drop batter in a greased muffin pan, or muffin liners and fill all the way to the top. I only filled 3/4 the way full, which is why mine are on the small side. You may want to add a few chocolate chips on top to make pretty and add a little more chocolaty flavor.
Bake at 400 degrees for 15-20 minutes.
I placed the majority of these in the freezer and just pull a few out and warm in the microwae for about 30-45 seconds before serving. Our you can keep in the fridge for a few days to stay fresh.
Enjoy!