Happy Friday! Today is a good day to have a good day. It's supposed to be 70 and sunny here in Ohio...in February...and I have the day off.
As I mentioned in my post from the other day, one of the things I miss most about updating my blog is recapping our adventurers and best moments. Sadly when I try to look back on what all we have done, I usually need to refer back to Instagram to remember it all #gettingold. So today I wanted to recap some of those moments and share what Instagram deemed as my Best of 2016...because you know if Instagram says so :)
I know this is so 2016, but humor me as I walk down memory lane...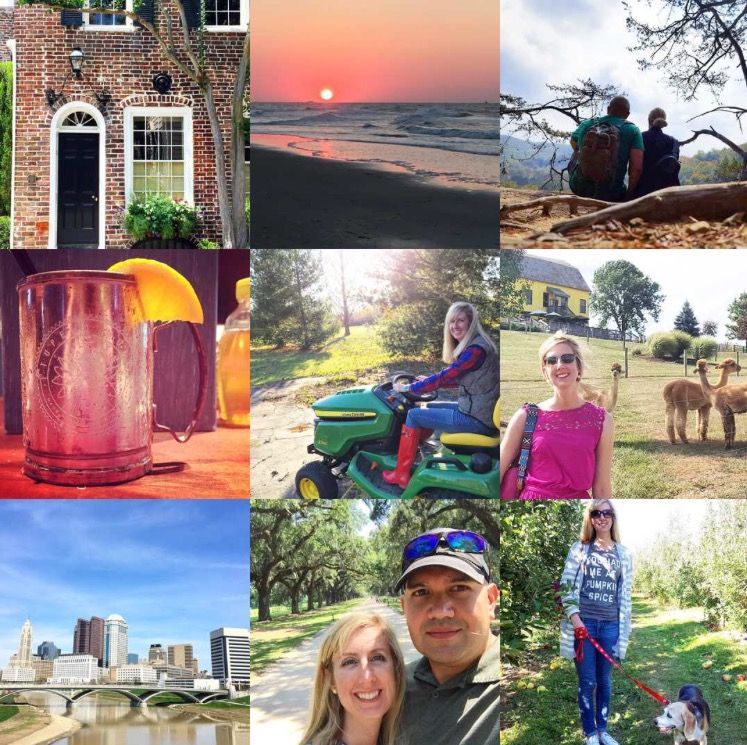 ~ We love to travel, and we especially love visiting Charleston, SC. This was our second time visiting for our 2nd year anniversary. Our first trip was during our
honeymoon
. There are so many fun things to do, and so many amazing places to eat, but my favorite thing is just walking around and photographing all of the pretty window boxes #plantlady
~ We also spent our 2nd anniversary on the beach. On the day of our anniversary we woke up super early to watch the sunrise. We took a few photographs and then went back to bed. It's vacation...you are required to do some sleeping in.
~ We also love exploring Ohio and spent a beautiful Fall day at Hocking Hills.
~ This Moscow Mule from Tupelo Honey Cafe was amazing! And I so wanted to steal that copper mug (but I didn't!!)
~ Rick's sister and BIL moved back to Ohio from DC and bought a cute little log cabin with lots of land for farm animals. Currently they have chickens and ducks, but I am trying to convince them to buy some alpacas. We have enjoyed visiting them, and experiencing farm life.
~ What year wouldn't be complete without a trip to visit some
alpacas
. This farm also happened to be a winery...double win!
~ In addition to traveling, we also love to
explore our city
, and we had visited a few fun spots around Columbus in 2016. I'm hoping we can continue to explore our city in 2017.
~ We also visited Boone Hall Plantation while in Charleston, and it was so picture perfect.
~ I shared the other day about how we are trying to take more
adventurers with the pups
, including Miss Abby. We took her to the apple farm shortly after she started recovering from her stroke. She was having a pretty good day that day and we got a few pictures to remember our adventure.
So that is it! As you can see our Best of 2016 was all about travel and exploring, which is one of our favorite things to do. We have started chatting about plans for this year, and I'm really excited to see where our adventurers will take us next.
PS: You can find more travel posts
here
.