When people find out we have 3 dogs, we get a ton of questions. How did you end up with 3 dogs? Is it hard to deal with multiple dogs? Would you recommend I get a second (or third) dog? Or is it best to stick with just one?
The decision to get a second dog (or really your first dog), is a big decision. There are a lot of responsibilities that come with dog ownership, and a lot of things to consider before making that decision.
But there are a lot of benefits to getting a second dog. Both of us went many years with only one dog, and we both agree although there are challenges, we have also seen positive results with increasing our pack size, and today I wanted to share 5 reasons why you should get a second dog.
1 // Companionship

Dogs are pack animals so it is not their natural instinct to be alone. Abby has severe separation anxiety, and although she can still be a nut at times, we have noticed her anxiety level did get better by having the other dogs around to keep her company. Rick originally got Bryn because he worked long hours and didn't want Napoleon to be alone all day long. Typically our dogs spend the day in separate rooms, or even on separate floors, but they know their playmates are close by, and they are not spending the entire day all by themselves. If your dog is alone for long period of times, and is a breed that typically gets along with other dogs, it might be worth thinking about adding a second dog to your pack.
2 // Exercise

Most of us are guilty of not playing or exercising our dogs enough. I tend to work later hours, and for half of the year by the time I get home it is too dark to play outside. Napoleon and Bryn like to play tug of war, or they like to play fight with each other. Although it's not the same level of exercise as if you took them on a long walk, when dogs play together they are releasing some of their energy, and it also provides mental exercise.

When we do take them for walks, or when we take them to the dog park, they tend to be competitive so they will walk faster to keep up with the other dogs, or they will be interested in what the other dogs are sniffing vs if they are all alone they tend to be a little more lax on their walk or with their sniffing at the park.
3 // Constant Companion

One of the nice things about having 3 pups is that there is always a dog around that wants to cuddle. And usually Rick and I don't have to fight over the cuddles because usually one dog is on his lap, one is on mine, and the third is usually close by to sneak in for a few ear or belly scratches.
4 // A Chance To Rescue
There are plenty of pups that need good homes.
1.2 million dogs
are euthanized each year. And although there are many things to keep in mind when adding another dog into the pack, many shelter pets received
training and socialization before they are adopted
, which can help with the transition to a two dog family.
5 // Every Dog Is Different
Every dog has it's own unique personality. And getting a second dog can let you experience new breeds and characteristics. You may find one dog is more about going on adventurers, like our pup Abby, or playing catch, like our pup Bryn. Whereas Napoleon is more of a homebody and is happy as a bird with a fry when he is cuddling on my lap.
Having multiple dogs lets you get to experience different dog personalities and allows you to expand your love. It's like adding another kid to the mix, it's a lot of work, but the benefits are priceless.
It's always important to keep in mind what breeds get along best with other breeds. I came across this chart that helps explain what breeds are more compatible with other breeds.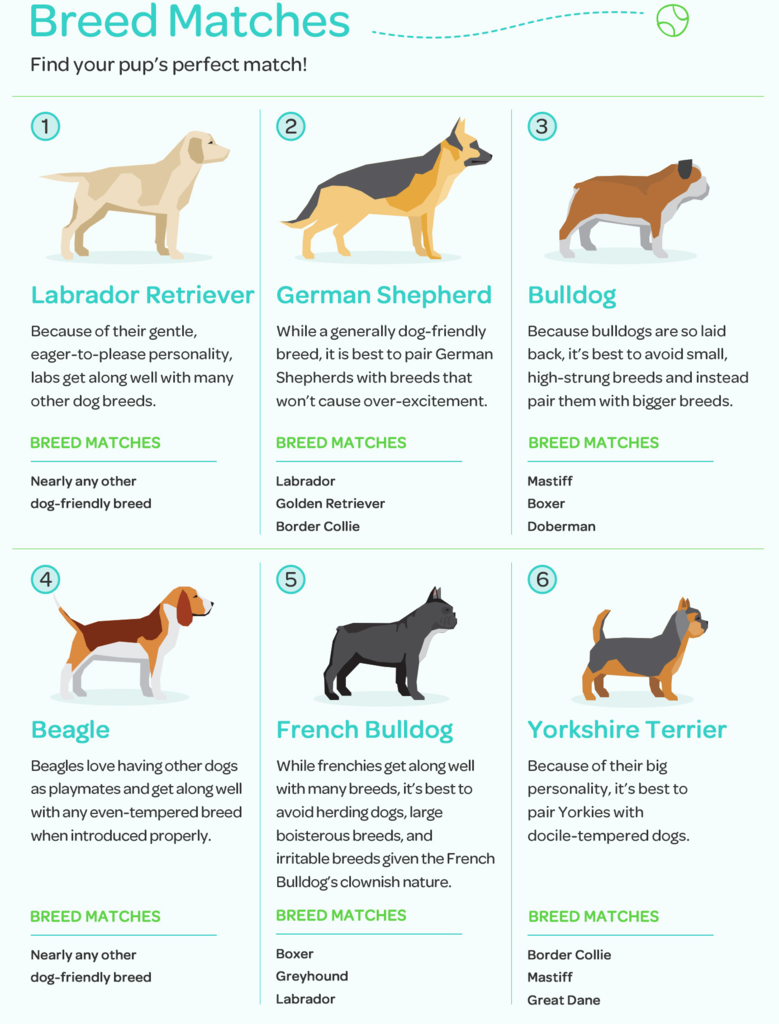 Of course keep in mind every dog is different. Napoleon is part Chihuahua and Bryn is a Jack Russell, neither of which are on the chart. You need to keep in mind that training and discipline are a major factor when it comes to introducing new dogs into your pack as well. I'm working on another post about things you need to know when getting a second or third dog that I will share soon.
If you are looking to get a second dog, I recently came across this company called
PuppySpot
. They are a community of dog lovers committed to helping responsible breeders place their puppies with caring individuals and families. The PuppySpot brand, with puppies at the center, is rooted in the belief that dogs should be celebrated, and owners deserve to experience trust, confidence and transparency when searching for their new companions. They take pride in their N
o Puppy Mill Promise
and have a zero tolerance for puppy mills or any substandard breeding practices of any kind! Check out their cute
puppies for sale
to find your new best friend today!
Do you have more than one dog, or have you been thinking about getting a second dog? What are some of the pros you have seen to adding to your pack? What are your concerns? I'd love to hear your thoughts that I could possibly incorporate into my post.